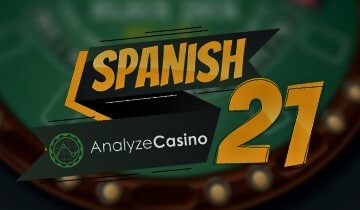 There are plenty of online casino games, and the ones that are played with cards are the most popular ones. (Well, maybe the second popular ones after slot machines.) And among card games, blackjack and its variants (including Canadian Blackjack) are the most "cool" looking ones.
They are easy to learn, hard to master, and if you pick the right variant, the rules favor the player, to help you pick the best suited game for you we have created a online casino games guide.
Spanish 21 fits this description perfectly: It is the best blackjack variant for beginners with rules that favor the player – there are lots of betting options available and to tell the truth, the gameplay is more fun than classic blackjack. However, even if you know how to play blackjack, you still need help on how to play Spanish 21 blackjack too. You will also learn how to make money playing Blackjack.
And this is what we are going to do in this guide: We will show you how to play Spanish 21 card game, give useful tips and a Spanish 21 strategy card, and finally, list the best international online casinos to play Spanish 21. Let's start: Those cards won't deal themselves!
Best Online Casino Pick
Zet Casino

New members get an amazing casino welcome bonus: 500 EUR + 200 Free Spins!
Powbet Casino

Enjoy the sensational bonuses and promotions to give a boost to your gaming balance at Powbet Casino.
Welcome Bonus: 100% up to €500 + 200 Free Spins
What Is Spanish 21 And Why It Is Called Like That?
Believe it or not, Spanish 21 is a "licensed" game. It is invented in America, and by a company called Masque Publishing Inc. This is a Colorado-based company and gives licenses to brick-and-mortar casinos to run this game under this name. It is believed that Spanish 21 is invented in 1995, and it is offered with this name in all land-based casinos in the United States.
In European casinos, however, it is a different story. Spanish 21 is called "Pontoon" in these land-based casinos, or "Spanish Blackjack". These are actually the same games, but if they are being offered as Pontoon or Spanish Blackjack, the casino does not pay a license fee to Masque Publishing Inc.
The same thing can be seen in online casinos too. Most of the time, you will be seeing this game under the name "Pontoon". You can, of course, see it as Spanish 21 too, based on the casino site is licensed by Masque Publishing or not. In any case, the name does not matter that much: Pontoon, Spanish Blackjack, or Spanish 21: They are all the same game and variants of classic blackjack. In a way, they are the "easier" versions of blackjack and the rules favor the player.
How To Play Spanish 21?
So, how to play Spanish 21 at a casino? Let's explain by simulating a sample game:
Spanish 21 is played on a classic blackjack table, and between the player and the dealer. There can be more than one player, but there will always be one dealer.
According to the rules of Spanish 21, the game can be played with wither six decks or eight decks. It is usually eight decks at land-based casinos. Six-deck Spanish 21 games are more common at online casinos.
The player and the dealer gets two cards at the beginning. The goal is the same: Reaching 21 points in total. The player tries to reach this point total or a total higher than the dealer. Whoever surpasses 21 points lose the game.
The point values of the cards are the same as blackjack. Aces are worth 1 or 11, picture cards are worth 10, and all other cards are worth their face values.
After getting two cards, the player can ask for another card (hit), may not want another card (stand), split or double his cards, and even take an insurance bet. The option to surrender is available too.
The game lasts until one side loses or reaches 21 points. The dealer stands on soft 17, in general (or he may be forced to hit, according to the rules).
In short, if you played classic blackjack before, you already know how to play casino Spanish 21. The general rules of the game are the same – even the options available to the player are the same. So, what is different? In which ways Spanish 21 is different than classic blackjack?
What Is The Difference Between Spanish 21 Card Game And Blackjack?
In order to learn how to play Spanish 21 and win, you must know the unique features of this game that distinguishes itself from classic blackjack. Here are all the differences between Spanish 21 and blackjack:
How many decks do casinos use in blackjack, and specifically for Spanish 21 games? The decks used in Spanish 21 have no "10s". In other words, all 10s are removed from the deck, no matter which sign they belong to. Each deck is only 48 cards. This actually increases the house edge, but the bonus payouts bring the favor back to the player.
A player 21 is always better than the dealer 21. There is no "tie": Player's 21 always wins.
It is possible to double after splitting the cards.
It is possible to re-split Aces.
Late surrender is possible, which means the player can still give up after seeing that the dealer has no blackjack.
Players can surrender even after doubling. This is known as "double down rescue".
Players are allowed to double any number of cards.
Blackjack pays 3:2.
The dealer always gets a hole card.
Spanish 21 has additional payouts based on bonus bets. If you manage to form a certain set of cards, you will be paid accordingly. Check the table below.
Special Payouts, Specific To Spanish 21
Get 21 with 5 cards from any suit
Get 21 with 6 cards from any suit
Get 21 with 7 cards from any suit
Get 21 with 6, 7, 8 from the same suit
Get 21 with 6, 7, 8 from mixed suits
Get 21 with 7, 7, 7 from the same suit
Get 21 with 7, 7, 7 from mixed suits
Get 21 with 7, 7, 7 from Spades only
Spanish 21 Basic Strategy: How To Win At Spanish 21
We can give you some Spanish 21 tips in order to show you how to beat Spanish 21. The general blackjack strategies still apply to this game too, so card counting will be your best Spanish blackjack strategy. In fact, it will be easier to do because the decks do not contain 10s. By simply counting the picture cards, you can get a pretty good idea about the cards left in the deck. This is the most basic strategy Spanish 21 you can use but we can give you additional tips too:
Use a Spanish 21 cheat sheet. These are simple charts that show you the most optimal move based on your point total. We are sharing one below. According to the variant you are playing, you can find lots of other charts. These will be especially helpful to beginners.
If you have 8 points, always hit. Due to 10s being removed from the deck, you have no risk of busting if you take one more card when you have a total of 8. This is not a good total for doubling down or splitting, so taking another card will be the best move here.
If you have 17 points, always stand. This blackjack rule also applies here. Dealers stand at 17 for a reason, and you should do the same. If you "hit" at 17, you will be risking a bust. In fact, your chances of busting with 17 points are 69%.
There is one more bonus payout table of Spanish 21, it is called "match the dealer". The payouts are enormous but the odds are very low. Avoid this type of bet – we will explain the reason below and show you the odds of this option.
Use the late surrender option. By using it, you can pretty much surrender at any stage in the game. This is a big advantage that cannot be seen in classic blackjack. If you don't trust your hand, always use the late surrender option.
As we suggested above, using a Spanish 21 basic strategy chart is the best way to play Spanish 21. According to Spanish 21 rules, you can use these charts even at land-based casinos too – they are completely legal. We are sharing a sample chart below. Note that based on the variant played, you may need different charts. The Spanish 21 strategy chart below is based on the most common ruleset, where the dealer has to stand at soft 17. However, at some casinos, dealers are forced to hit at 17 too: While rare, this type of games exist. If you are playing such a game, you will need a different chart.
Spanish 21 Strategy Chart
8
BEST MOVE
HIT (double down if the dealer has 5 or 6)
9
BEST MOVE
HIT (double down if the dealer has 3, 4, 5, and 6)
14
BEST MOVE
HIT (stand if the dealer has 4, 5, and 6)
15
BEST MOVE
STAND (hit if the dealer has 7, 8, 9, and 10)
16
BEST MOVE
STAND (hit if the dealer has 7, 8, 9, and 10)
17
BEST MOVE
STAND (surrender if the dealer has an Ace)
We mentioned above that you can play Spanish 21 match the dealer bet too, which is a side bet you need to actively participate. In other words, unlike bonus payouts, you need to place a wager specifically for this bet type. We don't recommend doing so, because the odds are not in your favor. In order to learn how to play casino Spanish 21, you need to know which kinds of bets you need to avoid, and match the dealer is that kind of bet. Here is the odds table:
Spanish 21 Odds
Match two suits
PROBABILITY OF HAPPENING
0.004
One hard/One each match
PROBABILITY OF HAPPENING
0.028
Two non-suit match
PROBABILITY OF HAPPENING
0.029
Match one suit
PROBABILITY OF HAPPENING
0.28
One non-suit match
PROBABILITY OF HAPPENING
0.46
The house edge of this bet type is very high and the probabilities are very low – you will just be wasting your money. And this is the final tip we can give to you: Avoid match the dealer bets.
Spanish 21: Pros And Cons For The Players
Easier to play than classic blackjack
Card counting is easier too
Bonus bet payouts are satisfying
Most of the rules favor the player
Some bet types offer too high house edge rates
FAQ About Spanish 21
This actually depends on the rules. Here is a list that shows the average house edge rates for different kinds of rulesets: • If the dealer must stand at soft 17, the house edge is 0.40%. • If the dealer must hit at soft 17 and doubling down is allowed, the house edge is 0.42%. • If the dealer must hit at soft 17 and doubling down is not allowed, the house edge is 0.76%. And if you are wondering, the house edge of match the dealer bet is more than 3%. Overall, the variant that forces the dealer to stand at soft 17 has the lowest house edge.
There are lots of online casinos that offer this game – it is a pretty popular blackjack variant, after all. However, in order to find the best casino sites, we recommend sticking with our suggestions: We already picked the best online casinos for you to play Spanish 21 and all other card games. Take a look at our online casino reviews section to learn more – we review casino sites according to their software, games, security, and reputation.
If you are an absolute beginner, we recommend starting with Spanish 21. Both games are good and based on almost the same rules, but as explained in this how-to win Spanish 21 guide, the rules of Spanish 21 slightly favor the player.
Best Online Casino List [2021]
Learn How To Play Spanish 21 And Win
There you go: You have learned how to play Spanish 21, which tactics to use, and which moves are the best for your point totals. The only thing left is to find an online casino and start playing. As always, we can help you in this regard too: Pick one of our recommended casino sites and play at the safest, fairest, and most legit places. Spanish 21 can be a lot of fun if you choose the right place to play, and we are ready to help you with our geo-targeted  casino reviews. Good luck at the tables!