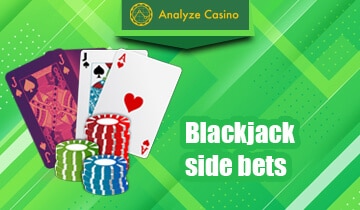 Have you tried playing with a side bet in blackjack? There are multiple side bets in blackjack for you to use and then span all sorts of games, from RNG (random number generator) and live casino games to bitcoin blackjack titles.
If you haven't, you needn't worry. We'll walk you through playing online blackjack with side bets right here. If you're asking, "what is a side bet in blackjack?" or want to understand how live blackjack side bets work, we've got the answers.
Join us as we explore this topic in-depth with our guide to these often simplistic, risky, but arguably prosperous options.
Our Best Online Casino Pick
Cobra Casino

The welcome bonus of Cobra Casino awards the first three deposits of new members. You need to deposit at least 20 EUR each time and use the relevant bonus code. In total, you can win up to 1.050 EUR and 300 free spins. Let's list these bonus codes first:
1st Deposit: Use the COBRA100 code. The match rate is 100% and the maximum bonus is 500 EUR. You will also get 250 free spins.
2nd Deposit: Use the COBRA50 code. The match rate is 50% and the maximum bonus is 150 EUR. You will also get 50 free spins.
3rd Deposit: Use the COBRA125 code. The match rate is 125% and the maximum bonus is 400 EUR. No free spins this time.
Katsubet Casino

KATSUBET WELCOME PACKAGE: UP TO €500 + 100 FREE SPINS
Register today at Katsubet and grab the outstanding welcome package:

1st deposit

: 100% up to €100 + 100 free spins

2nd deposit

: 75% up to €100. Bonus code: '2DEP'

3rd deposit

: 50% up to €200. Bonus code: '3DEP'

4th deposit

: 100% up to €100. Bonus code: '4DEP'
Pulp Casino

Pulp Casino Welcome Package: up to €4000
Register today at Pulp Casino, make your first deposit of a minimum €20, and receive up to €4000
Blackjack side bets explained
The 21+3 poker style blackjack side-bet
The most commonly found side bet in blackjack is known as 21+3. It has some of the most prosperous blackjack side bet payouts and is commonly found in European blackjack games. The bet utilises your two cards and the dealer's upturned card. You're looking for poker hands in that three-card combo.
You can receive:
The number of decks featured in the blackjack game will determine the odds of success, and these can range from a low of 6.29% with seven decks up to a high of 8.78% when only four decks are used. The fewer the decks, the more likely you are to land a side bet. 
Top online casinos for playing blackjack in 2022
Introducing the Perfect Pairs side bet
One of the best blackjack side bets is Perfect Pairs. This only utilises your cards, with Mixed Pairs, Coloured Pairs and Perfect Pairs all options. It can be found in all sorts of games, ranging from European Blackjack to Multi-Hand Blackjack and beyond. Here's how it works:
Note that because you need at least two decks to have a "Perfect Pair", this side bet doesn't exist in games that use a single deck, such as Single Deck Blackjack. Again, the odds vary depending on the number of decks used, with probabilities of 3% up to 11% possible.
Royal Match
Royal Match is a slightly less common blackjack side bet. This can only be found in a handful of blackjack games at selected casinos, so you might have to scout around to find a game offering this side bet.
In a nutshell, Royal Matches see you looking for suited cards. You'll receive a payout of 5:2 for any suited cards you happen to be holding. If you were to hold a suited King and Queen, the payout would rise to 25:1.
Super Sevens
Super Sevens bets naturally revolve around landing sevens and plenty of them. This is much more common to find in online blackjack games than Royal Match side bets and can result in the most profitable payouts of any blackjack side bet.
Over/Under 13
Over/Under 13 is a simplistic side bet that you can expect to see in some but not all blackjack games. With this bet, you're looking to try and predict whether your two-card hand will be worth more or less than thirteen points. It doesn't matter which cards form the hand, be that a face and a three, or a seven and a six, and so on. 
If you bet on your hand being greater or less than thirteen, and you're correct, you'll pocket an even money (1:1) prize. Some casino games permit wins on exactly thirteen, and some consider it a losing tally.
Lucky Ladies
One of the newer blackjack side bets around, Lucky Ladies, allows you to bet on twenties. If your cards add up to a basic twenty (unsuited), then you'll receive a straightforward 4:1 cash prize on your hand.
You already know about insurance bets, right?
Does the insurance bet really count as a blackjack side-bet? We'd say so. Insurance can be taken whenever the dealer's upturned card looks as though it could contribute to a blackjack hand. In most RNG games, the option will come up automatically and typically costs 1.00, although some games may demand the same side bet as your stake.
If the dealer goes on to hold a blackjack hand (in their first two cards), your insurance bet will see you pick up prizes of 2:1, even if you lose the hand.
However, if the dealer doesn't have twenty-one, then you lose your side bet, even if you win the hand.
Professional blackjack players do not typically favour insurance bets. The main reason for this is that the house edge is 5.8%, even with just a single deck of cards. When six to eight decks are used, the house edge rises to 7.5%, which is certainly not ideal. We explain more in our "Do you take insurance in blackjack" guide.
Is it worth making a blackjack side bet?
Blackjack side bets can be worth it, but placing a side bet in blackjack is costly if you aren't successful. We'd always fancy a punt on
progressive blackjack
side bets, where you can win uncapped prizes with specific hands.
However, playing regular blackjack side bets in between hands in regular games is risky, especially when playing high limit blackjack. Just remember that the odds of success aren't great with side bets, which is why the payouts tend to be extravagant.
The pros and cons of wagering with blackjack side bets
You can play free blackjack online with side bets to practice
Mobile blackjack games often feature side bets, as do live dealer games
Some can see you win up to 5,000:1
You usually don't have to win the hand to pocket a prize with a side bet
You can't find a side bet into a blackjack formula or strategy as they are unpredictable
Blackjack side bets have relatively poor probability rates and high house edges
Frequently asked questions about blackjack side bets
Blackjack side bets technically count as any extra bet you make in the game, save for doubling down and splitting.
It's up to you, but you should know that they are very unpredictable and will mess with any online blackjack strategy you may be using.
Blackjack side bet payouts vary from game to game and bet to bet. At worst, they are worth even money and at best, they can deliver wins worth 5,000:1.
This side bet is one of the most common. It rewards you if you place a side bet that your two cards and the dealer's upturned card will result in a "poker hand" displayed on the paytable.
In most cases, blackjack side bet odds aren't great. Some exponentially increase the house edge. It is best to look at these on a game-by-game basis.
Playing free online blackjack with side bets lets you get some practice in. However, there is no blackjack cheat sheet you can use, and blackjack side bets strategy doesn't exist. In fact, they mess up betting strategies such as the Martingale, and so on.
Start betting with blackjack side bets today
Now that you've had side bets in blackjack explained to you, you may fancy having a crack at them. Before placing a blackjack side bet, read our guide on how to make money playing blackjack and familiarise yourself with the games. At the same time, read our game guides to learn how the rules of each blackjack game vary and which side bets they feature before betting online.