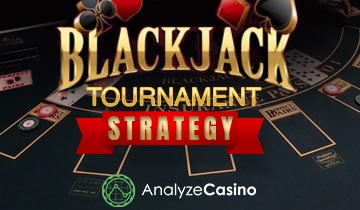 If you are playing on a modest budget, it is quite difficult to make a remarkable win in blackjack. This game requires both a high bankroll and a financial source that can support that bankroll for a long time.
However, blackjack tournaments are an exception to this situation: You can win a prize big enough to enrich you with an extremely small budget. All you have to do is buy your starter chips and use the right blackjack tournament strategy.
By choosing the right events, it is possible to earn as big as poker tournaments. We have prepared this guide to help you: First, we will talk about the rules and briefly talk about how to win a blackjack tournament. In this way, you will learn how to make money playing blackjack.
Next, we will list the blackjack tournament strategy tips that will work well and increase your winning odds. After reading this guide, you will be ready to participate in even the toughest tournaments.
The Best Online Casinos To Join A Blackjack Tournament (2021)
Let's start by giving you a list of the best online casinos to join a blackjack tournament. We analyzed hundreds of casino sites and picked the ones below: These are your best options in 2021.
They offer the most number of blackjack tournaments, the best bonuses, and support different variants of this game (such as Canadian blackjack). In other words, if you want to join these events and use a blackjack tournament strategy to increase your odds, these are your best options.
Spin Samurai Casino

Up To 800 EUR Bonus Package
3000 EUR Highroller First Deposit Bonus
The welcome bonus of Spin Samurai will match your first three deposits with different rates and let you win up to 800 EUR in total + 75 free spins. This is a good initial capital: You can join any kind of blackjack tournament with it. And if you you are a highroller you can get a massive welcome bonus up to 3000 EUR: Spin Samurai will match your first deposit of minimum 200 EUR by 25%, until the amount reaches 3000 EUR in total!
Spin It Casino

A Bonus For Classic And Live Blackjack
A Weekly Reload Bonus That Will Help Your Bankroll
We picked Spin It casino because it offers two different bonuses for blackjack players. First, it matches your first deposit amount by 100% and up to 1.000 USD. You can use this bonus to play classic blackjack games at the online casino section. Second, it gives you another match bonus of 100% and up to 100 USD; which can be used in the live casino section (to play dozens of blackjack games). So no matter which one you prefer, Spin It casino offers a useful deal to you. Lastly, all your deposits made on Fridays will get a 50% match bonus (up to 100 USD), so you can refuel your bankroll.
William Hill Casino

300 GBP Instant Bonus
Deposit 10, Play With 15
William Hill is one of the oldest UK-based gambling brands and it has a special network for everything: Bingo, poker, blackjack, slots… No matter which one you like, there is a bonus for you. Your first deposit, for example, will be matched by 100% and up to 300 GBP, which can be used to play dozens of blackjack games, both regular and live. There is also a constant reload bonus too: Every time you deposit 10 GBP, William Hill matches it by 50% and gives you 5 GBP, so your total bankroll is 15 GBP. Use these extra balance to join lots of mini and major blackjack tournaments!
Casino Gods

Two Different Welcome Bonuses
25% Reload Bonus Every Week
Just like Spin It, Casino Gods also offers different bonuses for regular & live casino sections. If you enjoy playing blackjack against real dealers, get the live casino one and win a 100% match rate for your first deposit, up to 100 EUR. Or, get the same match rate but win up to 300 EUR; to use on regular blackjack games. And after using your welcome bonuses, start taking advantage of the weekly reload bonus. It will give you a 25% match rate every time you make a deposit, up to 100 EUR. The wagering rate for all these bonuses is 40x.
What Are Online Black Jack Tournaments?
Casino sites organize a tournament for almost any type of game. These are events where players compete against each other. Points are earned according to the number of games won or bets placed, and these points are used to increase rankings. Each tournament has one big prize and it is shared among the top 10 players. (According to the tournament rules, this number may be less or higher.)
As you might guess, slot tournaments are the most common, but it is possible to organize similar events for other games too. Card games are particularly attractive in this regard, as the vast majority contain rules that are appropriate for the spirit of tournaments. For example, poker is such a game: Players already play against each other and there is only one winner at the end of the game. Such a game can be easily adapted to a tournament.
Blackjack, on the other hand, may still be the subject of a tournament, although it does not have the same suitable rules as poker. However, it will be slightly different from a classic tournament because, by virtue of the rules, the players fight against the casino, not against each other. There is no competition between the players sitting together at a table: They all play against the dealer. For this reason, blackjack tournaments are slightly different from what you are used to and are more like slot tournaments. We will talk about this difference in more detail when discussing the blackjack tournament rules. Of course, these tournaments also require the use of special strategies. Do not confuse them with classic blackjack strategies (such as the Zen count blackjack card counting strategy): Blackjack strategy focuses on how you can win the game itself. Blackjack strategy tournament, on the other hand, focuses on the event, not the game.
Mobile Blackjack

Looking to play blackjack on the go? We've got just the article for you!

Mobile Blackjack Games
Blackjack Tournament Rules: How Do Tournaments Work
A blackjack tournament isn't actually that complicated. But it changes what you need to focus on: For example, now you start competing not only against the dealer but also against other players. Before we move on to the blackjack tournament strategy tips and how to win a blackjack tournament, let's explain the rules so you can have a clearer picture in mind.
• Each tournament is dedicated to a specific blackjack variant. For example, a tournament can be organized for the single-deck classic blackjack, or it is possible to organize a tournament for the Spanish 21 variant. Remember to learn which variant is used by reading the terms and conditions in advance.
• The date and duration of the tournament will be announced in advance. For example, the Blackjack Invitational Winter Cup is held in November every year. Blackjack Carnival, on the other hand, is a year-round event on cruise ships of the same name. Online casinos also announce the start and end dates of the tournaments.
• You almost always have to pay an entry fee to participate in the tournament. This payment allows you to get your starter chips. Each participant pays the same fee and gets the same number of chips. In other words, everyone's bankroll is the same at the beginning and no one has the advantage over someone else. Everyone starts with equal conditions.
• The purpose of a tournament is to have the largest number of chips. When the tournament is over, whoever has the most chips will be the winner. So that's what you need to focus on: Maintaining and increasing the number of your chips. How this happens depends on the type of tournament – below, we provide more information on this topic. However, in general, we can say that you should be the player who made the most profit at the table. The more you win, the more chips you have.
• Note that we do not give a specific figure. You may have started the tournament with 500 chips and ended with 50 chips. If you still have the most chips, you will win that tournament. The main thing is to have the largest number of chips at the end of the event, the number of these chips does not matter.
The Difference Between Regular Blackjack And Tournament Blackjack
When we say that blackjack tournaments are different than playing regular blackjack, we refer to the overall goals. As mentioned above, the rules of blackjack are the same: They do not change. However, due to the blackjack tournament rules, the things you need to pay attention and focus are quite different and some questions might arise such as "Do you take insurance in blackjack?" . Playing blackjack in a tournament requires you to think in a different way. In the table below, you can see the main differences between regular blackjack and tournament blackjack, and you can understand more easily what we are talking about.
Players compete against the house
TOURNAMENT BLACKJACK
Players compete against the house and themselves
Players are free to determine their bankroll
TOURNAMENT BLACKJACK
Each player starts with the same amount of chips
Players do not pay an entry fee to play at the tables
TOURNAMENT BLACKJACK
Players must pay an entry fee
The goal is to beat the dealer
TOURNAMENT BLACKJACK
The goal is to acquire the most chips
Losses are not limited
TOURNAMENT BLACKJACK
You cannot lose more than your entry fee
Basic blackjack strategies will work for the majority of players
TOURNAMENT BLACKJACK
Basic blackjack strategies are not the best option: You must use a specific blackjack tournament strategy
You don't need to analyze your table buddies
TOURNAMENT BLACKJACK
Analyzing your table buddies is an important blackjack tournament strategy
The most important difference is the bankroll, in our opinion. In the regular blackjack, players with high bankrolls are advantageous. Because they can continue playing longer and bet higher. However, there is no such thing in blackjack tournaments: All players start a tournament with an equal budget. So what matters is not the size of your bankroll, but how skilled you are. So, if you are good enough, you can easily be the winner of the tournament.
Slot Tournament

Avid tournament player or maybe you want to try something new? Come check out our slot tournament article!

Slots Tournament
Blackjack Tournament Types
Just like slot tournaments, there are multiple types of blackjack tournaments. In general, the rules are the same, but the methods of earning points and the number of participants are different in each type of tournament. These differences may also require the blackjack tournament strategy to be implemented to change. Likewise, the answer to how to win a blackjack tournament will also be different according to these distinctions. It is possible to list blackjack tournament types as follows:
Traditional Blackjack Tournaments
Description
It is possible to say that it is the most classic and common type of tournament. You only play against the players at your own table. The winner at each table plays against other table winners in the next round. This way the tournament continues until there is only one winner left.
Elimination Blackjack Tournaments
Description
This type of tournament is not very common on online casino sites. However, it is often used in television tournaments. It is very simple and performs an automatic elimination after a certain number of rounds. After the 8th, 16th, 25th, and 30th rounds, players with the least number of chips are automatically eliminated.
Non-Elimination Blackjack Tournaments
Description
You play not only against players at your own table, but against all players in the tournament. There is an overall leaderboard and the ranking in this board changes with each game played. No participants are eliminated from the tournament. The tournament ends when one of the players reaches the predetermined score.
Live Money Blackjack Tournaments
Description
This distinction is in terms of the monetary value of the chips. Chips used in the majority of tournaments have no value. The prize is predetermined and the player with the most chips at the end of the tournament wins it. So theoretically it is possible to win the grand prize even with a few chips, the important thing is that you have more chips than anyone else. In live money tournaments, however, there is no predefined prize. The chips used have a monetary equivalent and the total of the chips you get at the end of the tournament shows the prize you have earned. In other words, everyone who has a chip in his hand is entitled to an award. The participant with the largest number of chips wins the biggest prize.
Mini Blackjack Tournaments
Description
These are tournaments that are held for a short time and the prizes are not huge. They are quite common on online casino sites. For example, a blackjack tournament with a prize of EUR 1,000 and valid only on a Saturday, is considered a mini-event. If it is held every week, the participation is free, and the amount of prizes is not too high, it is a mini tournament.
Major Blackjack Tournaments
Description
These are just the opposite of mini tournaments. The prize amounts are quite large and a high fee is usually required to participate. They take a few days to complete and are often held monthly. There are also major tournaments held only once a year. These are the events you need to participate after learning enough tournament play strategies to use.
Sit And Go Blackjack Tournaments
Description
It is possible to define them as "never-ending tournaments". As soon as six players get together, these tournaments continue where they left off. They are similar to mini tournaments, but the amount of prizes is even lower
If you have just begun and have not yet developed your own personal strategy for blackjack tournament, we recommend starting with mini tournaments. In this way, you can gain enough experience without taking high financial risks. Once you have enough experience and learned all the blackjack tournament strategy tips you need, you can start participating in major tournaments.
The Summary Of Blackjack Tournament Rules
No matter what kind of tournament you are participating in, you are competing against other players. The dealer is not your only "target".
Each player starts with the same amount of chips; everybody is equal in the beginning.
Usually, the top 10 players share the grand prize among them and the player with the most chips gets the lion's share.
The most important thing is how many chips you have. Therefore, you should focus on increasing their number as much as possible. You should have as many chips as possible at the end of the tournament.
European Blackjack

Come check out our article and learn more about one of the most popular blackjack games!

European Blackjack
How To Join A Blackjack Tournament: A Simple Guide
Participating in a tournament is not that difficult. Truth be told, it is difficult to find the right online casino: Although blackjack tournaments are quite common, there are few that are good enough to participate. We can list the things you need to do as follows:
Step 1
First, find an online casino that organizes blackjack tournaments. A casino that organizes both mini and major tournaments would be the best. We recommend that you take a look at the recommendations we gave above. Once again, we have already chosen the casinos that organize the best blackjack tournaments for you.
Step 2
Sign up for this casino and deposit money in your account. There are no such thing as free blackjack tournaments: You must have money in your account to both participate and play. You will still need an active balance to play even if there is no entry fee in the tournament.
Step 3
Carefully read the terms and conditions of the tournament. It is essential that you know the important information such as minimum and maximum bet amounts, blackjack tournament schedule, and the conditions for earning points.
Step 4
If you have to pay a fee for entry, pay it and get your starter chips. During the tournament, you will play with these chips and you will not have to buy new ones. If you spend all your chips, you will simply be eliminated from the tournament.
Step 5
Choose a table and start playing. You can also choose mobile blackjack games: It is possible to participate in tournaments from mobile or desktop devices. As we mentioned above, the rules are still the same. In other words, your aim is to reach the highest total score on the table provided that it does not exceed 21 points. You can use basic blackjack strategies throughout the game. But keep in mind that you have to use a different strategy for blackjack tournament.
How To Win A Blackjack Tournament: Basic Tips And Tricks
Before we get started with the blackjack tournament strategy, let's give simple and useful tips. These blackjack tournament strategy tips will help you understand which event offers the best terms & conditions. You will also be able to see and avoid any errors that may have caused you to be disqualified.
Check the actual value of the tournament. Do you know who funds the grand prize in a tournament? Well, it is the participants. Ticket fees paid to participate in the tournament accumulate in a pool and become the prize of the tournament. At this point, there are three possibilities: In the first possibility, the tournament prize is less than the sum of the ticket prices. In the second possibility, the tournament prize is equal to the sum of the ticket prices. And in the third possibility, the tournament reward is more than the total of the ticket prices.
Ideally, you should choose option number three, as the casino operator offers special support for the tournament. Option number two can also be chosen – the operator does not provide personal support, but there is still no harm in joining the tournament. Stay away from option number one, however, because all you do is giving "free money" to the operator. In this option, the operator reserves a certain portion of the ticket fees collected and this is unfair. In other words, the money in the prize pool should not be less than the sum of the ticket prices.
Read the rules. Really, read them. Do you know whats the best strategy for a blackjack tournament? No matter how skillful you are, do not take part in any tournament without first reading the rules. This is the biggest mistake you can make. As we mentioned above, each tournament has different rules that vary according to its type. Even if you know how to play blackjack very well, you need to take a look at these rules in advance, because only this way you can learn how to improve your ranking. Blackjack strategy tournament for chip management will also vary according to the rules. Therefore, be sure to carefully read all the rules of the tournament before you start playing.
Do not talk with anybody. If you are playing live blackjack, you are already aware of the multiplayer features. In this type of games, you can talk to your tablemates and even the dealer or send them text messages. However, you should never do these in tournament games. Tournament participants are there to win, not to socialize: Talking to them can lead to disqualification from the tournament.
Keys To Winning Blackjack Tournaments: You Need To Learn These Skills
Pay attention not only to your own chips, but also to your opponents' chips. Always know how many chips each player on the table has.
You should know when to raise and reduce your bet. Both options will increase your chip count, but only when they are used at the right moment.
Also analyze your opponents' cards and try to calculate their chances of winning / losing. In this way, you have an idea of the change in chip numbers and you can better understand what your bet should be.
The basic blackjack strategy will work, but there will be a time when you need to leave this strategy. Make sure there is a different strategy you can switch to when this happens.
Do not sit in the first or last betting position for as long as possible. Depending on the type of tournament, both can cause you to be disadvantaged.
Blackjack Tournament Strategy: Basic And Advanced
And now, let's talk about basic and advanced blackjack tournament strategy systems. Note that there is no single answer to whats the best strategy for a blackjack tournament question: You need to use a combination of different tactics and strategies to increase your chip count. Here are our recommendations:
Check who is the chip leader at the table. If you are behind, the best blackjack strategy tournament you can use is to make big bets, rather than small ones. If you have 10 chips, for example, make two bets for 5 chips, instead of making the bets for 1 chips. You will be taking a bigger risk but that's the only way to catch up.
If you are the player with the most coins, check the player who is closest to you and match his/her bets. This way, you can prevent him/her from overtaking the lead. Even if you lose, you can keep your leader status.
If you don't have enough chips to catch up with the leader, you need to "go low". This means holding back one more chip than the leader, betting the rest of your chips, and hoping that the dealer will beat the table. Yes, this is a big risk but you don't have other options.
If you are not sure how much to bet, place the maximum number of chips. In the long run, this is the best option. However, do not overbet too: This will be a big mistake.
Do Not Overbet In A Blackjack Tournament
This means placing a big bet when it was not necessary. If the chip difference between you and the leader is at least 2.5x and the leader bets last, do not place a maximum bet. Because even if the leader plays the minimum bet amount, he will still have an advantage over you. In other words, if the chip difference is too big, don't use the "all in" card – it won't work and may cause bankruptcy.
Pros And Cons Of Blackjack Tournaments: Should You Join?
You can win big even with a very small investment
You can find a tournament for all variants of blackjack
You get to compete against your table buddies: The gameplay is much more exciting
With the right blackjack tournament strategy, you can beat even the pros
Even if you are a blackjack pro, the tournament requires using completely different strategies
You also need to check & analyze the hands of your opponents, which can be challenging
FAQ About Online Blackjack Tournaments
For major tournaments, 2 or 3 days on average. Mini tournaments can last only 24 hours (or even less).
There is no fixed number, this depends on the tournament & online casino. In general, however, you can expect to get at least 100 coins.
If you are the dealer, start dealing the cards from your left and give one card to all players. Get one for yourself and open it. Start the sequence again and give another card to all players (2 in total).
No. However, in the long run, they have an advantage due to the RTP rates. In other words, the house always has an "edge".
This has no effect on your winning odds. Playing blackjack alone or with a full table is a personal choice, it is up to you.
No. Spanish 21 is a variant of blackjack with slightly different rules: Redoubling is allowed, for example. Due to these rules, it may even be better than classic blackjack.
Find A Tournament To Join, Start The Ultimate Blackjack Tour!
We believe that you are now ready to join a blackjack tournament: We talked about everything you need to know. Pick one of our recommended casinos, sign up, and participate in any tournament – don't forget to use a blackjack tournament strategy too. With the right website and strategy, you can easily make big amounts of money with these tournaments: We wish you good luck. And don't forget to visit us often because we will continue to update our guide and list of online casinos. See you at the tables!