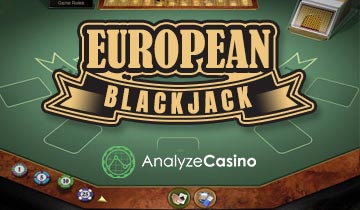 Double deck blackjack is a variation of the classic card game, available at most online casinos.
In this blackjack double deck guide we teach you how to make money playing blackjack.
We take a close look at double deck blackjack rules and highlight how this game compares to other live dealer blackjack varieties.
At the end of the day, you'll have a better understanding of how the game works and hopefully be able to use our double deck blackjack tips to beat the house edge.
Our top casino picks for playing Double Deck blackjack
Cashwin Casino

Register today at Cashwin and get this amazing welcome package: Up to €1750 + 50 Free Spins
1st deposit: 100% up to €1000 + 50 Free Spins
2nd deposit: 100% up to €250
3rd deposit: 50% up to €250
4th deposit: 50% up to €250
Minimum deposit: €20
Wagering requirements: 35x (Bonus + deposit)
Time2Spin Casino

Time2Spin Casino Welcome Bonus: 500% up to €3000 + 500 Free Spins
1st Deposit Bonus: 200% up to €1000 + 200 Free Spins
2nd Deposit Bonus: 100% up to €1000 + 100 Free Spins
3rd Depsoit Bonus: 200% up to €1000 + 200 Free Spins
Wagering requirements: 35x (bonus + deposit)
Minimum deposit for the bonus: €25
Time2Spin Casino VIP Welcome Bonus: 600% up to €6000 + 600 Free Spins
1st Deposit Bonus: 250% up to €2000 + 250 Free Spins
2nd Deposit Bonus: 150% up to €2000 + 150 Free Spins
3rd Depsoit Bonus: 200% up to €12000 + 200 Free Spins
Wagering requirements: 35x (bonus + deposit)
Minimum deposit for the bonus: €250
Damslots Casino

Damslots Casino Welcome Package: 750% up to £/$/€3000
1st Deposit Bonus: 400% up to £/$/€800
2nd Deposit Bonus: 150% up to £/$/€1,000
3rd Deposit Bonus: 200% up to £/$/€1,200
Minimum deposit: €25
Wagering requirements: 50x (bonus)
Other bonuses are up for claim:
Crypto Bonus: 500% up to £/$/€500
Weekend Recharge Bonus: 75% up to £/$/€500
Daily Casino Cashback: 5% up to £/$/€2,000
Daily Extra Cashback: 30% extra cashback up to £/$/€2,000
MyStake Casino

Register right now at MyStakeCasino and grab the outstanding welcome bonus: 100% up to 1.000 EUR!
Minimum deposit: €20
Wagering requirements for the bonus: x30 bonus + deposit
Max. bet with bonus money: €5
Spin Samurai Casino

Get the amazing welcome package at Spin Samurai Casino: Up to €800 + 75 Free Spins!
1st deposit: 60% up to €100
2nd deposit: 50% up to €200 + 25 Free Spins
3rd deposit: 40% up to €500 + 50 Free Spins
wagering requirements: 45x
What is double deck blackjack?
Play double deck blackjack – Step by Step
Before we dwell on the more complex double deck blackjack basic strategy, we need to understand how to play double deck blackjack. These are the five steps that are representative to both free games and high limit blackjack using two decks of cards.
Step 1
Select the stake and place a bet or several ones depending on how many positions you open

Step 2
The dealer gets one card facing up and the player gets two visible ones

Step 3
Based on the two cards total you can stand or hit to get closer to 21 and beat the dealer
Step 4
If you fancy your odds, you can double down and get one more card for potential double profits
Step 5
If you have a pair you can split it if recommended by the double deck blackjack chart
Top casinos with Double Deck blackjack games in 2023
Special rules of double deck blackjack
There are many similarities between single deck blackjack and double deck blackjack, but also a few differences. The same blackjack money management principles apply to both games and the learning curve is smooth if you are familiar with one game. Here we focus on the particular rules of the game using two decks, to determine if is double deck blackjack better and to learn how to beat the house edge.
Double Deck Blackjack and Six Deck Blackjack comparison
The most common version of live and mobile blackjack is the one using six decks of cards, while double deck blackjack is less common. In order to determine how profitable this type of the game can be, it's important to make a double deck blackjack vs 6 deck comparison. In the paragraphs below we highlight the advantages and shortcomings of each game and teach you how to beat double deck blackjack.
Generally speaking, the fewer decks in play, the better the odds are for blackjack players. This isn't all about double deck blackjack card counting, which is obviously easier when there are few cards to keep track of. The main reason is that the frequency of two card 21 is higher if you play with just two decks. Since blackjack pays 3 to 2 at the best double deck blackjack in Vegas, this game can be profitable.
Only the player gets boosted profits for hitting blackjack, so you have an advantage over the dealer. Unfortunately, most casinos will only pay 6 to 5 on blackjack, which greatly reduces the long term winnings and makes the six deck version better. To determine which games are worth playing, try the free double deck blackjack at your casino of choice and pay close attention to the pay tables.
A profitable online blackjack strategy for double deck blackjack needs to factor in other elements. If the dealer stands at soft 17 and you are allowed to split any pairs, including aces, the game is worth trying. By using a double deck blackjack cheat sheet, you know when to blackjack hit or stand depending on your cards and what the dealer is showing. The bottom line is that the double deck blackjack house edge is generally better than the six deck game if blackjack pays 3:2.
Double deck blackjack tips and strategy
Playing double deck blackjack online is a relatively straightforward process, because the rules of the game are easy to learn and master. To be truly successful, you should first understand the double deck blackjack odds and use a blackjack cheat sheet to hit and stand correctly. In the paragraphs below, we take a closer look at the standard double deck blackjack strategy to help you improve the odds of winning.
👉 The first and most important thing to mention is that you should never take insurance at double deck blackjack casinos. It is a bankrupt strategy in the long run because the odds are stacked against you.
👉 Surrendering is generally a bad idea, but you can use it if your cards totals are 15 or 16 and the dealer has an ace. If the dealer hits on soft 17, you can also consider surrendering with a hand total of 17. You can find more in our "When to surrender in blackjack" guide.
👉 The best double deck blackjack strategy will require you to use a blackjack chart indicating when to hit and stand. Generally speaking, you should always stand at 12, 13, 14, 15 and 16 if the dealer shows a low card ranging from 2 to 6. Hitting is always recommended when you have an ace and a low card from 2 to 6, and double against the dealer showing a 5 or 6
👉  When to double down in blackjack is an important question that must be answered when playing double deck blackjack. You should always do it when your first two cards amount to 11 and double on a ten if the dealer shows anything but a ten or an ace. The same goes for splitting pairs of 8 or 9 if the game allows you and the dealer shows a 4, 5 or 6.
Card counting in double deck blackjack
When players try to figure out how to win double deck blackjack they immediately think of counting cards. It makes sense to consider this possibility, since fewer decks are in play and it should be easier to count. The ability to keep track of the cards that were already dealt can help you make the right decisions for the remaining hands. In conjunction with solid bankroll management, this allows you to double down when the odds of making blackjack are better, so the house edge is decreased.
However, this can only work in land-based casinos and game parlors, assuming the dealers and pit bosses are not careful. That's because these casinos don't reshuffle the decks after each hand, like their online counterparts. When this happens, it doesn't matter if you are capable of keeping track of the cards dealt, as software will render your progress irrelevant. Instead of trying to beat the house edge in this way, you should try to master double deck blackjack strategy.
Best Las Vegas double deck blackjack games
Some of the best double deck blackjack games can be found online, but Las Vegas casinos have pretty strong games themselves. In order to find the very best game in town you should focus on some key elements.
Pros and cons of double deck blackjack
Easier to make blackjack with two decks
House edge is decreased if using optimal strategy
Players can count cards if the decks are not reshuffled
Better options for splitting and doubling down
Some games only pay 6 to 5 on blackjack
Double deck blackjack is less common at online casinos
FAQ: Your questions on double deck blackjack answered
The game has a lower house edge if blackjack pays 3 to 2 and the dealer must stand at soft 17.
The best online casinos are the ones paying 3 to 2 on blackjack and allowing players to split aces.
If all the advantageous conditions for the players are present, the house edge is less than 1%.
At the best double deck games, blackjack will pay 3 to 2, while the worst will pay 6 to 5 and 1 to 1
It is only possible to count cards at live casinos where the decks are not shuffled after each hand.
Sharpen your double deck blackjack skill and win online
Double deck blackjack is not the most common game you will find online or at land-based casinos. However, this is a fun game to play and one that can greatly decrease the house edge to less than 1%. Find those games where blackjack still pays 3 to 2 and you are allowed to split any pairs including aces and then double down if you want. Try your card counting abilities if you want, but rely mostly on optimal double deck blackjack strategy and you will have an excellent chance of making a profit.