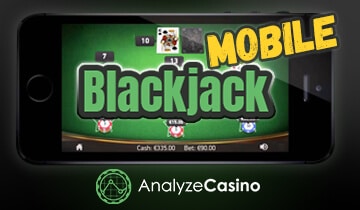 Nowadays, we do a lot of things on mobile: Purchase things, visit websites, play games, make transactions… And of course, we gamble on them too. Almost all casino games have a version that can be played on mobile devices, whether through an online casino app or directly on mobile casino sites. Come read more about casino games in our online casino games guide.
No matter which option you choose, you will be able to play thousands of casino games on your phone. And blackjack, of course, is one of the most popular options: You can find literally hundreds of online mobile blackjack games. But, as always, finding the best mobile online blackjack games and the best online casinos to play them will be a challenge: Every one of them claims to be the best. Don't worry though – we are here to help you. Below, you can find everything you need to know about mobile blackjack games and a list of the best casino sites to play them.
What Is Blackjack Mobile?
As the name implies, online mobile blackjack is the "portable" version of the popular blackjack game, which can be played on all mobile devices, including iOS and Android. In terms of gameplay, rules, and winning chances; it is the same game – mobile phone blackjack is no different than the desktop version. The only difference is that you will be playing the game with your "fingers", instead of your mouse. There are basically two kinds of blackjack mobile games:
Native blackjack mobile game: This type of games is designed to run on mobile or tablet devices, right from scratch. They can be seen in the iPad casino and Android casino Their interfaces are specifically designed for touch-based controls, i.e. they have less and bigger buttons. When someone says casino games for mobile, these native apps should be the first thing that comes to mind.
Standard blackjack mobile game: These are standard blackjack games that are actually designed for desktop PCs but can be played on mobile devices too. They are not actual blackjack for mobile applications, so their interfaces still contain many small buttons. However, due to their modern codebase, they can run seamlessly on portable devices too.
There is no difference between these two categories: You will be still playing the same game. However, native blackjack mobile games are easier to play, as they are designed for your fingers. On the other hand, there will be much more options under the standard mobile blackjack game category. The choice is yours: Try both kinds of games and find out which one suits you better.
Best Online Mobile Blackjack Casinos
At Analyze Casino, we believe in not wasting the time of our visitors, so we will get straight to the point. We know that you are here to play the best mobile online blackjack games, and it is our job to show you how. Below, you can see a list of carefully selected online casinos that offer the chance to play real mobile blackjack games, whether through an app or via the mobile version of their websites. Note that using real money is not mandatory: You can still play mobile blackjack free at the casino sites. But if you choose to do so, you can, of course, try your chances at real money blackjack apps too. In any case, you can be sure that this will be a fun and profitable adventure: These casino sites are hand-picked by our professional team and they offer the best possible mobile phone casino bonus.

Mobile Blackjack Sites Recommendations - Best Picks
Cobra Casino

The welcome bonus of Cobra Casino awards the first three deposits of new members. You need to deposit at least 20 EUR each time and use the relevant bonus code. In total, you can win up to 1.050 EUR and 300 free spins. Let's list these bonus codes first:
1st Deposit: Use the COBRA100 code. The match rate is 100% and the maximum bonus is 500 EUR. You will also get 250 free spins.
2nd Deposit: Use the COBRA50 code. The match rate is 50% and the maximum bonus is 150 EUR. You will also get 50 free spins.
3rd Deposit: Use the COBRA125 code. The match rate is 125% and the maximum bonus is 400 EUR. No free spins this time.
MyStake Casino

Register right now at MyStakeCasino and grab the outstanding welcome bonus: 100% up to 1.000 EUR!
Minimum deposit: €20
Wagering requirements for the bonus: x30 bonus + deposit
Max. bet with bonus money: €5
Spin Samurai Casino

Get the amazing welcome package at Spin Samurai Casino: Up to €800 + 75 Free Spins!
1st deposit: 60% up to €100
2nd deposit: 50% up to €200 + 25 Free Spins
3rd deposit: 40% up to €500 + 50 Free Spins
wagering requirements: 45x
Pulp Casino

Pulp Casino Welcome Package: up to €4000
Register today at Pulp Casino, make your first deposit of a minimum €20, and receive up to €4000
Katsubet Casino

KATSUBET WELCOME PACKAGE: UP TO €500 + 100 FREE SPINS
Register today at Katsubet and grab the outstanding welcome package:

1st deposit

: 100% up to €100 + 100 free spins

2nd deposit

: 75% up to €100. Bonus code: '2DEP'

3rd deposit

: 50% up to €200. Bonus code: '3DEP'

4th deposit

: 100% up to €100. Bonus code: '4DEP'
As always, you can visit our online casino reviews section to learn more about these online casinos and find new ones – we are offering you geo-targeted reviews so you can find the best casino sites for your country, no matter where you live in. These websites will give you the best mobile casino action play slots blackjack & more. That's right: You can find dozens of other mobile games too, in addition to blackjack mobile.
Rules Of Mobile Blackjack
We won't go into the details of blackjack game rules here: We have a separate article that explains those in detail but keep in mind that these rules are also available for live blackjack mobile. We will just give you some reminders. In order to learn the rules in detail (and get some tips) we recommend reading that other article. That being said, here is the short & dirty version of mobile phone blackjack rules:
Each card in the deck has a point value. Aces are worth 1 or 11, picture cards are worth 10, and all other cards are worth their face value.
Your goal is to reach 21 points or a total higher than the dealer.
After getting the first two cards, you should check your point total. After that, you get a couple of betting options.
"Hit" means you want one more card. "Stand" means you don't want any more cards.
You can also "split" your cards and play them like two separate hands or "double" the original bet amount (find here when to double down in blackjack), if you trust your hand.
The dealer has to "stand" at soft 17 – you don't have a rule like that. You are free to get new cards as long as you want. However, if you surpass 21 points, you "bust".
These are the basic rules of blackjack mobile games and they are enough to give you an idea. For detailed instructions and advanced strategies, refer to our other guides, such as blackjack hit or stand.
What Kind Of Blackjack Games Are Available On Mobile?
Blackjack is a game with lots of variants (such as Canadian Blackjack), and this is true for mobile phone blackjack games too. In general, we can say that you will be able to find these three variants on mobile devices the most:
Classic Mobile Blackjack: The original version. No side bets, no special cards – good old pure blackjack experience. If you are a beginner, start with this variant, as it has the simplest rules and the lowest house edge. Its gameplay is pretty fast too, when compared to other variants.
Spanish 21: Also known as "mobile Pontoon", this variant contains a couple of blackjack side bets and bonus payouts. For example, if you manage to reach 21 points with three 7s, you get a bonus prize. Mobile Spanish 21 decks do not contain 10s and the rules slightly favor the player – i.e. player's blackjack always beat the dealer's blackjack. Come check out our "how to play Spanish 21" and "Spanish 21 vs Blackjack" articles and learn more
Mobile Switch Blackjack: This one is pretty different and fun: Players can switch the top two cards initially between hands, before selecting an option (hit or stand). The dealer gives two cards to the player, and opens another two on the table. Before selecting an option, the player can choose two form a different hand with those open cards. The rest of the rules are the same, but natural blackjack pays 1:1, instead of the usual 3:2.
The variants of blackjack mobile are fun and we recommend trying them, but don't forget the golden rule: The lowest house edge can only be found in the "original" version. All variants offer slightly increased house edge rates – your odds will be better if you play classic mobile blackjack.
Advantages Of Mobile Blackjack Games
You get to play whenever you want, wherever you want. This is the advantage of all mobile casino games: You don't need a PC to play them. Your mobile phone is the only tool you need, and you always carry it. So you get to decide when to play and where to play: The whole world is your playing ground.
You can still win real money. Blackjack mobile apps are not just for fun. Just like the desktop versions, you can play them with real money and win real money in return. They can be played for free too, of course, but the real money option is always available. Find out here more about how to make money playing blackjack and in what way does the number of cards used in blackjack influence the house edge and your odds of winning.
You will feel like you are in control. Playing a card game with your fingers instead of a mouse is a pretty unique experience. You feel like you are really "touching" the cards, which results in a more immersive experience. Touch-based controls always beat "clicking".
You will have lots of options. More and more providers switch to mobile casino games every day. The majority of new mobile blackjack games are developed for mobile platforms nowadays, and this will continue to be the case. this will continue to be the case. You will always be able to play the latest mobile phone blackjack
Best Mobile Blackjack Casino List
Pros&Cons For Mobile Blackjack Games
Easy to use every time
Nice interfaces for blackjack games
Nice control feel
Some casinos doesn't have mobile blackjack option
FAQ About Mobile Blackjack Real Money Games
Blackjack is the most popular card game, and its mobile version is also popular too. This is mostly because blackjack mobile is easy to learn but hard to master the game. Unlike poker, its rules are simple and anybody can learn them in 5 minutes.
Other than a mobile device, nothing. You either download an app from the official store of your operating system or directly visit the mobile version of an online casino website. And you don't need a "powerful" phone to do this.
The best mobile online blackjack app is the one you can use easily. You should remember that the rules of mobile blackjack do not change between apps: You will be playing the same game, no matter which app you are using.
Yes, it is possible to play mobile live blackjack on portable devices too. Mobile devices are built for video calls, and mobile live blackjack games are just live broadcasts. You can join any of these broadcasts with ease and start playing mobile live blackjack against real dealers.
Yes,
casino bonus
offers will still be available on mobile devices too. Online casino operators love mobile players, as they cost less to operate. And to do that, they usually offer more bonuses & higher match rates to mobile players.
The house edge/RTP rates of desktop and mobile blackjack games are the same. According to the variant you are playing, this is a percentage between 0.45% and 0.40%. However, don't forget that different variants have different rates too.
Find The Best Blackjack App, Play Today!
Now, you are ready to play some mobile blackjack: We explained the game, listed the rules, and showed you the best blackjack apps of online casinos. You just need to pick one and start playing. And you can do this in less than 5 minutes: Register for an account, download the app, and click on the "play" button, it is that simple. Don't forget to grab a bonus too, as our recommended blackjack mobile casinos contain lots of them. And if you need help on playing mobile phone blackjack, check out other articles too, as they contain lots of tips and advanced strategies. Good luck and see you at the tables