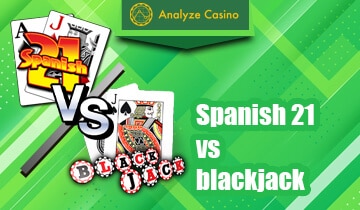 Do you know the difference between Spanish 21 vs blackjack? We assume you don't need to ask, "is Blackjack and 21 the same game?"
We're sure you already know that they are. But what about Spanish 21? Is it played in the same way as a typical three-card blackjack game, and can you learn how to make money playing blackjack games, such as this, online?
As ever, we're here with another online casino games guide. If you want to learn the difference between Spanish 21 and blackjack, then look no further than our guide. Let's begin.
Best online casinos with Blackjack games in 2023
What is the difference between Spanish 21 and Blackjack?
Do you know the differences between the two games? If we were to compare blackjack vs Spanish 21, what would you expect to see? In reality, Spanish 21 is very closely related to most conventional blackjack games. Almost all the rules are identical, but you're looking at one significant difference, though. All the "ten" cards are removed from the deck in Spanish 21. This naturally affects a whole bunch of things, from the odds to the house edges and more. It is still one of the best casino games to make money on, but you're going to need to learn a bit more about it. Fortunately, you can do that with our guide.
Spanish 21 vs Blackjack – The odds explained
The house edges compared
When considering regular blackjack vs Spanish 21, you're looking at large similar house edges on the blackjack tables. Spanish 21 vs blackjack house edges can both be brought down by players who know what they are doing. You're looking at house edges of 4.5% at worst, but by using Basic Strategy, you can cut this down to 0.5% in blackjack and as low as 0.4% in Spanish 21. Any of the 100 best online casinos out there should have games that allow you to use Basic Strategy with ease.
Explaining Spanish 21 – The deck
Favourable players rules exist in Spanish 21
While thus far, it may appear that Spanish 21 is designed to frustrate you, there are one or two rules in the game that you may find favorable. For instance, doubling down is a touch different in Spanish 21. You can double down on any total of blackjack cards (as opposed to just the first two in blackjack), and you can even double down after splitting. Speaking of splitting, you can split aces. Then, if you land another ace, you can re-split them. 
At the same time, if both the player and the dealer land a 21 in this game, the player wins the bet. This contrasts with blackjack, where it is usually a push. The same applies to blackjack hands, too. Here, the differences between blackjack and Spanish 21 make the game more favorable to the player.
If you are considering playing the game at online casinos, be sure to choose the best payout casino, as they can deliver wins more speedily. At the same time, be sure that the casino plays with conventional Spanish 21 rules. Double-check to see what the rules are regarding players hitting on soft 17s, for instance.
The difference in Basic Strategy
The pros and cons of Spanish 21
Not really suitable for high roller casino gameplay
The lack of 10s will frustrate some players
FAQs: Your questions on Spanish 21 answered
Before you go and potentially start playing Spanish 21 (or blackjack), take a quick look at our FAQ (our frequently asked questions) guide to see if we can assist you.
We'd say that Spanish 21 does, as you get more options when it comes to payouts for various hands.
The Spanish 21 and blackjack differences stem mainly from the fact that Spanish 21 doesn't use 10s, although it does use face-cards. This, coupled with different rules for doubling down and splitting aces, makes it unique and separate from conventional blackjack games.
That depends. Blackjack is definitely the most popular of the games. However, Spanish 21 is ideal if you are skilled enough at blackjack but fancy playing something a touch different.
Yes, you can. Because there are no 10 cards in the deck, it may be arguably easier to keep track of what cards have come and gone. However, in RNG (random number generator) Spanish 21, which is arguably the most common form of the game, automatic shuffling occurs between each hand.
Play Spanish 21 at leading online casinos today
Are you still asking, "is Spanish 21 better than blackjack?" We believe we've put together the ideal guide to help you decipher which game is more suitable for you. In our Spanish 21 vs blackjack guide, we've covered the rules, the odds, and the perks. Now it is down to you to decide if you want to play one or the other. If you're interested in getting to grips with Spanish 21 over blackjack, then we've got an array of new online casinos and already established, reputable betting sites for you to choose from. Take a look at our Spanish 21-friendly online casinos to find the ideal place to start betting on this game today.