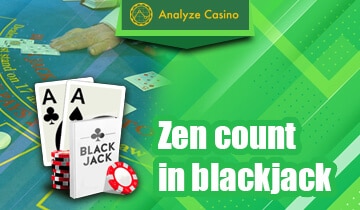 If you want to count cards when playing high limit blackjack but are not successful with traditional techniques, we recommend you take a look at the Zen count blackjack system.
As we mentioned in our how to make money playing blackjack guide, card counting is a legal technique and can be used in all variants of the game (including mobile blackjack).
It is possible to use different systems for counting cards, and Zen count is one of them: Little known but highly effective. In this Zen count system explained guide, we explain in detail everything you need to know about the technique.
Our top casino picks where you can play Blackjack:
Big5 Casino

Register today at Big5Casino to benefit from this amazing welcome bonus:
Get a 100% up to €500 on your first deposit with a minimum deposit of  €20
Get an additional 500 Free Spins when you deposit €55+
The free spins are released in bundles of 50 free spins per day,

over the course of 10 days

Wagering requirements: 30x
Spin Samurai Casino

Get the amazing welcome package at Spin Samurai Casino: Up to €800 + 75 Free Spins!
1st deposit: 60% up to €100
2nd deposit: 50% up to €200 + 25 Free Spins
3rd deposit: 40% up to €500 + 50 Free Spins
wagering requirements: 45x
MrLuck Casino

Make three deposits and start playing with up to 1200% bonus + 100 Wager Free Spins!
First deposit is 500% up to €100
Second deposit is 400% up to €120 + 50 Free Spins (no wagering)
Third deposit is 300% up to €120 + 50 Free Spins (no wagering)
Wagering requirements: x30
Betwinner Casino

Register with Betwinner today and receive an exlusive welcome bonus of up to €390!
Use the promo code: ANALYZE
Minimum deposit required: €1
Wagering requirements: 28x
Bonus is not available for customers with cryptocurrency accounts
The history of Zen card counting system in blackjack
Counting cards is the most common online blackjack strategy, and a technique called "hi-lo" is often used for this job. Until the 80s, almost all gamblers counted cards with this technique, and it is still extremely popular today.
Best online casinos to play blackjack in 2021
What is Zen card counting?
Below we explain the main features and rules of the Zen card counting system:
How does the Zen count work in blackjack?
Regardless of the variant, whether you play European blackjack or Bitcoin blackjack, each card has a point value and these values do not change. You can see them in the Zen count blackjack strategy chart below:
As can be seen from this table, the average Zen count range blackjack is not overly broad. To put it simply, when playing with Zen count indices blackjack, you must calculate the point values of all the cards on the table in your head and constantly update the result: This is called "running count".
What you need to do is play with the minimum bet if the running count is a negative number or 0. Each time the count rises, you must increase your bet by 1 unit.
Let's give an example and imagine that the following cards are played in order in the game:
In this example, you have to start playing with the minimum bet from card 10 and continue by increasing the stake by 1 unit after card 4. Keeping running count in mind constantly is the most important part of the Zen count technique.
Choosing the right bet size with Zen blackjack card counting
It is not the bet amount we are talking about here: you have to decide that personally and based on your bankroll. When we say bet size, we mean how you should behave according to the rolling count result.
The result obtained with the Zen count technique can be negative, positive, or zero. So, how can these results guide you?
If the rolling count is a positive number, you have an increased chance of blackjack. Therefore, you can increase your bet.

If the rolling count is a negative number or zero, you are less likely to win the game and it would be better to lower your bet.

Keep playing with the minimum bet as long as the result is zero or a negative number.
When the result is a positive number, keep increasing the bet amount by 1 unit.
For example, placing 3x minimum bet will be a good choice for the +3 result: We believe this is the best betting schedule for Zen count blackjack.
In this context, we should also briefly mention the concept of "true count". If more than one deck is used in the game, the rolling count calculation can mislead you because the deck will contain extra Aces and face cards. In such a case, you need to convert running count to true count and use the result of this calculation for the Zen count technique.
The true count can be calculated by dividing the running count by the number of remaining decks. For example, if there are 5 decks left, divide the running count by 5: The result will be the true count.
How to use the Zen card counting effectively?
👉 Examine and practice other card counting techniques (i.e.
baccarat card counting
) and try to increase your capacity with mental exercises.
👉 Prefer one-deck blackjack games at first and try two-deck games after gaining some experience. Ideally, Zen count blackjack should be used in games of no more than two decks.
👉 Do not use aggressive betting techniques such as double your bet until you win with the Zen count technique. Increase or decrease the stakes within the limits described above.
👉 Check out our other blackjack guides (i.e. do you take insurance in blackjack, when to surrender in blackjack, etc.) to find out what the best decisions will be for each card combination.
👉 Be sure to take advantage of the online casino bonuses when playing blackjack. You can start by browsing our list of 100 best online casinos.
What to expect from Zen count blackjack
Perfectly accurate with 0.96 correlation
Probably the best method for one-deck and double-deck games
Aces are already included in the count
Harder than hi-lo technique
Not suitable for games with more than 2 decks
FAQ: Your questions on the Zen card counting answered
Zen count is a blackjack card counting technique that is slightly more accurate than others. It is a level II technique, which means it is also slightly harder to learn and use.
Zen count blackjack correlation is 0.96, which means it is quite effective and really works in the long run. However, the effectiveness also depends on the personal abilities of the player too.
Aces are worth -1 point in Zen count blackjack. Other negative numbers are 10, J, Q, and K. 8 and 9 are worth 0 points and all other cards are positive numbers.
This depends on your personal skills, but it is perfectly possible to master Zen count in a maximum of two weeks with the right mental exercises.
No. Neither regular card counting or Zen card counting is illegal in blackjack. Casinos cannot confiscate your winnings by claiming that you are "counting cards". However, land-based casinos may refuse service to players using this technique, so we recommend using it only at safe online casino sites.
Win big with Zen count system
Zen count blackjack is probably the best system to use in games with the minimal number of decks: If the game is played with a single or double deck, you should definitely prefer Zen card counting. You have learned how to Zen count by reading this guide and it is now time to make some practice: Choose one of our recommended casinos and start playing blackjack with a bonus or learn about other games and strategies like 20 Card Keno. We are sure that you will start winning big in no time. Good luck out there!