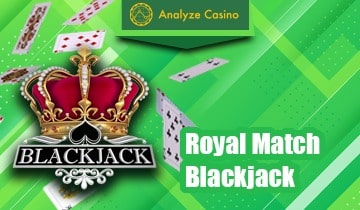 Royal Match Blackjack is common terminology used in blackjack. Therefore, if you are familiar with conventional blackjack, you might have encountered it. 
In this post, we tell you the meaning and explain the rules that apply when playing and how to calculate the odds.
Additionally, we will describe the best tips and tricks for Royal Match Blackjack.  
So, stay on this page to learn more. 
Best Casinos to Bet on Blackjack in 2023
What Is Royal Match in Blackjack?
The Royal Match is a unique side bet in blackjack. It is not one of the most popular side bets but also an ancient side bet. This blackjack side bet is tied to the first two cards that a player receives during a betting round. 
Royal Match Blackjack Explained
When you are dealt the first two cards, this side bet assumes that the two cards will belong to the same suit or be a Royal Match, i.e., a King and a Queen of the same suit.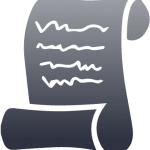 If you get a Royal Match, i.e., a King and Queen in a suit, you will be paid 25:1. However, if your combination is a suited pair, you will be paid 5:2.
A significant advantage the royal match side bet blackjack offers is that the winning amount is paid out instantly. 
However, it is worth pointing out that if your bet is not successful, you will lose your bet amount with the blackjack game progression as usual. 
The Rules for Blackjack Royal Match
The rules for Blackjack Royal Match side bet are pretty straightforward. 
Here are the gameplay and rules:
👉 The player places a standard wager, and a Royal Match bet (optional).
👉 The dealer dishes out two cards to each player on the table. If a player places an additional wager, i.e., Royal Match bet, their fate is determined there and then. 
👉 The dealer and the players determine who has won and who has lost. You only win if you have suited King and Queen or the cards are of the Same Suit. 
A blackjack or natural is achieved when the player's two cards are a ten-card and an ace. This results in a total of 21 from two cards. A player is immediately paid if he has a natural and a dealer does not. 
How Are Odds Calculated in The Royal Match Blackjack?
The Royal Match blackjack odds depend on the number of decks used to play. Players get better odds when playing on more decks than fewer decks. 
Also, the combination of cards a player has in hand plays a significant role in determining the odds. Here is a table showing the vital overview statistics of the Royal Match blackjack in a standard game with six decks of cards:
Types Of Blackjack Royal Match Situation
The three main situations you will come across:
⚜️ Royal Match
As stated earlier, your first two cards are King and Queen, and the payout you receive from this card combination is 25:1. This is one of the highest payout rates in blackjack side bets.
👑 Crown Treasure
This situation occurs when the dealer and the player have a Royal Match. Having the two cards of a player and the two cards of a dealer being Queen and King of the same suit is very rare in Blackjack. However, it is possible to occur in a Royal Match side bet. This combination comes with the highest payout ($1000). 
Some casinos have a Royal Match version that pays a progressive jackpot for crown treasure. In the games, the payout can reach $10,000. 
✨ Two Cards Suited (Easy Match)
When you have two cards suited, you have two of the same suit. This type of card combination usually pays 2.5:1.
From the table below, you'll realize the odds of getting a Royal Match in blackjack are meager.
Tips And Tricks for Royal Match in Blackjack In 2023
While there are many Royal Match tips to employ, only a handful can give better returns. Let's explore some strategies for Royal Match Blackjack in this section.
👥 Shadow The Dealer
This is the most uncomplicated strategy you can use while playing Blackjack. Typically, if the hand dealt to you has a queen or higher, go ahead and play it; however, if it does not, fold the hand. Ideally, you should know when to surrender in Blackjack.
This means you give up half of your after seeing your hand and the dealer's upcard. This can be lifesaving if your hand has less than a 50% chance of winning. 
▶ Make A Play Wager If Your Hand Has a Q-6-4 Or Better
This optimal play strategy will drastically drop the house edge to about 2%. But it is important to note that this strategy is common in three-card poker, but if you understand it properly, you can apply it to Royal Match side bet. 
🃏 Card Counting
Blackjack card counting is a crucial aspect when t comes to techniques and strategies players can employ to win a game. The system uses different methods to count cards that specialize in specific types of games – variants, number of decks, etc. 
Typically, card counting means keeping a running count and true count of the cards to determine the cards dealt and the cards remaining in the deck. So, you must understand blackjack card rankings. This knowledge helps to improve the decision-making process of the player. 
Pros and Cons of Playing Royal Match Blackjack
Higher payout
The payout is made soon as cards are dealt and the wager determined
The bet has two options resulting in a relatively low risk
Better odds when playing on many decks
Suitable for experienced players
The element of luck is prominent; thus, little chance of applying skills, especially for beginners
Frequently Asked Questions about Blackjack Royal Match
The Royal Match betting in Blackjack is based on the first two cards dished out to the player in the blackjack wagering round. Typically, a player places this bet alongside the first bet, and the expected outcome is either a Royal Match, i.e., a King and Queen of the same suit (25:1), or two cards belonging to the same suit (5:2).
The Royal Match Blackjack is part of blackjack. It is one of the oldest bets, and players can optionally place it alongside their first two cards. The bet follows the same house procedure as other blackjack bets.
A single-deck blackjack has a house edge of 10.86%. This is a much higher house edge than an eight or 6 deck blackjack.
In a standard game of blackjack with a 6-card deck, the house edge of Royal Match is 5.64%.
A royal flush in Blackjack means five cards in sequence, all five cards being of the same suit. These cards include ace, king, queen, jack, and ten in the same suit. The ace is the highest card.
Blackjack Royal Match Bet: A Side Bet to Boost Your Payout
Blackjack has several side bets, which are placed alongside the main bets. The blackjack royal match bet will significantly boost your payout if it is successful. The blackjack royal match payout is up to 25:1, guaranteeing you more returns than other similar bets. 
However, you must know how to play a blackjack match bet to increase your odds of winning.
Other blackjack-related articles you might be interested in