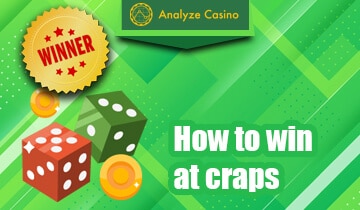 Craps is a popular casino game and those who take the time to learn the rules can be fairly successful.
In this guide we shall teach you how to win at craps and which craps strategy for beginners works best.
We discuss the craps house edge, various systems that work and effective tips and tricks.
We look at the basic concepts before dwelling on advanced craps strategy to help you master the popular game of chance.
Our Best Online Casino Pick
Rigged Casino

Rigged Casino Welcome Bonus: 100% up to €1000 + 100 FS
Day 1: 100% up to €/$1000 deposit bonus and 15 free spins in Fruit party.
Day 2: 15 free spins in Joker Bombs.
Day 3: 20 free spins in Rise Of Olympus
Day 4: 25 free spins in Reactoonz
Day 5: 25 free spins in Book Of Dead
Wagering requirements: 35x
Minimum deposit: €20
Cobra Casino

The welcome bonus of Cobra Casino awards the first three deposits of new members. You need to deposit at least 20 EUR each time and use the relevant bonus code. In total, you can win up to 1.050 EUR and 300 free spins. Let's list these bonus codes first:
1st Deposit: Use the COBRA100 code. The match rate is 100% and the maximum bonus is 500 EUR. You will also get 250 free spins.
2nd Deposit: Use the COBRA50 code. The match rate is 50% and the maximum bonus is 150 EUR. You will also get 50 free spins.
3rd Deposit: Use the COBRA125 code. The match rate is 125% and the maximum bonus is 400 EUR. No free spins this time.
Jackpoty Casino

Jackpoty Casino Welcome Bonus: Up to €2000
1st deposit: 50% up to €1000 or 100% up to €500 + 100 Free Spins;
2nd deposit: 100% up to €300;
3rd deposit: 50% up to €500;
4th deposit: 100% up to €200.
OhMySpins Casino

OhMySpins Casino Welcome Bonus: 100% up to €500 + 200 Free Spins
Minimum deposit: €20
Wagering requirements: x35
The Free Spins are added as a set of 20 per day for 10 days
The bonus will be credited immediately after a successful qualifying deposit
Standard craps strategy for beginners
The best craps strategy is usually the easiest one to learn by casual punters. If you want to learn how to play craps for beginners, these are the few things to consider. We focus on the pass line, the don't pass line bets and highlight the importance of proper craps money management.
Craps pass line bet

strategy

– the

craps pass line bet strategy is one that can be used in single games as well as a craps tournament. It focuses on the come line craps bet and it pays 1:1 while having a house edge of 1.40%. You win if the dice lands on 7 or 11, two of the common craps dice combinations.

It is a low risk craps strategy that is recommended for beginners.

Don't pass bet craps

strategy

– this craps betting strategy won't make you friends at the table. You bet against the shooter, which doesn't make you very popular but the house edge is still low. You win if the dice

lands on 2 or 3 and lose on 7 and 11. This basic craps strategy has a twist if a point is thrown, as players make the don't come bet. The

don't pass bet craps payout is 1:1 and the same low house edge of 1.46% applies. This is much better than what other games pay.

Money management strategy –

this is not a system itself and definitely not something to teach you how to win at craps every time. It is nevertheless an important lesson in craps for beginners and one that should be mastered as soon as possible. If you want to learn how to win at craps with a small bankroll, proper money management is needed. Whether you use the

don't come bet system or the standard craps pass line bet

a money management system is mandatory.
top 20 Online Casinos Where You Can Play Craps - Updated List 2022
Advanced craps strategies to try online
Craps strategy for pros and veteran players
Veteran players can try an automatic craps strategy that will light their path on how to win at craps. Expert players usually stay away from horn bets in craps, as well as the craps field bet and craps hardways bet, due to the high house edge. Instead of gambling with craps hop bets or a high paying wagers such as the craps flat bet, they simply increase the stakes. A casino craps strategy based on higher stakes is preferable to a simple craps strategy that focuses on the top paying bets.
3 Point Molly Strategy – is an aggressive system that can teach you how to win big at craps. Players bet on 7 or 11 and then bet maximum odds on the point and the come bet on the table. In case the shooter doesn't land 7, 11 or Point, punters place another come bet. At this stage of the game, this craps winning strategy will have bets on point, come bet and past line. Players keep betting on 7, 11 or Point, so they have three number bets in play at any time.
Iron Cross Craps Strategy – a popular craps field strategy that is used in both street craps and in online casinos. Basically, you bet on all the numbers except for 7 which leads to frequent winnings. If you want to learn quickly how to win at playing craps and are familiar with basic street craps rules, this is a good choice. It is perfect for one-off bets, which makes it ideal for those who have just learned craps rules and strategy.
How to pick the best craps strategy for you
The Internet is full of electronic craps strategy and systems, but not all of them work. If you want to learn how to win money at craps, you have to accept a hard truth. There is no answer to those who want to discover how to always win at craps. All you can do is to mitigate the house edge by using effective systems while playing the odds. Always stick to basic bets, such as the past line, don't pass line and
craps put bet
which carries a low house edge.
Choose a system that works for you and your level of knowledge. If you're a casual punter, then look for how to win at craps for beginners strategies. Exercise bankroll management when playing any game, but especially when using a craps tournament strategy. Whatever system you end up choosing, give it a try at free money tables. Download craps apps from casinos that allow you to test the game on virtual currency, to get a better understanding of craps rules and strategy.
Low-Risk systems for casual punters
The best craps strategy for casual punters is the one focusing on bets with a low house edge. Pass Line/Don't Pass wagers are recommended if you want to bet on the minimum limit. When you have a small bankroll, this is precisely what needs to be done to stay afloat while you learn.
The return to player is nearly 99%, so if you want to learn how to win at craps table, begin with this bets. If you lay the odds the casino will have virtually no advantage, which can't be said when playing most games of chance.
Tips and Tricks on winning at craps
Frequently Asked Questions on Craps Strategy
The best craps strategy is to choose bets with a low house edge. Why is craps illegal in California? -Because this is the game of chance, so any strategy for craps will still be subject to luck.
The ultimate craps strategy is surprisingly, the easiest one. Pass Line/Don't Pass bets are the best and if you lay the odds you can decrease the house edge even further.
With the right approach, an effective strategy for craps and luck, you can be very successful.
They should do it in order to further decrease the house edge, well below 1%.
If you want to learn how to win at craps as a beginner, the 3 Point Molly craps strategy is not for you. Veteran players can use it more effectively
Improve your gaming session with an effective craps strategy
You can find a craps strategy for beginners, advanced players and veterans. Choose the one that is suitable to your level of skill and experience and it will help you increase the profit margins. Remember that the game still depends on chance and you need to be patient and bet sensible amounts. Use proper bankroll management and you will be successful in the long run, while avoiding heartbreaking losses.