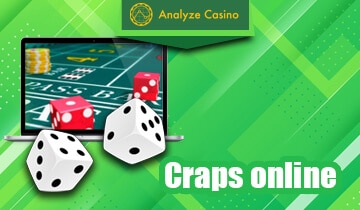 Craps online is a shining example of a game that is easy to learn and difficult to master. There are so many craps dice combinations and possible bets that beginners often feel overwhelmed by its complexity. The sheer quality of the craps odds and the low house edge make it worth trying the game.
In this guide, we look at the craps odds and teach you how to play craps for beginners. Keep reading to find out how craps bets work and what differences might be between online craps and street craps.
Our Best Online Casino Picks
Windetta Casino

Windetta Casino Welcome Bonus: 215% Up to €2000 + 200 Free Spins
1st deposit: 90% up to €500 + 75 Free Spins on Gates of Olympus;
2nd deposit: 50% up to €500 + 50 Free Spins on The Hand of Midas;
3rd deposit: 75% up to €500 + 75 Free Spins on Sugar Rush.
Time2Spin Casino

Time2Spin Casino Welcome Bonus: 500% up to €3000 + 500 Free Spins
1st Deposit Bonus: 200% up to €1000 + 200 Free Spins
2nd Deposit Bonus: 100% up to €1000 + 100 Free Spins
3rd Depsoit Bonus: 200% up to €1000 + 200 Free Spins
Wagering requirements: 35x (bonus + deposit)
Minimum deposit for the bonus: €25
Time2Spin Casino VIP Welcome Bonus: 600% up to €6000 + 600 Free Spins
1st Deposit Bonus: 250% up to €2000 + 250 Free Spins
2nd Deposit Bonus: 150% up to €2000 + 150 Free Spins
3rd Depsoit Bonus: 200% up to €12000 + 200 Free Spins
Wagering requirements: 35x (bonus + deposit)
Minimum deposit for the bonus: €250
Damslots Casino

Damslots Casino Welcome Package: 750% up to £/$/€3000
1st Deposit Bonus: 400% up to £/$/€800
2nd Deposit Bonus: 150% up to £/$/€1,000
3rd Deposit Bonus: 200% up to £/$/€1,200
Minimum deposit: €25
Wagering requirements: 50x (bonus)
Other bonuses are up for claim:
Crypto Bonus: 500% up to £/$/€500
Weekend Recharge Bonus: 75% up to £/$/€500
Daily Casino Cashback: 5% up to £/$/€2,000
Daily Extra Cashback: 30% extra cashback up to £/$/€2,000
MyStake Casino

Register right now at MyStakeCasino and grab the outstanding welcome bonus: 100% up to 1.000 EUR!
Minimum deposit: €20
Wagering requirements for the bonus: x30 bonus + deposit
Max. bet with bonus money: €5
Spin Samurai Casino

Get the amazing welcome package at Spin Samurai Casino: Up to €800 + 75 Free Spins!
1st deposit: 60% up to €100
2nd deposit: 50% up to €200 + 25 Free Spins
3rd deposit: 40% up to €500 + 50 Free Spins
wagering requirements: 45x
Basic rules of online craps
Even the longest voyage begins with a single step and the first thing to learn about the craps game online is the set of rules. Remember that you can play free craps online to get familiar with the game mechanics before you bet real money and try to win at online craps.
The goal is to predict the outcome of the dice and make a successful bet on it. There are two key components of the game, the come-out roll and the point which apply to both street craps online and live craps games offered by Internet casinos.
Come Out Roll – any game of craps begins with the come-out roll, when new players shoot craps online for the first time. During this phase of the game, there are two possible options, namely the Pass Line and Don't Pass. The craps pass line bet and don't pass bet craps are the core mechanics that beginners must learn as soon as they play craps online.
The Point – when the initial dice results in 4, 5, 6, 8, 9, or 10, the craps game enters the second stage called "the point". The dealer, which is called the stickman at the craps board game will move the point on the number resulting from the first roll of the dice. The initial pass line bet will remain during this stage when players try to roll the point before the 7.
Let's say the initial dice result was 6 the craps flat bet you need to roll before a 7 comes is also 6. If this happens, you will be paid 1:1, otherwise, the pass line bet is lost. The shooter continues to roll the dice until either 7 or 6 is rolled, so anyone can understand online craps real money.
The most important things to understand when playing craps online for fun or real money are the pass and don't pass lines. The same rules apply for virtual craps and games played in land-based casinos, so they are at the center of any craps tournament strategy.
Other craps bets at online casinos
Punters seeking simplicity and just learning craps online will stick to the basic bets. Others will diversify their betting patterns and consider different wagers, such as taking odds. The advantage of this type of bet is that it carries a very low house edge.
The payout is point-dependent and you bet on the shooter to roll the point before the 7. Winnings depend on the point at any online craps casino, as follows: Point 4 and 10 will pay 2:1, points 5 and 9 will pay 3:2, and point 6 and 8 will pay 6:5. The alternative online craps betting to taking the point is laying the odds.
Table layout of online craps
The best way to get familiar with the table layout is to try free online craps. There are no visual differences between the tables found in land-based and online casinos.
An area is dedicated to rolling the dice and this is where the shooter performs his action. Bets are placed on the relevant spot in the betting area whether they play craps online for money or virtual currency.
In land-based casinos, the Boxman is responsible for watching the dealers and exchanging cash into chips. The stickman uses the stick to handle the dice and passes them to the shooter before each game. In online street craps the role of base dealers is substituted by software. In brick-and-mortar casinos.
Playing craps online – Step by step
Whether you play free craps or try the real money multiplayer online craps, these are the key steps.
Step 1
Choose a table with acceptable betting limits.
Step 2
Assume the role of the shooter or bet on his actions
Step 3
Bet on the pass line or don't pass line
Step 4
Activate one of the special craps bets
Step 5
Take the profits and play another round
Tips and Tricks to be successful at craps
When you play this popular game online, there are a couple of things to consider to be successful. They are no substitute for proper craps money management and you must still bet within your means.
Online craps odds charts and house edge
Even the best online craps game will give the casino a certain house edge. For the pass line or come bet the payouts are 1:1 and the house edge is 1.41%. It decreases to 1.36% for the don't pass or don't come bet and increases to 4.76% when you bet on numbers.
Field bets carry a house edge of 5.5%, while the place bets boost these numbers to 6.7%. Hardways are the worse, with a house edge of 9% and one roll bets are the absolute worst with up to 17% house edge.
Top 20 online casinos where you can play craps
Pros and Cons of playing online craps
Fun game to play for free or real money
Immersive game for recreational punters
Carries a low house edge when played right
High number of bets that can overwhelm beginners
It is possible to bet real money on online gambling craps at hundreds of online casinos.
Unless you live in California or countries where gambling is illegal, you can enjoy the game carefreely. Why are craps illegal in California? - Because it uses dice so it's considered to be a game of chance.
You should choose a licensed online casino that offers craps flash games that can be tried for free and real money. Find an operator that also has live craps online against real dealers.
If you play at a licensed and regulated casino you have nothing to worry about. The game will be certified fair by auditors and you can compare the craps payouts cheat sheet to learn about potential winnings.
Craps are a solution when gambling for fun because of their simplicity. You start by betting on the pass and don't pass the line before moving on to the point, based on the outcome of the previous stage.
When playing real craps online you compete against a tiny house edge. The casino has a small, but fair advantage that can be further reduced by using proper craps field strategy.
You can play online craps for free or real money on smartphones and tablets. You can even try a craps slot at Internet casinos that have diversified their portfolio with craps slot machines.
Enjoy the best games of craps online
Craps online can be a bit intimidating if you don't know anything about the game. That's because the rules seem complicated and there are plenty of bets worth considering. The good news is that players can stick to the standard bets and have a lot of fun with it.
If you are in the market for casino games with a low house edge, online craps are the obvious solution. Take the time to learn the special bets and always bet according to the low house edge and you'll have a good chance to stay profitable while having fun.