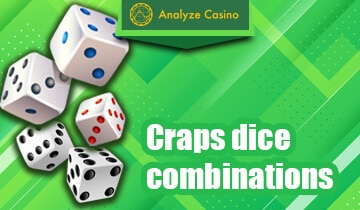 Craps is one of the most popular casino games and unlike most table games, it is played only with dice. Like all other casino games, however, it has a mathematical system based on craps dice combinations.
So, knowing these dice combinations in craps (and their probabilities) will give you an advantage in every game and every variant.
Below, we talk about everything you need to know about craps dice combinations.
Our Best Online Casino Pick
Cobra Casino

The welcome bonus of Cobra Casino awards the first three deposits of new members. You need to deposit at least 20 EUR each time and use the relevant bonus code. In total, you can win up to 1.050 EUR and 300 free spins. Let's list these bonus codes first:
1st Deposit: Use the COBRA100 code. The match rate is 100% and the maximum bonus is 500 EUR. You will also get 250 free spins.
2nd Deposit: Use the COBRA50 code. The match rate is 50% and the maximum bonus is 150 EUR. You will also get 50 free spins.
3rd Deposit: Use the COBRA125 code. The match rate is 125% and the maximum bonus is 400 EUR. No free spins this time.
Odds and dice roll combinations in craps
For example, we can calculate the probability of "2" as "1/36", which equals 2.78%. There is only one combination that results in 2 (1+1), but the number of combinations will vary for different results.
For example, there are five different combinations (5+1, 4+2, 3+3, 2+4, 1+5) that result in 6, and therefore the probability of this outcome occurring is 5/36 (11.11%).
It is important to know craps dice combinations and probability calculations because, as we will mention below, most bets on craps depend on the numbers 7 and 12. Therefore, knowing the probability of the dice combinations in craps that give these results will give you a certain advantage.
Best online casinos where you can play craps in 2022
Craps dice combinations chart: All possible dice combinations
Let's continue with a craps probability chart so you can find out which craps dice combinations offer a better chance of winning. You will notice that after 7, the probabilities continue in reverse order. This is because, as we mentioned above, the possible craps dice combinations do not change in terms of numbers.
For example, 3 and 11 have exactly the same odds because there are only two different combinations for both. With this in mind, let's find out possible combinations of rolling 2 dice craps and all other outcomes.
3
POSSIBLE COMBINATIONS
2+1, 1+2
4
POSSIBLE COMBINATIONS
3+1, 2+2, 1+3
5
POSSIBLE COMBINATIONS
4+1, 3+2, 2+3, 1+4
6
POSSIBLE COMBINATIONS
5+1, 4+2, 3+3, 2+4, 1+5
7
POSSIBLE COMBINATIONS
6+1, 5+2, 4+3, 3+4, 2+5, 1+6
8
POSSIBLE COMBINATIONS
6+2, 5+3, 4+4, 3+5, 2+6
9
POSSIBLE COMBINATIONS
6+3, 5+4, 4+5, 3+6
10
POSSIBLE COMBINATIONS
6+4, 5+5, 4+6
11
POSSIBLE COMBINATIONS
6+5, 5+6
Nicknames of craps dice rolls
Some of the dice combinations in craps have some "weird" nicknames. If you are a beginner, it may be hard to understand them. To help you out, we are listing the most common nicknames for dice combinations in craps below.
Craps flat bet: This is not the name of a specific dice result in craps online. It refers to the initial bet of the player, before he takes (or lays) odds. It can also mean placing the same denomination of bets over and over. 
Street craps: Once again, not the name of a dice result. Street craps is a variant of this game with simplified rules and many historians believe that it is the "grandfather" of casino craps. 
Types of combinations in craps
There are lots of different combinations of dice rolls in craps and there is a bet option for all of them. Below, we will list the most common bet types in this game and explain dice combinations in craps by using them. However, remember that this is not a how to play craps for beginners guide so we will keep things brief. 
Craps pass line bet
This bet consists of two phases.
The player rolls the dice twice.

If the result is 7 or 11 in the first roll, you immediately win.

If the result is 2, 3, or 12, you immediately lose.

For all other outcomes, the result becomes a "point" and the second phase starts.
The player rolls the dice again, and this time, you are betting on the result will be the same as the point before the player rolls a 7. This is the bet with the lowest house edge (1.41%) and the highest odds (97.21%).  There is also a come line craps variant of this bet with the same house edge, placed right before the second phase. 
Don't pass bet craps
Very similar to pass line, but this time you are betting that the outcome of the first roll will be 2, 3, or 12.
You will lose if it is 7 or 11.

For all other outcomes, a point will be established as explained below, and you will start betting on the fact that the point will be rolled again before the result is 7.
The house edge is similar (1.36%) but the odds are slightly lower, as can be seen in the craps dice rolls chart we shared above. There is also a don't come bet variant of this option that offers the same house edge, placed right before the second phase. 
Craps field bet
This is a one-roll bet that can be placed at any time during the game.
You are betting that the result of the next roll will be either 2, 3, 4, 9, 10, 11, or 12.

If the result is different, you lose the bet.

The house edge is 5.50%, so it is not as good as others. 
Craps hop bets
This is also a one-roll bet but this time you are betting on two numbers. For example, if you bet on 6-4, you are actually betting that the first dice will show 6 and the second dice will show 4.
The house edge is 11.11% but it can be as high as 13.89% for specific craps dice combinations. Basically, winning this bet will be extremely hard. 
Craps put bet
This is similar to pass line, but it is placed after the point is established.
You win it if the player rolls the point again with the next roll.

Unfortunately, the house edge of a craps put bet starts from 9.00% and goes as high as 33.33% for specific craps dice combinations

.
So, which one is the best dice roll in craps? In other words, what is the best bet with the highest winning chance?
The table below lists the house edge rates of these bets (and, naturally, craps dice combinations) with payouts so it will be easy to see which bets will be the best choices to use in regular or live craps. Also, note that this is also a craps payout cheat sheet. 
Simply put, pass/line and don't pass/don't come are the best craps bets and offer the most probable craps dice combinations. As a craps strategy for beginners, you can simply keep betting on these options.
You can also use them in a craps tournament strategy, as they will offer the most returns in the long run. In any case, we recommend checking our craps money management article too if you are looking for specific tactics and strategies.
Memorizing craps dice combinations: is it possible?
👉 It is possible to remember craps dice combinations, but this is unnecessary and does not give you any particular advantage.
👉 Payouts for all dice combinations in craps are written on the game table, you do not need to remember them.
👉 Remembering past combinations also serves no purpose, because contrary to popular belief, there is no such thing as "hot" or "cold" numbers: In each roll, the results are calculated randomly, and previous rolls have no effect on the result.
FAQ: Your questions about dice combinations in craps answered
The game is played with two dice and each dice has 6 sides. Therefore, 36 different craps dice combinations are possible (6x6).
There are six possible combinations that can give this result (6+1, 5+2, 4+3, 3+4, 2+5, 1+6) so the odds are 6/36, which equals 16.67%.
Most of the time, this is called a "midnight". Rolling a 12 in craps is quite rare because there is only one combination that can produce this result (6+6) and the odds are 1/36 (2.78%).
7, 6, 8, 5, and 9, respectively. Most of the time, your rolls will result in one of these numbers. This is because they have the most possible combinations.
"Snake Eyes" means rolling 2, and the possibility of this outcome is 1/36, because you can get this result only with 1+1. Therefore, the odds of rolling a 2 is 1/36 (2.78%).
Win big with the perfect dice combinations formula
Since you learned craps dice combinations in detail, it is time to make some practice: Pick one of our recommended casinos, create an account, and start playing craps online with your welcome bonus. Keep playing with dice combinations in craps in mind and we are sure that you will start winning in no time. As always, we wish you good luck out there!