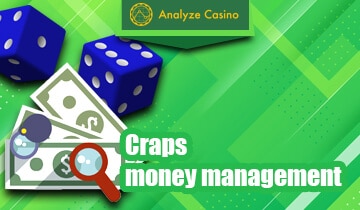 Table games like craps can be all fun and games until a player hits the rock bottom being unable to handle craps money management. Players with an aptitude for mathematical probability calculation and a correct judgment of expectations can sustain in the game for a long.
Although strategies are utterly indispensable for the game, counting the chips right and evaluating betting decisions will help in optimizing returns. In this article one can explore various ways to figure out how to manage money at the craps table.
Our top casino picks where you can play Craps:
Casombie Casino

Casombie Casino Welcome Bonus (Skateboarder): Up to €1000 
1st deposit: 100% up to €500;
2nd deposit: 75% up to €300;
3rd deposit: 50% up to €200;
Wagering requirements: 35x
Minimum deposit: €20
Windetta Casino

Windetta Casino Welcome Bonus: 215% Up to €2000 + 200 Free Spins
1st deposit: 90% up to €500 + 75 Free Spins on Gates of Olympus;
2nd deposit: 50% up to €500 + 50 Free Spins on The Hand of Midas;
3rd deposit: 75% up to €500 + 75 Free Spins on Sugar Rush.
Time2Spin Casino

Time2Spin Casino Welcome Bonus: 500% up to €3000 + 500 Free Spins
1st Deposit Bonus: 200% up to €1000 + 200 Free Spins
2nd Deposit Bonus: 100% up to €1000 + 100 Free Spins
3rd Depsoit Bonus: 200% up to €1000 + 200 Free Spins
Wagering requirements: 35x (bonus + deposit)
Minimum deposit for the bonus: €25
Time2Spin Casino VIP Welcome Bonus: 600% up to €6000 + 600 Free Spins
1st Deposit Bonus: 250% up to €2000 + 250 Free Spins
2nd Deposit Bonus: 150% up to €2000 + 150 Free Spins
3rd Depsoit Bonus: 200% up to €12000 + 200 Free Spins
Wagering requirements: 35x (bonus + deposit)
Minimum deposit for the bonus: €250
Damslots Casino

Damslots Casino Welcome Package: 750% up to £/$/€3000
1st Deposit Bonus: 400% up to £/$/€800
2nd Deposit Bonus: 150% up to £/$/€1,000
3rd Deposit Bonus: 200% up to £/$/€1,200
Minimum deposit: €25
Wagering requirements: 50x (bonus)
Other bonuses are up for claim:
Crypto Bonus: 500% up to £/$/€500
Weekend Recharge Bonus: 75% up to £/$/€500
Daily Casino Cashback: 5% up to £/$/€2,000
Daily Extra Cashback: 30% extra cashback up to £/$/€2,000
MyStake Casino

Register right now at MyStakeCasino and grab the outstanding welcome bonus: 100% up to 1.000 EUR!
Minimum deposit: €20
Wagering requirements for the bonus: x30 bonus + deposit
Max. bet with bonus money: €5
What is Bankroll Management as a Part of Money Management in Craps
In order to impose a limitation on how much amount it is required to spend on casino activities to place the bets in a way to restore and not affect the original bank account of a player is known as bankroll management. It is suggested that the players keep each bet to 1% of the entire bankroll individually as a part of craps money management, but for more, you can also read Baccarat bankroll management.
This eventually results in optimizing the bets at craps online or offline increasing the chances of how to win at craps. Although it is always up to the punter to select the bet amounts in their craps money management strategy so it is better to consider bankrolls as a money management tool.
Top 20 online casinos where you can play craps
Designing the Size of Bankroll for Craps Money Management
Strategy Implementation for Money Management in Craps
Whether it is street craps or craps online or even regular casino craps, having a craps field strategy is indispensable while playing.  
One of the most popular strategies for craps is called Reverse Martingale. The ones who are well versed in casino games are already aware of the concept of Martingale in which the punters are expected to multiply the size of the wager into a double which is followed by a loss and further it is reduced following a win.
Reverse Martingale as the name suggests is the opposite of Martingale which drastically cuts the bet into a single unit while losing. When the game is going uphill punters are required to double the bet as a part of their craps payout cheat sheet. This was one of the classic steps of craps.
Goals for Winning a Craps Session
One of the casual mistakes punters make while playing craps is not quitting the game at the right time and as a result, sabotaging their chances of profit-making. The winning goal depends upon the kind of money one is putting into the game. Usually, 20% of the bankroll is considered as the winning goal.
The Approach of Guarantee and Excess in Craps Money Management
One of the common mistakes punters make at the craps table is not setting a winning goal in fear of losing chances of making profits. Using calculations to find out the guaranteed profit and using the rest excess to continue wagering while the game is still being profitable is known as dividing the winnings into guarantees and excess.
This process can be continued till a sufficient excess amount is there to continue the game and can be discontinued as soon as the game starts going downhill.
On Loss Limits for a Particular Crap Session
Punters who don't play with strategies often end up losing way more in the process of making up for the loss which holds them down to suffer extreme amounts of monetary loss.  
Smart players would select an amount that would act as a limit on their bankroll. The suggested percentage of bankroll which can act as a loss limit is 50%. Bettors are always suggested to pick any percentage lower than 50 according to their choice in order to prevent major losses. 
Hot Tables and Reducing Losses
Punters who are slick enough look for chances in favorable trends as well as they keep a watch over hot tables by deeply observing and mentally chalking out strategies. Selecting the seat at the table where the occurrence of favors is common is a preliminary move towards winning.
Whether betting in odds or not, whether opting for a don't come bet or don't pass bet craps, it is on the bettors to look out for the favorable sign before approaching. Although the main trick that one should never forget is to never try to make up for a loss by continuing a losing streak. This holds true even for street craps rules.
The Regression Approach in Craps Money Management
This approach should be limited to people with sufficient amounts in their bankroll as it requires a punter to wager exceeding the minimum and in the winning streak, it might be cut down to its minimum.
Constant winning may encourage a more aggressive step towards betting but it is a tricky situation. This is because these betters often secure the original wager and work on decreasing the minimum of the table after the game results in consecutive wins for them.
Removing the negative progressive system from the plan is one of the main strategies of being a consistent winner at craps. Positive progressions are not very favorable although they will not require players to take huge risks. Odds can increase the chances of winning without sabotaging the game.
Negative predictions like Fibonacci are riskier than steps like Martin Gale at times. Since craps can be highly influenced by odds, the reason why progressions do not work is that they have no control over altering the odds. All these are inefficient in the case of craps but still, positive progression will result in an increase of bets after a win.
Tips for Craps Money Management
Pros and Cons of Money Management
There are several upsides and downsides of money management in craps game whether it is while playing craps using craps hardways bet, craps flat bet, horn bets in craps or craps hop bets. Some of the major pros of craps money management are listed below.
Prevents players from facing major loss.
For recreational gamblers and newbies, it creates a chance to have an outlook and formulate a bankroll amount.
Create chances for gamblers to have an idea about the limits of winning and losing realistically. Also, it provides an idea of when to leave the game in order to stay in profit.
Losing out on the excitement aspect of games while completely focusing on profit.
Not taking chances resulting in no profit whatsoever.
Since it is a game of high volatility, being overly calculative can make players obsess about recovering the loss which can drive them into losing way more than their bankroll.
Often people do not calculate the winning percentage fearing not gaining profit.
A good bankroll can be considered the ones that are capable of being divided into sufficient individual bets.
Craps is known as one of the most profitable table games among punters.
Choosing a table with a little minimum bet can be helpful in this case.
Crap is a game of probability and there is no skill required apart from a few basic strategies and rules of the game. Hence, it is favorable for beginners too.
The pass bet is known as the simplest and the most fundamental of the bets one can place in craps, with the house edge of 1.41%.
In spite of some existing strategies that are important for craps and craps money management being a boon for preventing major losses, it can be said that the game requires not much talent but dumb luck considering it is only a game of dice and runs on possibilities. This is why is craps illegal in California. Concepts like what is a hop bet in craps, craps hardways, and craps put bet are to be explored in further articles.