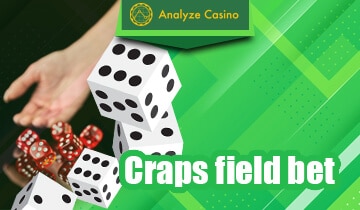 Being a traditional game at casinos, field bet craps is a dice game over which players place their wagers on the probable outcomes on either one roll or a series of rolls.
Unlike street craps where a  table is not involved.
With a wide variety of wagers, single and multi-roll bets make the prediction of the eventual outcome of the roll difficult.
Our top casino picks where you can play Craps:
Time2Spin Casino

Time2Spin Casino Welcome Bonus: 500% up to €3000 + 500 Free Spins
1st Deposit Bonus: 200% up to €1000 + 200 Free Spins
2nd Deposit Bonus: 100% up to €1000 + 100 Free Spins
3rd Depsoit Bonus: 200% up to €1000 + 200 Free Spins
Wagering requirements: 35x (bonus + deposit)
Minimum deposit for the bonus: €25
Time2Spin Casino VIP Welcome Bonus: 600% up to €6000 + 600 Free Spins
1st Deposit Bonus: 250% up to €2000 + 250 Free Spins
2nd Deposit Bonus: 150% up to €2000 + 150 Free Spins
3rd Depsoit Bonus: 200% up to €12000 + 200 Free Spins
Wagering requirements: 35x (bonus + deposit)
Minimum deposit for the bonus: €250
Rigged Casino

Rigged Casino Welcome Bonus: 100% up to €1000 + 100 FS
Day 1: 100% up to €/$1000 deposit bonus and 15 free spins in Fruit party.
Day 2: 15 free spins in Joker Bombs.
Day 3: 20 free spins in Rise Of Olympus
Day 4: 25 free spins in Reactoonz
Day 5: 25 free spins in Book Of Dead
Wagering requirements: 35x
Minimum deposit: €20
Damslots Casino

Damslots Casino Welcome Package: 750% up to £/$/€3000
1st Deposit Bonus: 400% up to £/$/€800
2nd Deposit Bonus: 150% up to £/$/€1,000
3rd Deposit Bonus: 200% up to £/$/€1,200
Minimum deposit: €25
Wagering requirements: 50x (bonus)
Other bonuses are up for claim:
Crypto Bonus: 500% up to £/$/€500
Weekend Recharge Bonus: 75% up to £/$/€500
Daily Casino Cashback: 5% up to £/$/€2,000
Daily Extra Cashback: 30% extra cashback up to £/$/€2,000
MyStake Casino

Register right now at MyStakeCasino and grab the outstanding welcome bonus: 100% up to 1.000 EUR!
Minimum deposit: €20
Wagering requirements for the bonus: x30 bonus + deposit
Max. bet with bonus money: €5
Spin Samurai Casino

Get the amazing welcome package at Spin Samurai Casino: Up to €800 + 75 Free Spins!
1st deposit: 60% up to €100
2nd deposit: 50% up to €200 + 25 Free Spins
3rd deposit: 40% up to €500 + 50 Free Spins
wagering requirements: 45x
How Do You Make A Field Bet In Craps?
In a field bet, punters can both place and remove betting chips at any point of the game in the field section. After a win, the dealer will place the winnings next to the initial betting amount.
The bet is made on a single roll of dice. Craps Field Strategy revolves around the next roll on the dice where the numbers 2,3,4,9,10,11,12 are wins and 5,6,7,8 are losses which are lesser than the winning chances. All wins on bets pay more money on 3,4.9,10,11 and 2 to 1 on the 2 and 12 numbers. 
Top 20 online casinos where you can play craps
Odds And Payout Options Of The Field Bet
Field bet offers 3 payout options which differ from street craps rules. Payouts in winnings are available on the rolling of 3,4,9,10,11 on the dice. Different payouts are applicable when dice rolls 2,12. The first option offers a double payout for a 2 or 12 roll.
The second one pays 2 to 1 when dice roll 2 when the payout for 12 is 3 to 1. The third situation is when the punter receives a triple payout for either 2 or 12. This has zero expectations because of the zero advantage of the casino. The main reason why is craps illegal in California is due to it being a dice game.
Craps offer different payouts which affect the house edge of a bet. The first payout has a greater house advantage. Tables that pay 2 to 1 for a 2, 3 to 1 for the 12 on a dice roll lowers the house edge.
Tips/Tricks In Craps Field Bet
Is The Field Bet An Option You Should Bet On?
The main types of craps bets include craps pass line bet which is the easiest wager to make, don't pass bet craps which is the reversal of the pass line bet. Come line craps bets can be made after the point on the pass line is determined. Similarly, don't come bet is the reverse version of the come bet. 
Other types of craps bets include craps hop bets. What is a hop bet in craps is determined when a player wants the next roll to bring two specific numbers on the dice. Craps put bet is a pass line which is put up without having to go through the come-out roll after establishing the point.
Horn bets in craps, craps hardways bets, craps flat bets are also other forms of the game. Craps hardways is a high-paying bet where both dice show the same number.
Pros And Cons Of Craps Field Bet
Playing the field craps offers a vast amount of numbers and only 16 combinations for the die rolls. 20 combinations are available to roll the remaining numbers 5,6,7,8. The main pros of field craps are :
One of the most volatile games in a casino
How to win at craps made easier due to the scope of placing multiple bets at the same time
Craps are some of the best bets offering the amazing craps field bet odds.
The large house edge in which the casino advantage is around 5.56% but can be as low as 2.78% during generous 3:1 ratio payouts
Most casinos offer craps field bet strategy in which the first type of percentage which is least beneficial for punters and has the highest house edge
2:1 ratio configuration is hardly available and has a 2.8% house advantage
No, Field bets are not recommended for newbies because it is a difficult form of betting choice. Craps betting systems depend on one roll bets which might or might not be in favor of a punter.
Craps field bets are popular due to the fact that the dice can roll quite a few numbers to win the Field. It is one of the most popular bets in craps because of its multiple winning possibilities.
Craps field bet odds on the come-out roll ensure the pass line bet on the same amount. It increases the chances of casino wins on another number and enhances the chances of getting extra winnings on the numbers 2 or 12.
Yes, for accessing Craps online, one has to make sure that the gaming application is compatible with the smartphone or tablet device. The Instant Play option displays the same option of games that are available on the PC. Live craps are also available for punters.
The Iron Cross Craps Strategy is made on two sets of numbers and is a combination bet. This is known as Darby's Field and has a set of 4 wagers which are the Field and the place bets on 5,6,8. When the place bets win; the field bet loses.
Pass-line bets are the easiest. It is the starting bet for all other craps games offering the lowest house edges at 1.41%. This bet offers the highest odds of landing 251 to 244 and is one of the best craps bet a punter can make with 1 to 1 payout odds.
The Field bet is one of the most popular craps games due to the fairly good odds and the chance of drawing an actual benefit of the bet. How to play craps field bets is determined by giving the punter an opportunity to move the chips on the field section of the craps table layout without the interference of the dealers or the stickman.
Attractive points of craps field bets include the fact that it is a one-roll bet which determines either a win or loss on the roll. It must be made within a special area on the table to be considered valid.
Other related articles:
Craps betting systems
How to win at craps