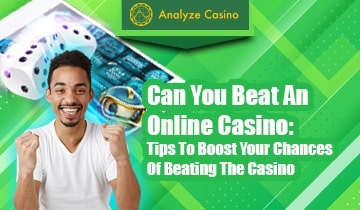 Really, can you beat an online casino? While there is no definite answer, a handful of punters have won against, but nearly all have lost to the house.
The truth is, beating the house is difficult – if it were easy to beat a casino, where would they get their profits from? 
In this post we explain some of the best methods to beat an online casino. Scroll down for details.
Our Top Online Casino Picks in 2023
Can you beat an online casino?
It is nearly impossible to beat an online casino. However, you can minimize losses on online gambling sites with some tips and tricks. 
An online casino allows you to wager on different games with the hope of winning. You must know certain things before attempting to beat the house edge. So, if you are wondering, "can online casinos be beaten" here are some things you need to know:
A casino has an advantage over you
The casino's house edge allows it to beat you when playing online games. So, you need to be careful when gambling online. The house edge, however small, can eat up your bankroll quickly if you do not manage it properly. 
The house advantage varies across different casinos and casino games
Each casino sets its house edge advantage. Similarly, different casino games have different house advantage percentages. Therefore, check out the percentage before playing the game.
For instance, blackjack has about 0.5%, and slots have a 3-6% house edge, European roulette being in the middle with a 2,7% house edge.
Of course, beating any casino game with a high house advantage can be a tall order.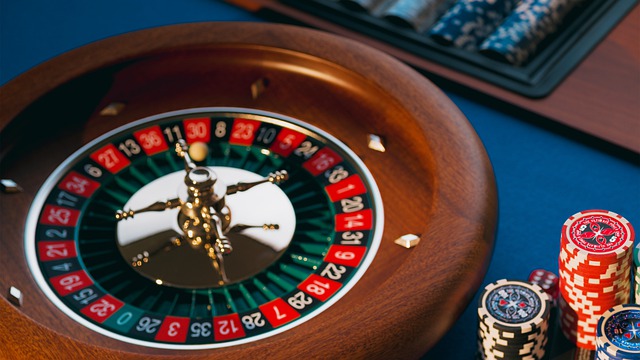 Even the smallest house edge can drain your bankroll over time
Casino games such as blackjack have a small house edge percentage. While this should sound great, the house still has an advantage very you. If you are not careful, the small house edge can slowly eat up your bankroll without you winning anything. 
To overcome this aspect, you will apply top strategies if you want to beat an online casino. 
Do not rely on luck
The common assumption is luck will make you win against the house. While there is an element of truth in that statement, online casino games require skills. Therefore, you need to learn the rules of the game and create a strategy to allow you to win. 
What you need to know before trying to beat an online casino
Gambling is risky 
Do not focus on winning big without being cautious because gambling is risky. The gambling scene is highly uncertain, even if you think you are sure of your bets. That is why casinos thrive across the globe. If gambling were easy and predictable, all casinos would be bankrupt. So, trying to win big can result in massive losses rather than winning bonuses and rewards.
How to beat an online casino
Professional gamblers have developed tips to beat an online casino. You can easily avoid losses if you study the casino strategies carefully and know the game rules. This section highlights top tips about how to beat online casinos. Check them out:
Play games with a low house edge
This is the easiest way to win money at online casinos. 
A casino's statistical advantage over the player is reflected in all games a casino offers. Thus, you will note that each casino game has a unique house edge. The exact value of the house edge can vary from as low as 0.5% to as high as 10%. If you intend to win, find games and games that offer the lowest house edge per bet. 
For instance, the simple one-roll 'proposition bets' in craps has a significantly high house edge percentage than the pass line bet. Another bet, the "Hopping the hard 10" (next roll will be a five and a five), pays 30:1, but it is harder to roll than a six and a four. 
But you will need to brush up on your strategies to ensure that everything keeps the odds in your favor.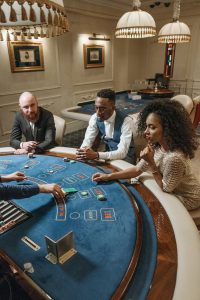 Learn casino game strategies
Different casino games have different strategies. Studying these strategies can be the best way to win at the casino. For instance, poker is a game of strategy that pits one player against another. You will beat your less informed opponents if you master the key strategies and tips alongside excellent bankroll management. 
Have a stop loss strategy
This is the most important step in any gambling. This strategy prepares your mind to spend a specific sum of money – typically, you need to set an overarching figure you are ready to lose. Whatever the case, do not go beyond that figure because you will empty your bankroll chasing losses. 
Swing the odds in your favour
First, you must know you must understand the game's odds. That's basic, and it determines your payout. Remember, each game is unique; therefore, understanding probability helps you gamble better at a casino, giving you an advantage. 
Betting odds tell you your chances of winning a game and how much you will win. Learn the strategies of gambling and master the probabilities of a chosen game. 
Spend less, play more
Efficiently manage your money. For example, if you have a budget of $50, do not gamble $10. You will run out of your bankroll before starting real gambling. Place small wagers to make the gaming session longer and more enjoyable. 
For example, wagering a $1 spin gives you 50 chances of winning. But if you wager $10, you will only have five chances of picking up money. This is how to beat an online casino!
You can also opt for no minimum deposit casinos rather than high roller casinos to minimize spending a lot of money. 
Play casino games within your limits
While online casinos offer many opportunities via events, tournaments, jackpots, and detailed games, they don't jump into all of them without the right skills. Understanding the limits of your skills and experience is crucial to avoiding losses. 
A bigger stake translates to more pressure. If you are not experienced, you will be susceptible to losses. It is vital to set a winning and lose limit per session and stick to them. Such limits ensure you play within your limits while maintaining comfort and fun.
Try Jackpots
If you are playing slots, try their progressive jackpots. This is the easiest way to win a huge sum of money. Typically, a progressive jackpot gets bigger each time you play the game, and while no one wins the jackpot. The prize continues to accumulate until one lucky player wins the pot. The progressive jackpot will reset to a predetermined value and start over again. 
Although random number generators determine the prize of jackpots, there are some things you can do to boost your chances of winning, for instance, avoiding those that have recently won. Besides, the chances of winning depend on which slot you are playing.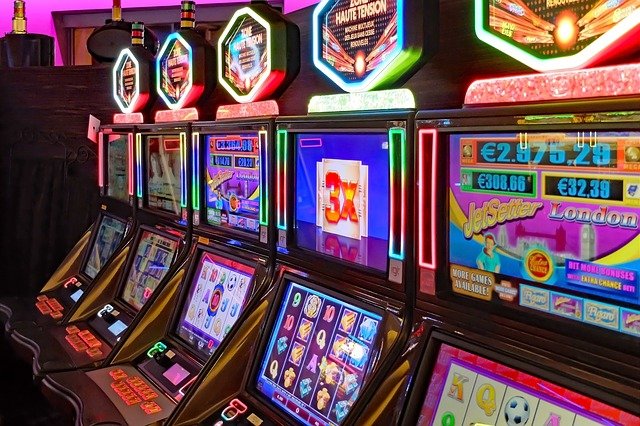 What casino games are the easiest to be beaten?
It is nearly impossible to beat most games on the casino in the long run. But here are some games you can easily beat:
Blackjack: The blackjack house edge is 0.5% to 4%, and this is the only game you can beat in the long run through card counting. However, card counting can cause you to be expelled from a game because you will be taking away money from the casino and not because it is illegal. So, blackjack is one of the best casino games to make money.

Video Poker: The house edge is between 0.5 – 5%. Still, certain video poker machines have more than 100 percent payout. Such machines are a marketing gimmick – they seldom lose money. 

Baccarat: Its house edge stands at 1.5%, and it has three betting options only – a banker, a player, and a tie. Betting on the banker gives you a better chance of winning. 
Beyond the best payout games, use the best payout casinos with truly random casino software.
FAQ
Casinos cannot ban you from winning. However, if you break the rules of engagement, such as abusing bonuses and promotions, having multiple accounts, or
trying to cheat
using bots or hacking.
There is no specific best time to play slots. Nonetheless, many people play slots in the evening. Thus, the jackpot will likely be triggered because many players spin the reel online.
It is nearly impossible to bean a casino. However, there are certain tricks you can employ to make winning more realistic. For instance, looking for a low house edge or better RTP and using game strategies rather than luck can boost your chances of winning.
Yes. Online casinos can be rigged if they do not have secure systems. However, serious websites take appropriate measures to ensure that their games are random. So, ensure you play in a
safe online casino
.
What's the best way to win money at casino?
There is no single best way to win money at a casino. However, you can apply strategies to beat an online casino, such as picking casinos with a higher RTP/low house edge can be helpful. Similarly, checking the volatility is important – low volatility in slots leads to higher chances of winning. However, highly volatile machines offer bigger payouts. 
Above all, practice money management skills. This will let you use your money in the right manner, thus, avoiding unnecessary losses.