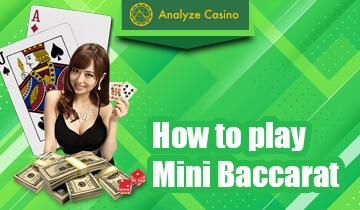 Baccarat is such a popular card game that even variants have variants. For example, punto banco is one of the most common variants out there and there are lots of games based on it, mini baccarat being the most popular one. This game is especially popular in Asian casinos and offers faster gameplay.
More importantly, you can still get the same big payouts and there is no need to re-learn the rules: If you know how to play baccarat (or live baccarat), you already know how to play mini-baccarat too. And if you don't, don't worry: We prepared this online baccarat casino guide to teach you everything you need to know.
Our Best Casino Picks
Big5 Casino

Register today at Big5Casino to benefit from this amazing welcome bonus:
Get a 100% up to €500 on your first deposit with a minimum deposit of  €20
Get an additional 500 Free Spins when you deposit €55+
The free spins are released in bundles of 50 free spins per day,

over the course of 10 days

Wagering requirements: 30x
Spin Samurai Casino

Get the amazing welcome package at Spin Samurai Casino: Up to €800 + 75 Free Spins!
1st deposit: 60% up to €100
2nd deposit: 50% up to €200 + 25 Free Spins
3rd deposit: 40% up to €500 + 50 Free Spins
wagering requirements: 45x
MrLuck Casino

Make three deposits and start playing with up to 1200% bonus + 100 Wager Free Spins!
First deposit is 500% up to €100
Second deposit is 400% up to €120 + 50 Free Spins (no wagering)
Third deposit is 300% up to €120 + 50 Free Spins (no wagering)
Wagering requirements: x30
Betwinner Casino

Register with Betwinner today and receive an exlusive welcome bonus of up to €390!
Use the promo code: ANALYZE
Minimum deposit required: €1
Wagering requirements: 28x
Bonus is not available for customers with cryptocurrency accounts
Rules of mini baccarat
Mini baccarat rules are exactly the same as regular baccarat. The same goes for mini baccarat scoring: There is no difference. So, why is it called mini baccarat? Well, this is because:
However, the main rules are exactly the same: Mini baccarat is still being played between a player and a banker, and there are three betting options you can use: player wins, banker wins, and tie.
(While there can be some mini baccarat side bets or mini baccarat bonus bets in some games, these options will always be available.) The goal is to reach 9 points in total or beat the opponent's point. Each card has a different point in mini-baccarat:
9 is the highest point you can get and if the total is higher than this, the left digit is removed. So, for example, if you get 8 and 4, the total is 12. However, since it is higher than 9, we remove the left digit: This hand is actually worth 2 points. Note that card scoring is always the same in all baccarat variants (i.e. baccarat chemin de fer, baccarat banque, super pan 9, etc.) and it never changes.
Top Online Casinos to Play Mini Baccarat (2021 updated list)
How to play mini baccarat?
Player Drawing Rules
0-5
Action
Player can draw a third card
8-9
Action
Player cannot draw a third card
Banker Drawing Rules
0-2
Action
Banker must draw a third card
3
Action
Banker stands if the player's third card is 8. Otherwise, he draws.
4
Action
Banker stands if the player's third card is 0, 1, 8, 9. Otherwise, he draws.
4
Action
Banker stands if the player's third card is 0, 1, 8, 9. Otherwise, he draws.
6
Action
Banker stands if the player's third card is 0, 1, 2, 3, 4, 5, 8, 9. Otherwise, he draws.
Mini baccarat strategies & systems
Should you play mini baccarat at casino?
The rules are the same
There are lots of side bets
You can use the same strategies
The banker is always the same person
The player cannot touch the cards
Mini baccarat online FAQ
It is a regular baccarat game played on a smaller table. Unlike regular baccarat, the banker is always the dealer, and the plater cannot touch the cards.
Yes, like all card games in a casino, mini-baccarat has table limits too. These limits will be different at every table, but they are usually lower than regular baccarat.
In regard to rules, there is no difference. The table is smaller, the banker is always the dealer, and the player never touches the cards: These are the only differences.
In midi baccarat, the player can touch the cards. Other than that, the rules, payouts, patterns, and house edge rates are exactly the same – there is no difference.
Betting on the banker is the best strategy you can use: This option has the lowest house edge. In addition, we recommend staying away from the side bets, as they increase the house edge.
Join a mini baccarat tournament today & win big
With the right mini baccarat tournament strategy, you can win really big: Check our tips and tricks above. We already picked the best online baccarat casino sites for you so all you need to do is choosing one & registering today.
In addition to mini-baccarat, you can also try lots of different variants such as three card baccarat, baccarat squeeze, and no commission baccarat. No matter which one you pick, we are sure that you will have fun and start winning in no time: Good luck!