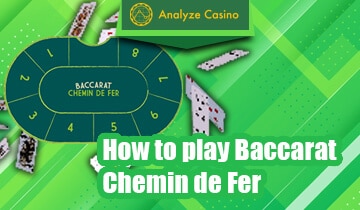 Baccarat Chemin de Fer gambling is a baccarat version that dates back to the era of Napoleon.
That makes a prominent version of baccarat as it is well documented.
Also called Shimmy, this game card has a maximum of 12 players.
Interestingly, its table is kidney-shaped, and the winning hand – player or banker, must have a total of 9 with either two or three cards.
Any card total exceeding 9, ignore the first digit.
This 2022 baccarat chemin de fer guide offers one-of-a-kind jaw-dropping chemin de fer baccarat details.
Our Best Online Casino Picks
Rigged Casino

Rigged Casino Welcome Bonus: 100% up to €1000 + 100 FS
Day 1: 100% up to €/$1000 deposit bonus and 15 free spins in Fruit party.
Day 2: 15 free spins in Joker Bombs.
Day 3: 20 free spins in Rise Of Olympus
Day 4: 25 free spins in Reactoonz
Day 5: 25 free spins in Book Of Dead
Wagering requirements: 35x
Minimum deposit: €20
Jackpoty Casino

Jackpoty Casino Welcome Bonus: Up to €2000
1st deposit: 50% up to €1000 or 100% up to €500 + 100 Free Spins;
2nd deposit: 100% up to €300;
3rd deposit: 50% up to €500;
4th deposit: 100% up to €200.
OhMySpins Casino

OhMySpins Casino Welcome Bonus: 100% up to €500 + 200 Free Spins
Minimum deposit: €20
Wagering requirements: x35
The Free Spins are added as a set of 20 per day for 10 days
The bonus will be credited immediately after a successful qualifying deposit
Cobra Casino

The welcome bonus of Cobra Casino awards the first three deposits of new members. You need to deposit at least 20 EUR each time and use the relevant bonus code. In total, you can win up to 1.050 EUR and 300 free spins. Let's list these bonus codes first:
1st Deposit: Use the COBRA100 code. The match rate is 100% and the maximum bonus is 500 EUR. You will also get 250 free spins.
2nd Deposit: Use the COBRA50 code. The match rate is 50% and the maximum bonus is 150 EUR. You will also get 50 free spins.
3rd Deposit: Use the COBRA125 code. The match rate is 125% and the maximum bonus is 400 EUR. No free spins this time.
The History Of Baccarat Chemin De Fer Explained
Baccarat Chemin De Fer Rules Of Play
Learning how to play baccarat chemin de fer is easy. If you've played mini-baccarat or Punto Banco, the baccarat chemin de fer rules are pretty similar to these. However, players bet against each other, and participants can change hands by standing or hitting.
Basic rules:
All players take bankers role in turns, beginning with a player closest to the croupier's right.
Banker says the amount he/she wants to wager – it should cover all players bets.
Players bet in turns, and their bet amounts may be up to the maximum allowed.
The player with the biggest bet is dealt two cards face down and two to the banker, respectively.
A hand of either a player or banker totalling 8 or 9 (naturals) is the winner – the game ends.
A baccarat chemin de fer player might take a third card if neither hand is 8 or 9 – when their hand is worth 5.
The position of banker and player to determine whether to take a third card.
8 – 12 players play baccarat chemin de fer card. The card shoes revolve counterclockwise around the bean-shaped kidney table according to baccarat chemin de fer rules. The banker stands between the first and last player.
Players rules:
Players Stand on a 6 and 7, draw on 5 and hit on 0 – 4.
If a player stands, the banker hits on 0 -5 and stands on 7
Bankers rule:
5
Stands
1, to 3, 8, 9 or 10
A banker takes a 3rd card if its total is 0 -5 if a player stands.
Top 20 Online Casinos Where You Can Play Baccarat Chemin De Fer
How To Win At Chemin De Fer
Are Baccarat and Chemin De Fer Similar?
The baccarat vs chemin de fer debate is quite common. However, baccarat and chemin de fer broadly differ in some aspects.
Chemin de Fer uses six decks of cards, and there is no banker. Again, players bet against each other, and each player plays the banker role. Professional players sit randomly around the table and participate actively. Uniquely, a player with the biggest bet sees the cards. Discarded cards go to the centre.
Few casinos offer live dealer baccarat chemin de fer.
By contrast, in baccarat, the house is the banker and takes 5% commission on all won banker bet. Additionally, this card game uses an 8 card deck; all cards are dealt face up.
Players can bet on a Tie too. There are two croupiers at the table to oversee betting. The gambler only decides the size of the bet.
You can player baccarat on a double layout table.
Tips and tricks to play chemin de fer online
You do not need the most powerful baccarat chemin de fer tips to enjoy playing chemin de fer baccarat at an online casino. Wins come with concentration and patience. Besides, try the following:
Efficient money management tips – set a budget and stick faithfully.
Know when to quit – the best moment to quit is when you are ahead or after exhausting your set budget.
Don't play every single game; play games that you know and follow terms and conditions.
Bet on the banker and avoid risky baccarat side bets
Understand the rules and gameplay before wagering huge amounts.
There is usually an element of luck on all baccarat chemin de fer bets – there isn't a sure way to know which hand will win.
Check out the latest table game bonuses – this might help you strike your biggest win.
Try baccarat attack strategy if you are a pro.
Baccarat Chemin De Fer Odds/House Edge
Like normal baccarat, baccarat chemin de fer casino games house edge is moderately low – about 1.09%. However, ensure you double-check the rules. Sometimes, casinos alter bonuses in their favour.
Without baccarat games tie bets, a banker wins about 50.68% while players win 49.32%. The house edge applying on the 'player' bet is a result of subtracting the two percentages.
The house edge is small
A great option for high rollers
The table accommodates many players
Players may opt not to play the banker role
No requirements to choose a third card
Flexible bet size
A player betting a full amount locks out other players
Baccarat chemin de fer payouts are low
Frequently Asked Questions on Baccarat Chemin De Fer
The principal difference between the two is that Chemin de fer doesn't have a banker; instead, players take the banker role in turns. Besides, it has few betting decisions and decisions that Punto Banco.
The common gambling baccarat variants include Punto Banco, European Baccarat, Mini-Baccarat, Baccarat Banque, and Chemin de Fer.
There are many card games available. However, baccarat is a card game in which players bet against the banker.
The highest score in baccarat chemin de fer is nine. This is either a total of two or three cards.
Baccarat is among the classic Bond casino table games. James Bond 007 plays Baccarat Chemin de Fer. However, it was replaced by no-limit Texas Hold 'em poker in the 21st James Bond film (2006) Casino Royale.
No. better baccarat odds are offered by the Punto banco, where the player a house edge of 1.24%, and the banker bet has 1.06%.
It's highly unlikely that you can rig baccarat chemin de fer because the game's outcome is based on luck. However, you can raise your winning chances by using strategies like baccarat card counting.
Baccarat Chemin De Fer Verdict
Baccarat Chemin De Fer is exciting whether online or at land-based casinos. It is similar to other versions of baccarat, making it somewhat easy to play. But you need to understand the various strategies and practice safe tips while playing. Always play at licensed online casinos.
Beyond that rules are the core of this card game; so, master them like a pro.
Other articles you might like: