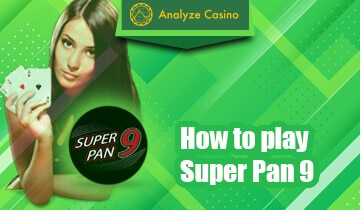 There are many versions of baccarat out there and plenty of online casinos covering this popular game of cards.
Super Pan 9 is one of them and also one of the easiest to play, sharing many similarities with the classic.
It was created in California and in this guide, we'll teach you how to play Super Pan 9 at online baccarat casinos.
We shall review the popular strategies, look at the player and banker's hand house edge and see how this casino online version of baccarat matches against other games of cards.
Our Best Casino Picks
Cobra Casino

The welcome bonus of Cobra Casino awards the first three deposits of new members. You need to deposit at least 20 EUR each time and use the relevant bonus code. In total, you can win up to 1.050 EUR and 300 free spins. Let's list these bonus codes first:
1st Deposit: Use the COBRA100 code. The match rate is 100% and the maximum bonus is 500 EUR. You will also get 250 free spins.
2nd Deposit: Use the COBRA50 code. The match rate is 50% and the maximum bonus is 150 EUR. You will also get 50 free spins.
3rd Deposit: Use the COBRA125 code. The match rate is 125% and the maximum bonus is 400 EUR. No free spins this time.
Spin Samurai Casino

Get the amazing welcome package at Spin Samurai Casino: Up to €800 + 75 Free Spins!
1st deposit: 60% up to €100
2nd deposit: 50% up to €200 + 25 Free Spins
3rd deposit: 40% up to €500 + 50 Free Spins
wagering requirements: 45x
Pulp Casino

Pulp Casino Welcome Package: up to €4000
Register today at Pulp Casino, make your first deposit of a minimum €20, and receive up to €4000
Jackpoty Casino

Jackpoty Casino Welcome Bonus: Up to €2000
1st deposit: 50% up to €1000 or 100% up to €500 + 100 Free Spins;
2nd deposit: 100% up to €300;
3rd deposit: 50% up to €500;
4th deposit: 100% up to €200.
Super Pan 9 Game Rules
Top 20 Online Casinos Where You can Gamble in 2022
How to play Super Pan 9 – Step by Step
Playing Super Pan 9 online is easy, fun and because of the excellent Super Pan 9 odds, potentially profitable. Whether you play single games or try to come up with an overarching baccarat tournament strategy, these are the steps to play Super Pan 9:
1
Find a Gambling Commission licensed casino offering the game
2
Make a deposit or sit at free Super Pan 9 baccarat tables
3
Select the betting limits and place the bet
4
Assume the role of banker or player and get three cards
5
Based on the card total draw another or stand
6
Bankers must stand at 7, 8 and 9 and can draw at 4-6
7
Players must stand at 6, 7, 8 and 9 and can draw at 0-5
8
Hands totals are calculated and the highest score Super Pan 9 wins
Super Pan 9 Cards Value
As stated above, the Super Pan 9 card game is easy to play and has many similarities to the classic version of baccarat. Sometimes referred to as three card baccarat, it has only few differences in regard to cards value.
A quick glance at the Super Pan 9 table will highlight the fact that Aces count for 1 while face cards are 0. All the other cards have the value inscribed on them, while 7s 8s 9s are removed. These details must be considered when crafting a baccarat strategy, but the Super Pan 9 house edge stays low.
Super Pan 9 Scoring System
Super Pan 9 strategies that work
Super Pan 9 is essentially a game of chance, so you will still need luck to be successful even if you play well. Having said this, using the right Super Pan 9 strategy can help you increase the odds of winning.
Baccarat card counting systems also work better in land-based casinos and baccarat side bets, as online decks are being shuffled all the time. You can try it in live baccarat, but if you play any versions of the game over the Internet, including mini baccarat, you should probably consider one of these strategies instead.
1324 baccarat strategy review – this is a positive progressive system, which has you increasing the stakes if you win. Bet one unit, then three, two, respectively for unit each time you win. If you lose, you return to the initial stakes and start all over again.
Baccarat martingale for Super Pan 9 – this is the most popular negative progressive system, used in other games of chance. You double the stakes every time you lose until you finally win and recuperate all the money lost so far.
Baccarat attack strategy

– this is a game strategy sold online that could also apply to Super Pan 9 baccarat. We never recommend spending money on strategies. If they were so effective, nobody would seldom but instead use them and make money themselves without involving anyone.
Super Pan 9 tips and tricks
Frequently Asked Questions about Super Pan 9
The game usually uses eight decks of cards, but sometimes 12 decks can be used.
The house edge is roughly 1.14%, which makes this type of baccarat one of the best online casino games.
There is no such option for baccarat games, as you can only find it at blackjack tables.
The best hand you can make playing this type of baccarat is 9, made using the first three cards.
If you know the classic version of the game will have no problem in mastering Super Pan 9.
Try a fun game of baccarat
Super Pan 9 is the kind of game that baccarat enthusiasts should consider if they want to try something different. The rules are rather similar to the classic game, so there isn't a steep learning curve to worry about.
The game carries a low house edge and with or without a Super Pan 9 strategy, you can still be successful in the long run. Try the game for free at casinos offering the demo version before making a deposit and betting real money. You are certain to have fun while playing a game with a low house edge.
Other related articles you might like: