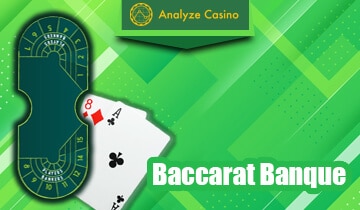 Baccarat Banque is not your traditional game of online baccarat.
As the name of this game suggests, online Baccarat Banque is a game where somebody (possibly even you) must take on the role of the banker.
It is not unique in this, as Baccarat Chemin de Fer has similarities with it.
However, this can be confusing if you are not familiar with the concept.
What is Baccarat Banque, and how does it work?
If you are interested in learning, carry on reading our Baccarat Banque guide to find out more.
Our Best Casino Picks
Big5 Casino

Register today at Big5Casino to benefit from this amazing welcome bonus:
Get a 100% up to €500 on your first deposit with a minimum deposit of  €20
Get an additional 500 Free Spins when you deposit €55+
The free spins are released in bundles of 50 free spins per day,

over the course of 10 days

Wagering requirements: 30x
Spin Samurai Casino

Get the amazing welcome package at Spin Samurai Casino: Up to €800 + 75 Free Spins!
1st deposit: 60% up to €100
2nd deposit: 50% up to €200 + 25 Free Spins
3rd deposit: 40% up to €500 + 50 Free Spins
wagering requirements: 45x
MrLuck Casino

Make three deposits and start playing with up to 1200% bonus + 100 Wager Free Spins!
First deposit is 500% up to €100
Second deposit is 400% up to €120 + 50 Free Spins (no wagering)
Third deposit is 300% up to €120 + 50 Free Spins (no wagering)
Wagering requirements: x30
Betwinner Casino

Register with Betwinner today and receive an exlusive welcome bonus of up to €390!
Use the promo code: ANALYZE
Minimum deposit required: €1
Wagering requirements: 28x
Bonus is not available for customers with cryptocurrency accounts
What is Baccarat Banque?
How to play Baccarat Banque
Baccarat Banque gambling takes place in largely the same manner as traditional baccarat games. The dealer shuffles all three decks into a shoe. The last person to shuffle the established banker. From there on out, this is how things work:
The dealer deals one card to the left player hand, one to the right player hand, and another to the banker's hand.
You can wager on either of the two-player hands or the banker's hand.
One more card is dealt to each hand.
If any hands are neutral (eight or nine points), the cards are turned over and compared.
If there is no neutral hand, the rules covering three-card baccarat come into play. This allows the dealer to draw a third card to any number of the hands.
Each of the player's hands decides whether to draw or stand, based on their value and the dealer's up card. Baccarat Bank calls can depend on the result of the third card if taken.
All the hands are compared. In some games, if the banker loses, they pass the job onto someone else. In most cases, the prizes are paid out, and the game moves on with the same banker.
Baccarat Banque pay-outs are relatively the same as baccarat. Baccarat Banque ties pay the best, but these Baccarat Banque odds are the longest, so they are less likely to occur.
Top 20 online casinos where you can play Baccarat [2021] - Updated list
Baccarat Banque rules
Using strategies to play Baccarat Banque
Banque Baccarat is often considered a high rollers game, on account of at least one person being the banker. Because of this, popular Baccarat Banque tables tend to be reserved for VIP players.
When playing Baccarat Banque, there are not as many strategies open to you as you might typically find with conventional versions of baccarat.
Baccarat card counting is not overly helpful when all the eyes are on the dealer. However, players may wish to try their luck with this tricky baccarat strategy. Using a typical baccarat system may also be advantageous for players.
Our 1324 Baccarat Strategy review or Baccarat Attack Strategy guides may be of some use to you here. Alternatively, why not check out our guides to Baccarat patterns and see if these can help improve your game?
Top tips and tricks for Baccarat Banque
Baccarat Banque: The pros and cons
There are pros and cons to gambling on Baccarat Banque. Here are a few worth considering:
It gives you an entirely new way to play baccarat with two player hands
It provides you with a choice to be the banker
The banker can wager equal or more than all other players combined
Baccarat Banque doesn't appear as a live dealer baccarat game often
This game is usually only available to high-roller and VIP players
Frequently Asked Questions on Baccarat Banque
We hope that you have now had Baccarat Banque explained to you via our online casino baccarat guide. If you still have questions, though, we will try to answer them below:
When you play Baccarat Banque, you have the potential to play as the banker, something you cannot do in conventional baccarat games.
As touched on above, Baccarat Banque allows you to take on the role of the banker. Moreover, Baccarat Banque casino games are played with two player hands in place, and just three decks, as opposed to the eight or more deals usually involved in baccarat.
Baccarat Chemin de Fer is like Baccarat Banque in many ways. The only real difference is that Chemin de Fer usually uses six decks, and players take turns (to the right) being the banker. Moreover, players are pitted against one another in Chemin de Fer.
As with all baccarat games, the highest score in Baccarat Banque is a neutral, specifically a nine.
Ordinarily, the house edge for banker bets is 1.06% and 1.36% for the player's hand. Remember, there is a 5% commission on banker bets. Tied hands are set to 9.53%. Even the best Baccarat Banque game still has a house edge of 1.24% for player's hands. However, stay away from
Mini-Baccarat
as this has the worst house edge of any punto banco game.
Play Baccarat Banque online at top casinos today
Hopefully, you will know a bit about how Baccarat Banque works now and at least have a grasp of Baccarat Banque's meaning. If you are ready to begin playing Baccarat Banque in 2021, set aside some cash (probably a fair bit), and then head over to our review section to find the best online baccarat casino sites offering this exciting game. Make sure you also try the Bad Beat Baccarat or Super Pan 9 baccarat variation.