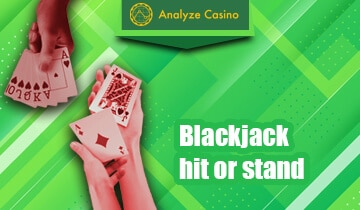 In blackjack, hit and stand are two options that most of us will already be familiar with. After all, blackjack is one of the simplest games you can play at online and land-based casinos.
If you don't know how to make money playing blackjack, you needn't worry, though. You don't need to hire a hit or stand trainer to get to grips with this game.
With our Blackjack: Hit or Stand Guide, we'll soon have you up to speed. Read on to learn more about when to hit and stand in blackjack games. Let's start off by explaining the basics.
Best online casinos for the new Hit or Stand strategy in Blackjack [2023]
Understanding when to stand
How does hitting and standing work in blackjack variants?
Generally speaking, blackjack stand or hit rules can vary, depending on the variant you're having a crack at. Blackjack table games' hit or stand rules can differ between European Blackjack, Spanish 21, Atlantic City Blackjack, Vegas Strip, Vegas Downtown, Three Card Blackjack, and many other variants. Similarly, when to hit or stand in blackjack single deck games will differ from those games played with six or eight decks. What doesn't matter so much is the original bet you play with or the table limits.
So, when should you hit or stand in blackjack if you were playing a variant? Below, you'll find the rules for two common variants to help give you an idea:
European Blackjack:

Players will typically hit on hard 5s to 8s and stand on 13s through 17s. They will hit on soft A-2s to A-6s and stand on most A-7s, to A-8s and A-9s. European blackjack rules require you to hit and stand on almost the same card combos as Atlantic City Blackjack when it comes to paired card hands.

Atlantic City Blackjack:

The rules of this game force the dealer to stand on soft 17 and peek for blackjack. For hard hands and paired hands, the rules remain largely the same. However, for soft hand totals, the player will double down on selected A-2 to A-7 hands.
Blackjack gameplay: Knowing when to double down or split
There is more to the game than hitting or standing in blackjack. Knowing when the dealer stands or hits in blackjack is key, but it is also essential to know when to double down in blackjack. To help you learn when to double your bet and win and to guide blackjack players into learning when splitting is advantageous, we've put together this chart. It is known as Basic Strategy. While there are basic strategy charts for most blackjack variants, this is one used for most Classic Blackjack games.
It shows what is the best course of action for the player to take, based on the player's first cards are, compared to what the dealer is showing. Here are the tables you need for hard, soft, and pair totals.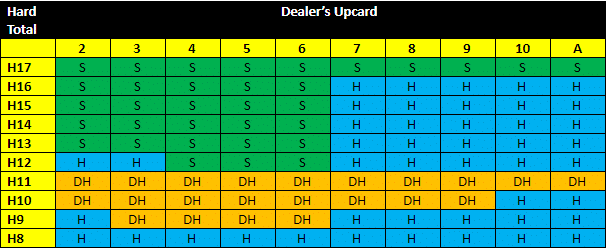 When using the above tables, it is worth noting that S means Stand, DH means Double Down (if permitted, if not Hit), DS means Double Down (if permitted, if not Stand), and H stands for Hit.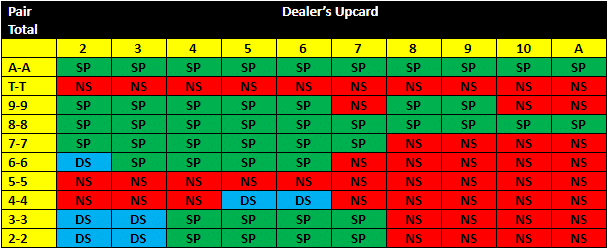 When using the above table, it is worth noting that SP stands for Split, NS stands for no splitting, and DS stands for splitting but only if DAS (Doubling After Splitting) is permitted. If it isn't, don't split.
Using blackjack strategy charts
As touched on above, blackjack hit and stand charts greatly help you decide what the best move to make is. A typical blackjack hit and stand table like that found above can be used in most games. However, dedicated tables are out there which cover basic strategy for other variants. The key thing is to be sure to check the value of your hand with the dealer's face-up card.
For example, if you were to wonder whether in blackjack with a 12 to hit or stand, you would move your finger across the Hard 12 row (for instance) to whatever the dealer shows to find the best option. You can also use online blackjack hit or stand calculators for the same effect. Either way, both are deadly effective at improving your online casino strategy for blackjack gameplay.
Common mistakes made using blackjack strategy
Pros and Cons of hit or stand in blackjack
Basic Strategy can be used to help you play
It is easy to learn when to hit or stand
Most blackjack games and variants follow relatively the same rules
You can readily play blackjack games for free to practice
You can't bring your strategy guide into a real casino
It takes time to study the strategy charts
Frequently Asked Questions on when to hit or stand in blackjack
In blackjack, you can choose to hit or stand on 17 (soft). Hit when the dealer has 2, 7, 8, 9, 10 or an Ace as their upturned card, and double down (if possible) on the rest.
Never take an extra card on a twenty. Always stand.
Learning when to play blackjack and hit or stand is made so much easier by looking at our strategy chart/guide listed above and studying it.
In blackjack, a 16 can see you hit or stand. Whether you hit or stand on 16 in blackjack depends on your total and the dealers' upturned card. If you're playing blackjack with a 16 and want to hit or stand when card counting, then consult the chart.
Start betting on blackjack with strategy charts today
In blackjack, choosing to hit and stand depends entirely on how the card fall. However, by now, you should know how to play blackjack with hit or stand rules by consulting our chart. Again, blackjack rules often depend on the dealer's hand, as to whether you hit or stand. Now that you know a few of these basic strategies, though, it may be time to explore the game further.
Whether you are playing online blackjack in Europe, the US, Asia, or online blackjack in Canada, the same rules apply. Don't hesitate to check out our blackjack variant strategy guides, learn if video blackjack is rigged, or study the ideal betting systems for blackjack in our other guides today.
Other related articles you might like