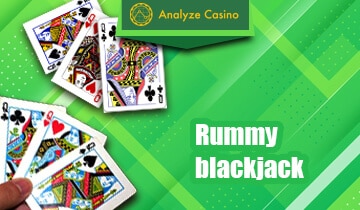 Rummy blackjack is a tricky topic to discuss. Rummy can mean several things when it comes to blackjack. On the one hand, we could be talking about an entirely unique and standalone game.
At the same time, we could be referring to a side-bet found in a conventional blackjack game. Are you wondering how does rummy work in blackjack? You've come to the right place.
In this guide, we will explain how to win with a rummy bet in blackjack, how rummy and pairs in blackjack work, and how the word "rummy" fits into blackjack games.
Let's begin.
Best online casinos where you can play Rummy Blackjack - 2022
What is Rummy - Blackjack, and how does it work?
Rummy is traditionally a game that is played with two decks of cards. The goal is to build "melds" of sets (three or four cards of the same rank) or runs (three or more cards in sequential order). It is one of the most commonly played matching card games around. However, rummy in blackjack is considerably different.
What is rummy in blackjack, then? If we're not talking about basic rummy games, what does rummy mean in blackjack? You can find rummy pairs in blackjack, but instead of being a standard game in and of itself, this acts as more of a side-bet. There is also a separate blackjack game called Blackjack Rummy. Let's look at that first.
Is Rummy related to Blackjack?
First up, let's look at the game known as Blackjack Rummy. In terms of what's rummy in blackjack here, this is a separate card game. It is played with four to six decks of cards and is a popular variant. The basic rules are as follows:
Aside from these specific rules, the game is played virtually the same as blackjack. You can even win with a typical blackjack hand consisting of aces and tens. What we're trying to say here is that rummy blackjack (or blackjack rummy) is just another variant of the main game.
Understanding the Rummy - Blackjack side-bet and its odds
How to play Rummy Blackjack
The first thing you should do before placing a rummy blackjack bet (as opposed to a rummy side-bet in blackjack) is to learn the blackjack rummy rules. You can find them above, as mentioned. Once you've understood the rummy blackjack rules, you can start betting like so:
Step 1
Place a bet in the Ante betting circle. The bet should fall somewhere between the table minimum and maximum limits.
Step 2
Look at your two cards and see if you can score a bonus point by forming a meld between your two cards and the dealer's upturned card.
Step 3
You can choose to hit or stand, while doubling down and splitting may also be options, based on what the original hand played was.
Step 4
Once all decisions have been made, your hand will be compared to the dealer's hand.
Top tips and a super strategy for playing Rummy Blackjack online
Now that you know how to get rummy in blackjack, it may be time to learn a few top tips and put them to good use. Here are some super strategy tips and tricks for you to start playing:
Be sure you understand what kind of game you are playing. Are you playing Blackjack Rummy or a basic game that has a rummy bet in blackjack available? Rummy can mean several things in blackjack, so be sure you know what you're looking at before betting.

Blackjack rummy payouts can vary from game to game. Check the paytable before betting to ensure you won't suffer any surprises. Expect payouts of 9:1 with the side-bet.
The rummy side-bet is rather like the conventional 21+3 side-bet. If you can't find a free-to-play demo to have a crack at and practice, we'd recommend playing Blackjack 21+3 free games to get the idea.

If you are playing rummy blackjack, then expect a house edge of 1%. We wouldn't go much further beyond that.

Remember, there is no "blackjack" in rummy blackjack, with Aces and 10s simply counting as a 21-point hand. There is no 3:2 payout.
Pros and Cons of playing Rummy Blackjack
Ideal for helping rummy players jump to blackjack
Generous payouts and house edges
Easy to learn if you understand rummy
Similar to the 21+3 side-bet found in most blackjack games
Can be confusing to differentiate between several terms and games
Not commonly found in blackjack games
Frequently asked questions about Rummy Blackjack
You must understand how melds, sets, and runs work. Once you've got this down, you should be relatively good to go.
It is up to you whether you wish to play rummy blackjack or simply play blackjack with a rummy side-bet. There are pros and cons to both.
A blackjack side-bet is a wager you make on the side of the main game. This only pays out under certain conditions. You can win a side-bet even if you lose the main game.
In some casinos, you can play a side-bet called "rummy bet". If you get a rummy, you get a payout, int he range of 9 to 1. If you don't get a rummy, you lose that side-bet.
Start playing Rummy Blackjack online today
Are you clear on what is a rummy bet in blackjack and how it is different from the rummy blackjack game? The rummy betting rules in blackjack are mirky and easy to confuse with other elements.
With that in mind, whether you wish to play rummy blackjack or opt to play a conventional game with a rummy side-bet blackjack option, don't hesitate to check our casinos to find the ideal titles for you.
Hopefully, this guide has cleared everything up for you.
Other related articles you might like: