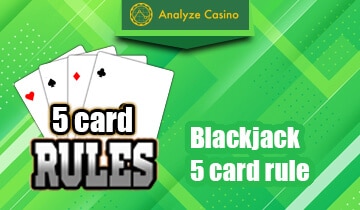 Blackjack 5 card rule is a special blackjack rule that most players do not know about. It's worth noting that blackjack has several variants and has almost similar rules.
However, one rule always stands out: if you collect 5 blackjack cards without busting, you win automatically, provided the dealer doe not have a blackjack. 
This post explains in detail the meaning of  5 cards Charlie blackjack rule and further a few strategies, tips, and tricks in case you come across this rule.
Best online casinos where you can play Blackjack
What is the Blackjack 5 card rule?
How does the 5 card rule work in Blackjack?
How to win at Blackjack 5 card?
Winning a 5-card Charlie is simple; you only need to be dealt a hand of five blackjack cards, which will give you an automatic win. The win is automatic just because it is a special rule. So, the only way to win is when you are dealt a hand of 5 cards. Since the chances of landing 5 cards are low, this is rarely a high-limit blackjack game.
How is the 5 card rule in comparison with other Blackjack rules?
The blackjack rules vary with the variants. In a five-card blackjack rule, we have stated that a player wins when they are dealt five cards provided they do not bust. However, this is different in a Six Card Charlie and a Seven-Card Charlie.
Keep in mind that in blackjack, there is a rule that states that if a player reaches a certain number of cards, typically, 5 to 7, without busting, the player automatically wins. This rule is called Charlie. So, for example, if a player automatically wins with 7 or fewer cards without hitting 21, the rule is called a seven-card Charlie.
Here are other Blackjack articles you might enjoy
Does 5 cards under 21 beat 21 in Blackjack
The Blackjack rules 5 card trick is the next best after Pontoon. The aim of Blackjack is that a winner must have the highest score close and not exceeding 21. Also, a hand of three or four cards totaling 21 points is superior to anything except the Pontoon or Five Card Trick.
How Charlie strategy works in Blackjack 5 card rule
Every rule in Blackjack affects the gameplay. Therefore, different strategies are based on these rules, including the Charlie rule. However, to be effective at betting using the five-card Blackjack rule, there are certain online casino strategies in Blackjack
 you must apply.
While the 5 card trick may not guarantee success in every round, they can increase your odds of winning. 
Do not expect it all the time
The probability of getting fives cards is very minimal; therefore, do not count on getting the five cards from the beginning—the likelihood of getting five cards in only once in 50 rounds. So, there will be a less significant change in your gameplay while playing the Charlie Blackjack; unless you are getting close to collecting five cards and are still under 21. 
Otherwise, play it as you would play any other standard Blackjack game, not like you would play unlimited Blackjack. Remember to pay attention to other rules. Depending on the variant, some rules can be much more important than others. For instance, card decks, splitting and doubling, and dealers rules affect games every round. The Charlie rules do not. 
Blackjack has several choices depending on the current hand and the number of decks used. Options are hitting, standing, or doubling down if allowed. Therefore, you should know when to double down in blackjack. When you use fewer decks, the cards already in the game are more important. However, if you cannot make out anything from them, there are some ways out:
Hit when you have the following hand:
Stand when you have the following hand:
Although an overused strategy, doubling down can be a very lucrative strategy. If you know when to double, you can use the strategy to capitalize on the automatic win to double your winnings.
♦ You need to collect four cards and then double down on the fifth one without busting. 
♦ In case you have less than four cards, check out your options. You can opt for five cards double down.
However, in most cases, you can double down on:
Remember that these rules are meant to help you navigate through the 5 card Charlie rule. Therefore, you should not follow them blindly because multiple rule variations are not accounted for here.
Tips and tricks about Blackjack 5 card
Can you win blackjack with 5 cards? Yes, but the probability is only one in every 50 rounds. This should answer the question: what happens if you get 5 cards in blackjack? Getting to those wins means you must learn some tips and tricks of how to make money playing blackjack. Here are some tips and tricks to apply:
♣ Play only on a safe online casino. This guarantees you timely payouts when you win 
♣ Start with the basic strategy
♣ Practice blackjack money management. Real money bets will return your money and profit when well done. However, don't be greedy. Make a budget and follow. 
♣ Understand blackjack rule cards, especially those with blackjack 5 card rule dealers and the general blackjack rules. Knowing terms and conditions places you in a better place to make informed choices.  
♣ Know when to surrender in blackjack
♣ Play live blackjack on the best live casinos.
You win even with a poor score such as 15
Players have the edge over the casino
Varied gameplay
There is a meager chance of being dealt 5 card
Since the player has an edge, the game is rare
Blackjack 5 card rule FAQ
It is called 5 card Charlie from the Charlie rule states that if a player reaches 5 without busting, the player will automatically win.
Not. A 5-Card blackjack rule does not outrank a dealer 21. The one exception is when the player's hand also totals 21, in which case the hand pushes.
Yes, provided you are gambling on a gambling site that offers mobile blackjack games.
That depends on the gambling sites. However, not most gambling sites offer the live dealer Blackjack 5 card rule.
Yes. However, your safety depends on your choice of gambling site. It is secure if you are on a safe online casino, i.e., fully licensed and regulated.
No, it is not. Most casinos do not offer it because it is the player who has an advantage and not the casino.
Blackjack 5 card rule: an automatic win
Blackjack is one of the best casino games to make money. However, that is only true if you know the rules. If you get 5 cards without bursting by chance, you become the winner through the  Blackjack 5 card Charlie rule.
However, you should not always anticipate this automatic win as its chances of occurring is meager.
Other related articles: