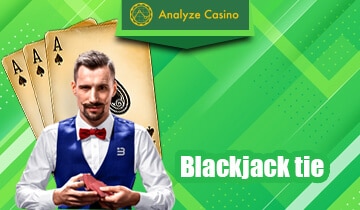 Blackjack ties can be beneficial or a source of frustration when playing Blackjack online. What it all comes down to is how to settle a tie in Blackjack.
How is this possible, and why does it happen?
Join us as we explore all the different ways in which you can tie when playing Blackjack at online casinos. We'll explore tie side-bets, Blackjack tie meaning, and several variants where the rules change when gambling online.
If you want to learn more about online Blackjack ties, read on.
Online casinos where you can play Blackjack
When playing online Blackjack, it is possible to land a Blackjack tie with the dealer. This means that you both hold the same hand. One is no more valuable than the other. Ordinarily, especially in single deck Blackjack games, a Blackjack casino tie will see the hand push. This is casino terminology which means that your bets are returned in the event of a tie.
To compensate for that, the dealer may win ties instead of pushes. In conventional European, Classic Blackjack online gambling games, or Blackjack hit or stand games, a Blackjack push tie is to be expected in the event of a tied hand.
Ties in Blackjack side-bets
The Blackjack tie odds of winning aren't great, at 8.75%. Therefore, the Blackjack tie wager side-bet often pays around 10:1 if you win, but the probability of it happening is so low that tied side-bets aren't worth your time. Other side-bets, such as the Blackjack 5-Card Rule, Perfect Pairs, or 21+3, may be more advantageous than tied bets, as they offer much larger payouts for relatively the same level of risk.
If you insist on betting with tied side-bets, then look at the Blackjack High Tie rules. This is a separate variant offering side-bets on specific tied hands. For instance, you can get prizes worth up to 50:1 for tied 17s, rewards of 45:1, 50;1, 25:1, and 125:1 for tied 18s, 19s, 20s, and 21s (Blackjacks), respectively.
While these payouts are most certainly impressive, the odds of this happening are even less than the 8.75% associated with "any tied" hand, so that is worth keeping in mind.
The rules of Blackjack ties
H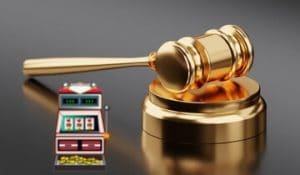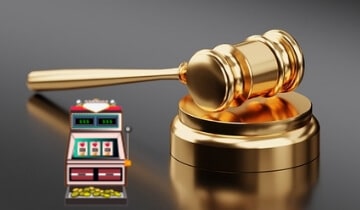 owever, as soon as variants start tinkering with house edges and odds, the rules regarding Blackjack tiebreakers come into play.
Blackjack tie terms may change to favor you or the dealer. To better understand this, we should look at some Blackjack tie rules in variants and explain how Blackjack tie winners may come about.
Here are other Blackjack articles you might enjoy: 
Naturally, it is appealing to throw wagers on Spanish 21 and games where you can win the tie. It may seem obvious to avoid Double Exposure, where the dealer wins all ties.
However, these are offset by rule changes, which give you advantages in other areas (seeing the dealer's cards and Blackjack paying even money in Double Exposure) and 48-card decks with no "ten" cards thrown in, making it trickier to land Blackjack in Spanish 21.
We wouldn't say that there is such a thing as the "best Blackjack tie" game. It is up to you to decide what works best for you.
Using Blackjack tie strategies online
As mentioned, Blackjack tie gambling odds aren't great, so using strategy is always risky. There is no such thing as a bona fide Blackjack cheat sheet here.
If you are interested in learning about Blackjack ties, there are strategy charts out there to help you make the best move, based on what's on display on the table. The most used one is the Tie Side Bet Strategy Chart, and it is based on the All Ties Pay 10:1 rule. Other Blackjack strategy charts exist for Blackjack games with alternative side-bet rules.
Things to avoid when playing Blackjack
Before you dive into playing Blackjack with tied bets, it is worth going over some of the most basic tips and things to avoid. Here is what you need to know:
Pros and Cons of Blackjack ties
Blackjack tie strategy charts can be used to play
Several variants let you win tied bets in Blackjack
Tied hands are not very common, at just 8% or thereabouts
Most Blackjack variants result in a push for tied hands
Stay away from tied side-bets, as they aren't worth the risk
Some variants see the dealer win tied hands
Frequently asked questions about Blackjack ties
That depends on the Blackjack game you are playing. Some variants let either you or the dealer win tied hands, but most result in a push – your bet being paid back.
Again, that depends. In most cases, nobody will win, and your bets are returned. If there is a side-bet involved, you could win the tie side-bet and still lose the game.
No. In conventional Blackjack games, this will be the case, but in variants where the house edge and odds have been tinkered with, it can be a case of anything goes.
This is a side-bet that there will be a tied hand featuring values of seventeen or higher.
Normally, no. Being able to do so would give the Blackjack bettor far too much of an advantage over the house.
Play top Blackjack games online at your favourite casinos
The result of a Blackjack tie could see you win, the dealer win, or a push. Similarly, you could walk away with a Blackjack side-bet win on a tie but still lose the main game if the dealer wins ties.
Ultimately, what happens with a tie depends entirely on the Blackjack table game variant you are playing. However, if you want to explore some of those options and check out top places to play, you'll find everything you're looking for right here at our website.