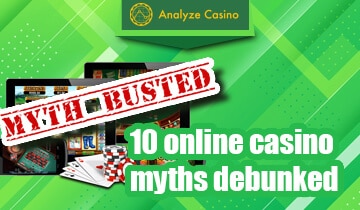 Unless you know your gambling onions, many of the things you may read online could be nothing more than online casino myths. Untruths and lies are often spun by those who are opposed to gambling, and there are quite a few whoppers out there.
Separating online casino myths from facts is important. In this gambling guide, we will look at online gambling myths, highlight the debunked ones and shed some light on the partially solved myths.
If you want to know the truth about online casinos and gambling in general, read on to find out more.
Our Best Online Casino Picks
Windetta Casino

Windetta Casino Welcome Bonus: 215% Up to €2000 + 200 Free Spins
1st deposit: 90% up to €500 + 75 Free Spins on Gates of Olympus;
2nd deposit: 50% up to €500 + 50 Free Spins on The Hand of Midas;
3rd deposit: 75% up to €500 + 75 Free Spins on Sugar Rush.
Cashwin Casino

Register today at Cashwin and get this amazing welcome package: Up to €1750 + 50 Free Spins
1st deposit: 100% up to €1000 + 50 Free Spins
2nd deposit: 100% up to €250
3rd deposit: 50% up to €250
4th deposit: 50% up to €250
Minimum deposit: €20
Wagering requirements: 35x (Bonus + deposit)
Time2Spin Casino

Time2Spin Casino Welcome Bonus: 500% up to €3000 + 500 Free Spins
1st Deposit Bonus: 200% up to €1000 + 200 Free Spins
2nd Deposit Bonus: 100% up to €1000 + 100 Free Spins
3rd Depsoit Bonus: 200% up to €1000 + 200 Free Spins
Wagering requirements: 35x (bonus + deposit)
Minimum deposit for the bonus: €25
Time2Spin Casino VIP Welcome Bonus: 600% up to €6000 + 600 Free Spins
1st Deposit Bonus: 250% up to €2000 + 250 Free Spins
2nd Deposit Bonus: 150% up to €2000 + 150 Free Spins
3rd Depsoit Bonus: 200% up to €12000 + 200 Free Spins
Wagering requirements: 35x (bonus + deposit)
Minimum deposit for the bonus: €250
Damslots Casino

Damslots Casino Welcome Package: 750% up to £/$/€3000
1st Deposit Bonus: 400% up to £/$/€800
2nd Deposit Bonus: 150% up to £/$/€1,000
3rd Deposit Bonus: 200% up to £/$/€1,200
Minimum deposit: €25
Wagering requirements: 50x (bonus)
Other bonuses are up for claim:
Crypto Bonus: 500% up to £/$/€500
Weekend Recharge Bonus: 75% up to £/$/€500
Daily Casino Cashback: 5% up to £/$/€2,000
Daily Extra Cashback: 30% extra cashback up to £/$/€2,000
MyStake Casino

Register right now at MyStakeCasino and grab the outstanding welcome bonus: 100% up to 1.000 EUR!
Minimum deposit: €20
Wagering requirements for the bonus: x30 bonus + deposit
Max. bet with bonus money: €5
The Top 10 Most Common Casino Myths Explained
There are hundreds of online gambling myths out there, but those relating to online slots, casinos and how much you can win tend to be the dominant ones. Allow us to showcase some online gambling facts and separate them from fiction as we look at the top ten online casino myths here today.
#1. Casinos and games are rigged, so you don't win
One of the most popular internet and online casino myths is that all online casinos are scams. Are online slots rigged? What about casinos? Are online casinos rigged? There are always going to be a few sites out there that have dodgy instant online bonuses, and that will take you for a ride.
However, licensed, and regulated casinos are audited, verified, and certified for fair play without having to end up asking questions like "is online blackjack rigged?"Their games use random number generators (RNG) and are regularly checked. These casinos give you a fair shot of winning, and their RTP rates, terms and conditions are all fully transparent.
#2. If you win too much, you'll have your account blocked
One of the other major myths about online gambling is that you will have your account blocked if you win too much. This is simply not true at all. Online casino complaints tend to come in from angry players who cannot withdraw, but that is often because they have exceeded their withdrawal limits or have not fulfilled the wagering requirements on bonuses.
These are legitimate reasons for withholding cashouts, and you certainly will not have your account blocked for winnings too much. Indeed, at some sites – such as no-account casinos – you do not even have accounts.
#3. Online gambling is more addictive than land-based betting
Of all the myths about online casinos, this one is closest to the truth. Land-based gambling and online gambling are about even when it comes to addictiveness. While the best casino welcome bonus may encourage you to gamble online, the atmosphere, drinks and excitement of a land-based casino can do the same thing.
We would say that they are both equally as addictive. However, at least with online casinos, you have responsible gambling tools which help you limit how much you bet.
Top online casinos with the best welcome bonuses in 2023
#4. Free games allow you to win more than real money ones
A common online casino myth is that the casino lets you win more when you use free bonuses, such as no deposit casino bonus offers. Then, when you want to wager real money, they ensure that you do not win.
Given that all games (free and real money ones) use the same RNGs (random number generators), this myth is totally unfounded. How much you can cash out at a casino is entirely down to luck and the casino's clear and transparent limits. It has nothing to do with free games as such.
#5. Online casino gambling permits underage betting
Another of the most commonly heard online casino myths is that they permit underage betting. While there are no verification casinos out there, there are still tools that check for online casino fraud.
If you read our "how old do you have to be to gamble" guide, you will see that each casino has its own rules on gambling ages, based on the countries they cater to. No online casino permits underage gambling as they could lose their license if found guilty of doing so.
#6. It is impossible to clear casino bonus wagering requirements
Again, this is another of the online casino myths that have sprung up lately. Online casino wagering requirements are clear and transparent. They state how much you will need to bet to clear the conditions of your bonus before you claim it.
Moreover, not all no deposit casino bonus offers have wagering requirements. Learning how to make money from online casino bonuses is all about reading the terms and conditions first. It is certainly possible to clear requirements, provided you do not keep claiming an endless array of bonuses.
#7. You can beat the house edge with a good betting strategy
Next on our top 10 online casino myths is the one concerned house edge. Apparently, you can beat the house edge with a good betting strategy. Let us categorically say that this is not true.
With a decent strategy, you can certainly get the house edge down and lower it. However, there is no strategy that guarantees a win every time. If there were such a system to do away with the house edge, we would all be using it.
#8. Slots that haven't paid out in ages are due to do so
Of the many video slot machine myths out there, one of the most common is that if a slot has not paid out a win in ages, it will surely do so soon. This is another myth that many players believe, and it simply is not true.
Slots are run by RNGs, and these ensure that each spin is random. Because of this, there is no saying when a game will pay. It could pay out in seconds, minutes, weeks, or years. If slot payouts could be predicted, again, we would all be taking advantage of this.
#9. You can win more if you bet larger sums of cash
It is true that if you play high roller casino games and wager large sums of cash, you can win more; this is with, but only partially. There is some truth that you can have "a better chance" of landing the bigger progressives if you wager more. Aside from that, in games where fixed odds are in play, the more you wager, the more you can win.
However, this is only because prizes are paid in relation to your bet. The top-paying slot will always be worth 100x a bet (for example), whether you wager $1 a spin or $100 a spin but wagering $100 a spin will see you win a larger sum, though still proportional to your stake. This is another of the biggest online casino myths, and we are happy to debunk this one.
#10. A progressive slot won't pay out after it has just been won
While we are here debunking online casino myths, it is worth considering the one concerning online casino jackpots. Apparently, if a progressive jackpot slot has just been won, it is a waste of time playing it because it will not pay out again so soon? This is hogwash. There are plenty of examples where a progressive game has paid out several multi-million-dollar prizes just days apart.
Learning how to win the jackpot on slots is an important part of being a good player and cutting through rubbish like this often-repeated myth is a part of that. It may be the case with Daily Jackpots that they can only be won once per day, but that is about the only nugget of truth in the myth.
FAQ about online casino myths
Players who exercise proper bankroll management, use the right strategy and are lucky can make money.
Licensed and regulated online casinos are not rigged and simply rely on the house edge to make a profit.
Any honest casino will pay winners on time and in full if they are successful when playing their games.
You need a good strategy, impeccable bankroll management and a lot of luck to beat an online casino.
Enjoy Fair, Trusted Games at Safe and Secure Casinos
As you can see, there are plenty of online casino myths out there that we have been all too happy to bust. Busting online casino myths such as this are only the tip of the iceberg, though. There are plenty of other lofty lies told about online gambling, casinos and slots.
If you want to cut through the nonsense and play fair and trusted slots at the safest and most secure casinos, you have come to the right place. Each of our recommended casinos supports fair and certified games and has an excellent track record providing quality, secure casino games to its members. You cannot go wrong with any of our top sites, so feel free to browse around.