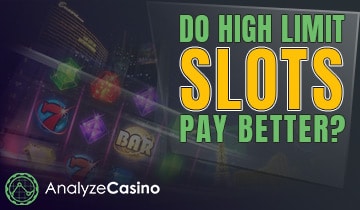 Every gambler has asked the question do high limit slots pay better, at least once. Thing is, this is not a question that can be answered with a simple yes or no: We need to explain a couple of things to answer the do high limit slots pay more question. This is why we prepared this guide: Below, we will talk about high limit slot machines in detail and explain their features. More importantly, we will answer the do high limit slots pay better question once and for all. Are you ready to roll big? Here we go!
Playing High Limit Slots At The Best Casinos
If you don't want to ask the are online casinos rigged? question again, you can pick one of the casino sites below. We analyzed them in detail and guarantee that they offer the best possible high roller casino experience. They are legal, fair, safe, and full of bonuses.
Cobra Casino

This is a
high roller bonus
: Cobra casino matches your first three deposits by different rates and up to 1.050 EUR in total. Moreover, you will win 300 free spins once all the deposits are complete. The wagering rate is only 40x.
FezBet Casino

FezBet casino is ready to match your first deposit up to 500 EUR and adds 200 free spins on top of this offer too. Don't forget that there are also two cashback bonuses: One of them refunds up to 3.000 EUR every week!
Casino Z

New members can win up to 1.500 EUR and 150 free spins by making four deposits in total. With your 10th deposit, you will win 100 more free spins and up to 300 EUR. The slot tournaments in Casino Z award up to 60.000 EUR every week!
1xBet Casino

The welcome package of 1xbet casino awards up to 1.500 EUR and 150 free spins. Just make your first deposit and that's it: The bonus will activate automatically without using a code. Don't forget to claim your poker rake bonus too!
Powbet Casino

Enjoy the sensational bonuses and promotions to give a boost to your gaming balance at Powbet Casino.
Welcome Bonus: 100% up to €500 + 200 Free Spins
Top 20 online casinos where you can play slots
What Is A High Limit Slot Machine?
Are High Limit Slots Better? Why Are They Popular?
Let's explain this topic by answering two common questions.
Do high limit slots pay more often? No, this is one of the most common online casino myths. The payment frequency of slot machines is determined by their RTP rates. (Check out high limit slots strategy article for more info.) The bet value does not increase or decrease the payout frequency.
Do high limit slots have better odds? In general, no. Once again, this is determined by the RTP rate. However, some progressive jackpot slots offer a better chance to trigger the grand prize if you play with the maximum bet value. Other than this exception, no, bet values do not affect odds too.
So, why high limit slots are popular? Do high limit slots pay more, is this the reason? Well, no: High limit slots are popular because players expect to get paid bigger and better just because they are risking more money. We explain why this belief has no basis below.
The Reason For Placing High Bets On Slot Machines
People who ask do high limits slots pay more question expects to get an approval, to be honest: The majority of players think that if you are betting big bucks, the payout will be big too. This is true to an extent but it is also not a fixed rule. Allow us to explain:
If the slot machine pays in multipliers, increasing the bet value will increase the payout too. In this scenario, the answer to do high limit slots pay better question is yes. This is because the paytable is dynamic and not fixed. The more you bet, the more you win that's why many players opt for 20 paylines.
If the paytable of the slot machine is dynamic (the symbol payouts increase or decrease according to the bet value), the answer to do high limit slots pay better question is still yes.
If the slot machine does not pay in multipliers and does not have a dynamic paytable, there is no difference between high-limit and regular slots. Games with fixed paytables always pay the same amount, no matter what the bet value is. In this scenario, the answer to do high limit slots pay better question is no.
In short, to answer the do high limits slots pay more question, look at the paytable: If it is dynamic or based on multipliers, you will win more by betting more. If not, there is no difference. This is also true for other high-limit games, such as high limit blackjack.
What You Need To Know About Denomination
Denomination is a fancy word for the bet value: It represents the credit value of each spin. For example, the denomination of dollar slot machines is 1 USD; because each spin costs the same. There can be other denominations too, such as $0.25, $1, and $5. This term is used in other
high roller casino games
too; it is not specific to slot machines. A high roller slot game will offer a big denomination, for example, $10 per spin.
Online Or Land Based High Limit Slots?
Read Our Slot Machine Tips, Start Playing High Limit Slots
We have a separate online casino games guide for slot machines, don't forget to read it before starting to play: It contains many tips that will help you to score more winnings. We answered do high limit slots pay better question in this guide and gave you a list of best online casinos to play these games: Now it is your turn. Start spinning the reels and win big!