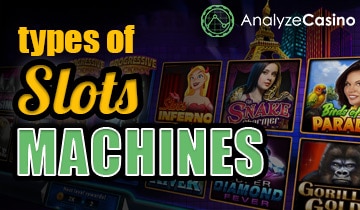 Slot games are more diverse than you think: Contrary to popular belief, not all of them are played the "same way". We can even say that types of slot machines are richer than many other casino games. For example, blackjack has only a few basic variants, while only classic slot machines offer almost a dozen variants. Different types of slot machines offer a different gaming experience, so finding the one that suits you most is important for a quality experience. In this guide, we talk about all the types of slot machines in casinos and give practical examples for each. We will also list the best casino sites where you can try these games. Let's start spinning the reels: Dozens of slots with bonus games are waiting for us!
Play Different Types Of Slot Machines In These Casinos
There are lots of different types of money slot machines in casinos, but only some casinos are worth your time. We have some strict criteria when it comes to picking online and mobile casino sites: We make sure that our visitors get the best possible experience. We picked the following casino sites for you and guarantee that you will find all types of slot machines in them, with the most useful bonuses. No matter what kind of slot you like, they will offer you hundreds of different options. Pick one, become a member, and start spinning the reels of different types of slot machines. Good luck!
Spin Samurai Casino

Get the amazing welcome package at Spin Samurai Casino: Up to €800 + 75 Free Spins!
1st deposit: 60% up to €100
2nd deposit: 50% up to €200 + 25 Free Spins
3rd deposit: 40% up to €500 + 50 Free Spins
wagering requirements: 45x
Pulp Casino

Pulp Casino Welcome Package: up to €4000
Register today at Pulp Casino, make your first deposit of a minimum €20, and receive up to €4000
Jackpoty Casino

Jackpoty Casino Welcome Bonus: Up to €2000
1st deposit: 50% up to €1000 or 100% up to €500 + 100 Free Spins;
2nd deposit: 100% up to €300;
3rd deposit: 50% up to €500;
4th deposit: 100% up to €200.
OhMySpins Casino

OhMySpins Casino Welcome Bonus: 100% up to €500 + 200 Free Spins
Minimum deposit: €20
Wagering requirements: x35
The Free Spins are added as a set of 20 per day for 10 days
The bonus will be credited immediately after a successful qualifying deposit
Basic Types Of Slot Machines In Casinos
Let's start listing different types of slot machines with the most basic categories. Each of these categories contains several sub-categories and we will explain them too. The following are the most common types of slot machines in casinos:
Fruit Slot
Description
The "original" slot games. They are also known as classic slots or fruit machines. Their distinctive features are the low reel and payline count (usually 3 reels + 9 paylines), symbol types (fruit pictures, 7 and BAR logos), and the lack of bonus features/special symbols. Fruit slots have extremely easy rules – landing the same symbols next to each other is enough to qualify for a prize. You don't need to worry about wild/scatter symbols and bonus rounds. Most of the time, they don't exist. Fruit slots are the best option for beginners and they are the choice of professional gamblers, due to their low but constant payouts.
Video Slot
Description
Nearly 90% of slot games in online casinos fall into this category. Video slots have advanced graphics, more reels (up to 5), more paylines (up to 1.024), bonus rounds (i.e. free spins), and special symbols (wild/scatter). Simply put, they are the upgraded version of fruit slots. They are also easy to learn & play but you need to know the features of special symbols and how to trigger the bonus rounds. You can skip fruit machines and start directly with video slots but make sure to pick games with a 95% RTP rate and above.
Jackpot Slot
Description
These are either fruit or video slots but they always have a grand prize to win. This prize can be a fixed amount or it can increase with every game played. Usually, you need to land a specific symbol set to win the jackpot. Or, it can be completely random and happen anytime during the main game.
Video Bingo
Description
These are also known as Class II slots, we explained them in detail below. They can be seen in land-based casinos only; online casinos do not have them. The game screen consists of two sections: There are reels at the top section and a bingo card at the bottom section. You can fill your card according to spin results and make a "bingo" for the grand prize.
Pachinko
Description
These are not actually slot games bıt they are quite similar and the casinos place them in the same place as slots. These games originate from Japan and they are very popular in that country. Players try to insert metal balls falling from above into the prize holes at the bottom of the game table.
Video Poker
Description
We are adding video poker games among the types of slot machines because of the mechanics: They are played exactly like slot games. You spin the reels and try to create a legal 5-card poker hand with the results. You can discard some of your cards and get new ones.
3 Reel Slots

Looking to have some classic fun and win some money in the process? Come check out our article on 3 reel slots

3 Reel Slots
Top online casinos selection
Types Of Slot Machines: The Classic Ones
After listing the basic types of slot machines, we can start talking about sub-categories. Let's take a look at classic slots first. These are the types of classic slot machines in casinos:
Multi-Line Slots
This means two things: First, the classic slot machine has more than a single payline. Second, it is possible to change the number of paylines. For example, the original version of the Book of Ra contains 9 lines but the players can choose to play with only 1 line (or 3, 5, etc.).
Multi-Reel Slots
Jackpot Jester 5000 and Mega Joker are good examples of this category. These games have two different reel sets. You start playing at the bottom reels and move onto the top after winning a certain amount. The top reels pay more.
Buy-A-Pay Slots
This means the slot machine activates all of its winning combinations only when you play with the maximum bet amount. For example, the Sizzling 7 slot machine pays for landing 2 same symbols instead of the usual 3, but only if you play with the maximum bet value. Otherwise, this combination won't pay anything.
Multiplier Slots
This means the slot machine pays with multipliers, instead of fixed or dynamic coin amounts. For example, landing 3 wild symbols will pay 5x total bet. Your payout is determined by your bet amount.
Types Of Slot Machines: The Modern Ones
The modern types of slot machines offer four main sub-categories. These are:
Classic Video Slots: The first thing that comes to mind when someone says "online slots". They are called classic because they are just an upgraded version of fruit slots. In other words, they offer more than classic slots but they don't have innovative features. Vikings Go Berzerk is a good example: It has free spins, multipliers, and good payouts, all the things you can ask from a slot machine.
Cascade Reels: Netent calls this feature "Avalanche" (i.e. Gonzo's Quest) and Microgaming names it "Rolling Reels" (i.e. Basketball Star). In any case, it works the same and offers an innovative feature: When you score a winning, all the symbols in that combination will disappear from reels and new ones will appear. If these new symbols also create a winning combination, the process will repeat itself.
3D Slots: Video slots with very high graphics quality, almost as good as CGI movies. Contrary to the popular belief, you don't need "glasses" to play them, the term "3D" is a reference to their visual quality.
VR Slots: Short for virtual reality slots. You need VR glasses to play them and it is possible to use hand gestures to control the reels. They are rare at the moment but many analysts think that they represent the future of casino games.
Immortal Romance

There are lots of vampire-themed slots but not every one of them is good: Only a couple of these games are worth playing. Well, Immortal Romance slot by Microgaming may be the best of these options – it is, in fact, probably the most popular vampire-themed slot.

Immortal Romance
Types Of Casino Slot Machines: The "Classes"
Believe it or not, there are different types of slot machines based on "classes" too. There are two categories, Class II and Class III, and although both are slot machines, they use quite different mechanics. Before we give detailed information, let's say that this distinction is valid only in terrestrial casinos. Online casinos do not have different class types of slot machines.
You can see Class II slots in Indian casinos or in parlors where slot machines are placed in bulk. They are very rare in Las Vegas casinos and we can say that they are specific to Indian casinos. It is very easy to identify them because they have a "bingo card" at the bottom. Yes, it's a real (and digital) bingo card. These games are legally referred to as "video bingo" machines.
Class III refers to different types of slot machines we are used to. In other words, it covers all types of slot machines in casinos such as fruit, video, jackpot, etc. All slot games in legal terrestrial casinos are considered "Class III". So, what's the reason for this distinction? Why was a category like "Class II" needed?
This distinction is unique to terrestrial casinos in the United States. Playing bingo was never prohibited in this
country
, but slot machines and other casino games were considered illegal (they are still illegal in more than 80% of the country). Indian casinos wanted to offer slot machines to their customers without waiting for the legal infrastructure to be created. The easiest way to do this was to claim that they were actually "bingo machines". They technically did this by placing a bingo card on the bottom of the machines and created a new, strange game category. Even after slot machines became legal at Indian casinos, they continued to offer these weird games. Las Vegas casinos did not need such a thing because slot machines were already legal in this state from the very beginning.
Class II slot machines are generally preferred by older players and they can be played at very low costs. We recommend that you try them if you visit an Indian casino, but they cannot replace real slot machines.
Types Of Slot Machines: The Jackpots
Fixed Jackpots
Description
This means there is a grand prize to win but it is a fixed amount. It does not change according to the bet value or the number of games played. Usually, you need to land a specific set of symbols to win the grand prize.
Progressive Jackpots
Description
Mega Moolah is the best example of progressive jackpots. The grand prize keeps increasing with every game played. It can easily surpass millions of Euros. For example, the biggest payout of Mega Moolah was more than 13 million Pounds.
Wide-Area Jackpots
Description
This is also a progressive jackpot game but it is connected to a wide network. In other words, every game played in the state/country is connected to the same progressive jackpot pool. Such games can reach very high grand prize amounts in no time.
Mega Moolah

We've talked about Mega Moolah above, come check our dedicated article and learn where you can play it!

Mega Moolah
Different Types Of Slot Machines: The "Hot" And "Cold" Ones
So, do some types of slot machines pay off better than others? The answer is yes, but it is not the answer you were thinking of. Let us explain: There are different types of slot machines in casinos according to their payouts too. The players call some games "hot" and some others "cold". Some casino sites offer a separate categorization based on these terms. So, what do they mean?
A "hot" slot machine has not paid for a long time and therefore players are more likely to win.
A "cold" slot machine paid off very recently and is not expected to pay again over a long period of time.
And both of these terms are absurd.
When slot machines first appeared, they were working with real cogs and had to be winded-up just like a clock. Before making a payment, the cogs and springs were stretched and held still for a while. This position would cause a certain part of the machine to heat up. By touching this section, players could tell if a game would pay off soon or not. The legend of "hot" and "cold" originates mainly from here. As you can imagine, this legend has no validity nowadays: Slot machines no longer contain real cogs and springs and do not "heat up". So this belief has no basis. It is also wrong to think that a game recently paid will not pay for a long time (except for progressive jackpots). Because in every spin, all possibilities are reset and the dice are rolled again. You can simply win two times in a row, this is possible. Also, you may not win for a long time – this is also possible. It all depends on how lucky you really are.
RTP And House Edge: The "Secret" Of Slot Payouts
So, how do some types of slot machines (especially popular slots) pay more often and more than others? The answer is in the "RTP" and "house edge" terms. RTP is the shortened version of "return to player" and determines how much of your investment can be recovered. House edge shows how much profit the casino will make from your bets. These values ​​are determined after an average of 1,000 spins and show how often 3 and 5 reel slots will pay. Let's try to explain it with a simple example: If a game's RTP value is 97%, the house edge rate is 3% (the sum should always be 100%). This means that if you invest 100 EUR in this game, you will be able to recover 97 EUR in the long run. Your loss will be limited to 3 EUR. 3 EUR is also the profit the casino will make from your bets. This applies to all types of slot machines in casinos: Each and every game has an RTP and a house edge rate.
As you can imagine, high RTP rates are good for the player. It is not possible to find slot games with 100% RTP rates, because the casinos cannot make a profit with such rates. But you can find odds as close as possible to 100%: Some types of 5 reel 3 row slot machines offer 99% RTP values. In general, we recommend that you prefer games with RTP rates of 95% and above. The higher the RTP, the more frequent the payments will be. In other words, games with high RTP rates do not pay more but pay more often – in the long run, this is more advantageous.
Do not misunderstand the RTP concept and do not expect to win immediately while playing, for example, a game with a 98% rate. These rates are obtained after an average of 1,000 spins, as we mentioned above. In other words, you have to play for a long time to see some results.
5 Reel Slots

Ever wondered how 5 reel slots can help your winning streak? Read all about it in our article

5 Reel Slots
Types Of Video Slot Machines According To Their Bonus Rounds
We have a final categorization: It is possible to create a list of types of slot machines according to their bonus features too. As mentioned above, video slot games almost always include bonus rounds/features, and they are pretty common in classic slots too. So, what are these bonus rounds and what are the different types of slot machines based on this distinction?
Free Spin Round
This is probably the most common bonus feature. As the name implies, you get to spin the reels for free, for a certain number of times. When the round ends, you get to keep what you earned. Typically, this round is triggered by landing scatter symbols anywhere on the reels. How many spins you will get depends on the game itself: Some give 20 spins, others 10, or you can win 50 spins for free: Each game is different. In general, this round can be triggered multiple times and the total payout at the end is multiplied by a certain figure (i.e. 3x).
Pick-Me Games
You are asked to choose from closed symbols. The number of symbols you can choose is different in each game, but you are usually allowed to make 3 choices. Sometimes, you can continue to choose until you find a special sign. Each symbol gives a different reward: You can win multipliers, free spins or cash rewards.
Gambling Games
These are pretty common is classic slot games – the latest types of slot machines do not offer this feature. For example, Book Of Ra contains it because it is first released more than 10 years ago. The idea is simple: This feature gets triggered automatically after every winning spin but it is up to the player to use it or not – if you want, you can skip it. If you choose to play it, you will be asked to guess the color or suit of a closed play card. If you guess the color right, you double the payout of that winning spin. If you guess the suit right, you quadruple that payout.
Mini-Games
Any kind of other bonus games can be categorized like this. For example, the Monopoly slot asks you to play an actual Monopoly game during the bonus round. The "Aliens" slot launches an FPS game and asks you to shoot Aliens with a pulse rifle. You win a prize according to how successful you were in the game, i.e. each Alien you shot gives you a multiplier.
Book Of Ra

the Book of Ra may be the most famous Ancient-Egypt slot game of all times. And you can find everything you need to know the Book of Ra slot in this online slots guide:

Book Of Ra Slot
Making A Payment To Play Different Types Of Slot Machines: What Are Your Options?
Well, we talked about all types of slot machines and now you know what to expect. There is still one topic we need to mention in this guide: Payments. No matter which types of slot machines in casinos appeal to you, you need to make a deposit and a withdrawal sooner or later. To do that, you can use lots of different methods – it is even possible to pay with Western Union at casinos. However, some methods are simply better than others. In this context, we recommend paying with the following options to play different types of slot machines with real money, all of these being available at Zimpler casino sites and PugglePay casino sites:
FAQ: Your questions on the types of slot machines answered
There are thousand slots available online. They can be grouped in the following main categories: 3 reel slots, 5 reel slots, progressive slots, megaways slots, mobile slots, video slots, 3D slots. You can play all these types of slots for free or real money at any of our recommended casinos.
Some of the most popular slot machines of all times would include: Starburst, Book of Ra, Mega Moolah, Gonzo's Quest, Immortal Romance, Thunderstruck II, Cleopatra.
Progressive jackpot slots offer the biggest payouts. If you want to win big you should try the following slots: Mega Moolah, Gladiator, Cleopatra, Mega Fortune or Arabian Nights.
Obviously the main difference is the physical one. At land based casinos you can enjoy the atmosphere, but here the slots come with a lower RTP rate than online slots. Also you can play online slots for free and use bonuses and promotions offered by online casinos.
Find The Best Types Of Slot Machines To Play, Try Them Today
We talked about all types of slot machines: You are now ready to play like a professional slot player. The only thing left is picking an online casino to play different types of slot machines with the best bonuses. Well, we showed you how to do that too – just pick one of our recommended casino sites above. Don't forget to claim your bonus too, you can easily double or triple your starting bankroll. It is time to spin the reels and make money: May the Lady Luck always be with you!