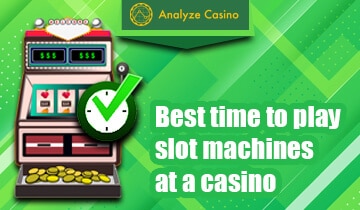 Slots are the most popular casino games and not surprisingly, they draw the largest crowds online and in land-based casinos. Punters are naturally asking what's the best time to play slot machines to maximize the odds of winning. In this online slots guide we take a closer look at the most famous slot machines 2023 and try to come up with an answer to the aforesaid question. Keep reading to find out when is the best time to play slot machines to be more successful online.
Top online casinos to play slots in 2023
What's the best time to play slots?
The what is the best time to play slot machines question is on the lips of casual and veteran punters alike. When you bet real money on online casino games, the outcome of each gaming session is very important. For many punters, it is just as important as the questions are online slots rigged and what are the best penny slot machines to play. Some theories state that you have a better chance of winning at night, while others think the morning is the best. In the paragraphs below we explain why both theories are wrong.
When you play slot machines at an online casino you accept the fact that the outcome depends exclusively on luck. As long as online gambling is fair, the algorithms will randomly determine winners without outside interference. There is simply nothing that players can do to influence the odds of winning, as you can read from the best online slots guide UK has to offer. Naturally, the time of the day when you choose to spin the reels of penny games or high limit slots doesn't matter either.
Just like any other game of chance, lottery included, slots are defined by randomness. You can't expect to find lucky numbers for the lottery, just as you can't hope to find a flawless formula that will teach you how to win a slot machine tournament.
For slot machines, the best time to play is when you are relaxed and the mood for gambling. It's a mistake to play slots under stress or when you go through hard times. This is something you read in any online casino games guide not only those dedicated to slots.
Confirmation bias explained
In the quest of finding the best time of day to play slot machines, you run into many strange theories. There are many people trying to justify their ideas over the Internet and they genuinely believe in them. In many cases, this is the result of confirmation bias, a term that explains the fallacy in such theories.
The concept describes the action of interpreting information based on pre-existing beliefs rather than facts. People frequently prefer to process information that supports their convictions, simply because they expect a certain result. Confirmation bias usually occurs when people are confronted with a theory that challenges their core beliefs. It is more likely to happen when the debate is about what is self-relevant rather than a general idea.
When it comes to the best time to play slot machines and casinos, this situation can occur quite often. That's because punters have clear preferences for games and they like to believe they are in control of their actions. Whether they spin the reels of 3 slots Captain America, games with progressive jackpots, or regular slot machines with bonus games, they like to believe they can influence the odds. Once this idea gets a foothold in someone's mind, they are more likely to cling to it regardless of facts.
Understanding the Return to Player
Progressive jackpots and number of active players
When debating the best time to win at slot machines, proponents of such theories can make wild claims. Some focus on the best day-to-play slot machines and expect weekends to be better than weekdays. The reasoning behind such theories has to do with the number of active players. It is known that people tend to be more active from Friday to Sunday when they have more time to gamble. However, the amounts wagered on a particular slot don't influence the odds of winning in the short or long-term.
Next on the list is the theory that progressive jackpots are due to hit. This claim also has to do with the idea that slots are hardwired to pay after a certain amount is invested. While the return to player highlights the amounts that players are expected to win, this applies to long-term calculations.
The same goes for progressive jackpots, which keep growing until somebody finally strikes it rich. On the flip side, there is no guarantee that a jackpot hasn't been won in a long term with a hit in the next few days.
Tips and tricks to choose the best time play slot machines
If the question of what is the best time to play slot machines is still on your mind, there are a few things to consider. While we can't endorse any fancy theory suggesting an ideal moment of the day or night, there are a couple of ideas we like. These apply to real money gambling and also if you play the most popular slots for free. Keep these tips and tricks in mind when you spin the reels of slots the next time.
There is no perfect time to spin the reels of slots and the odds don't depend on the time you gamble. You have the same chances to win regardless of hour, as the outcome depend solely on luck.
Night is not the best time play slot machines, especially if you are tired and have something to do in the morning. The odds are not better at night, but you are likely to make errors and suffer bigger losses.
The right way to choose high paying slots is by taking a close look at the return to player. Seek games that will pay at least 95% back and focus on those with an RTP of 97% and above.
Only bet the amount you feel comfortable and don't regard video slots as a way of making money. Make sure you never chase losses and put an end to your gaming sessions when you no longer have fun.
The concept of hot slot describes a game that has paid a lot of money recently. By comparison, a cold slot is one that hasn't paid in a while. Some punters make the mistake of thinking that cold slots are due to hit.
The best time to play slot machines is now
Don't dwell too much on outlandish theories and remember that the best time to play slot machines is now. If you feel like having a little bit of fun online and slots are your preferred genre, play right away. Just make sure you are in the right mindset, ready to have a little fun with casual online entertainment.
Keep the length of your gaming sessions short and don't play when you are tired, frustrated, or have other priorities. You have the same chances to win a day or night and the only thing that matters is the RTP.