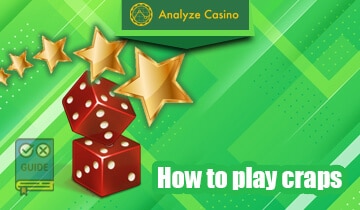 As one of the most classic gambling options since the 12th century, craps has continued to be one of the most sought-after games at the casino for ages. So in this article, we are about to discuss how to play craps at casinos be it playing craps online or offline.
The rolling of craps is undoubtedly one of those rooted activities of a casino without which the industry of gambling is never really complete. This is possible because its origin goes back to the Middle Ages and also because craps have successfully maintained their popularity.
We can say, it stood the test of time. We are about to navigate through ways in which one can understand how to play craps and win.
Top 20 online casinos where you can play craps
Time2Spin Casino

Time2Spin Casino Welcome Bonus: 500% up to €3000 + 500 Free Spins
1st Deposit Bonus: 200% up to €1000 + 200 Free Spins
2nd Deposit Bonus: 100% up to €1000 + 100 Free Spins
3rd Depsoit Bonus: 200% up to €1000 + 200 Free Spins
Wagering requirements: 35x (bonus + deposit)
Minimum deposit for the bonus: €25
Time2Spin Casino VIP Welcome Bonus: 600% up to €6000 + 600 Free Spins
1st Deposit Bonus: 250% up to €2000 + 250 Free Spins
2nd Deposit Bonus: 150% up to €2000 + 150 Free Spins
3rd Depsoit Bonus: 200% up to €12000 + 200 Free Spins
Wagering requirements: 35x (bonus + deposit)
Minimum deposit for the bonus: €250
Damslots Casino

Damslots Casino Welcome Package: 750% up to £/$/€3000
1st Deposit Bonus: 400% up to £/$/€800
2nd Deposit Bonus: 150% up to £/$/€1,000
3rd Deposit Bonus: 200% up to £/$/€1,200
Minimum deposit: €25
Wagering requirements: 50x (bonus)
Other bonuses are up for claim:
Crypto Bonus: 500% up to £/$/€500
Weekend Recharge Bonus: 75% up to £/$/€500
Daily Casino Cashback: 5% up to £/$/€2,000
Daily Extra Cashback: 30% extra cashback up to £/$/€2,000
MyStake Casino

Register right now at MyStakeCasino and grab the outstanding welcome bonus: 100% up to 1.000 EUR!
Minimum deposit: €20
Wagering requirements for the bonus: x30 bonus + deposit
Max. bet with bonus money: €5
Spin Samurai Casino

Get the amazing welcome package at Spin Samurai Casino: Up to €800 + 75 Free Spins!
1st deposit: 60% up to €100
2nd deposit: 50% up to €200 + 25 Free Spins
3rd deposit: 40% up to €500 + 50 Free Spins
wagering requirements: 45x
Basic Rules of How to Play Casino Craps
The popularity of this game is also possible due to the variations that are exhibited by the game. One can either play the simple forms of craps where a player is required to bet on a single number and choose to win or lose at each roll, whereas, well-versed players can opt for complex bets  and craps dice combinations, where a punter has to wait until a 'point' number or a target is rolled by a shooter.
Then followed by the shooter rolling the dice again to determine the outcome which can go on to an uncertain number of rolls until the same number appears. 
To understand how to play craps game, one has to follow a few basic rules. In spite of having dozens of wagers, the structure of the game revolves around the pass line bet. Here's how to play craps for dummies:
Our best casino picks in 2023
How to Play Craps Rules of Multi-Roll Bets
How to Play Craps Gameplay to Play One Roll Bets
The most common payoffs of one-roll bets are listed below. Readers will have an idea of how to play crap bets. 
The field: In this case the winning bet bags even money in most of the cases. In cases where the roll yields 2, they are paid 2-1 and if the outcome is 12, they get 3-1 or 2-1. 
2 or 12: In the case of two or 12, winners get 30-1. Here, if the bet is placed on 2, the following outcome should be 2. Similarly, this rule is followed in the case of 12.  
3 or 11: Here, if the bet is placed on 11 or 3, the following roll should resemble the bet in order to win. For that, winners get paid 15-1. 
Any 7: In any 7, winners get paid 4-1. 
Any Craps: In this case winners bag a 7-1.  
Hop Bets: In Hop Bets, there are chances to place easy Hop Bets where winners get 15-1 and in hard ones, 30-1 is paid. Here, each bet is placed on a single die landing a specific number. The set of numbers that matches the outcome gets the point. In hard hops, both the numbers are the same whereas, in easy hops, the set of numbers is with nonrepetitive numbers. 
How to play craps on machine? Well, the rules remain the same, irrespective of an online game or on-table game.
How to Play Craps Table Layout: the Odds
To better understand how to play craps one has two understand the idea behind how to play craps odds which leads us to this part of the article and to better understand the concept of odds, one has to know how to play craps house edge. 
One of the main strategies to fuel the winning is to limit the house edge. Especially directed towards the high stake players, the house edge is capable of reducing even 16.9% in some bets.
Beginners are advised to make a pass line bet which is the starting bet for all games in craps since it has the lowest percentage of the house edge that is 1.41% that too with the highest odds. For understanding how to play craps for payout, readers are suggested to further learn about house edge and odds in depth.
The betting strategy following the past bets is known as laying the odds. These are the bets that are allowed to be placed only after they come out and these are known to have an edge of 0%. But it is important for people to know that the payout odds of these bets vary between points. 
Game plan: How to Play Craps Strategy
About the budget: Players will be asked about their budget for placing bets and it is suggested for the punters to choose the range which is only within budget and never exceed that.
In live casinos, there are placards with the minimum and maximum bet amounts. It is better to search for tables with limits within the budget. 
About credit cards: Table games are highly driven by impulse leading players to often lose major wealth. It is advised to limit the use of credit cards in craps games because it might bring more harm than good.  
About win limit: The win goal amount should be based on money spent per session as well as 30% of the buy-in. Quitting at the correct time is the key to winning big.
The golden rule of craps is to increase bets while it is still on the winning side and decrease which it goes downhill. How to play craps is hence explained. 
Tips and Tricks on How to Play Craps
In order to understand how to play craps best bets, a few tricks are to be borne in mind to keep winning in the process. Those are as follows.
This is how to play craps gameplay in an ethical manner and still increase the odds of winning.
Craps is not a game of skill, rather it is completely dependent upon dumb luck.
While having a winning pass line bet, raising it by a percentage of 30, and by accepting double odds one can fuel the chances of winning.
As the word eleven can be so similar sounding to the word seven, in order to escape the confusion 11 is called 'yo-eleven or 'yo- eleven' or 'even yo'.
Any bet that helps to minimize the house edge giving the best odds landing can be considered as the best winning strategy.
Using loaded dice is a common method utilized for cheating in casinos.
The recorded longest roll for craps is 4 hours and 18 minutes by Patricia Demauro in the year 2009.
Craps are the simplest table games appropriate for both experienced punters and new casino enthusiasts. From the 12th century to the new-age gambling enthusiasts, Craps has always wowed the punters with its simplicity and randomness.
No doubt, more than 150+ top-tier casinos licensed under reputed authorities such as Malta Gaming Authority, Gambling Commission of Great Britain, Government of Gibraltar, etc offer games of live craps under the Live Dealer sections. However, the game still remains restricted around some geographies.
For example, why is craps illegal in California? Because it's a pure game of chance.