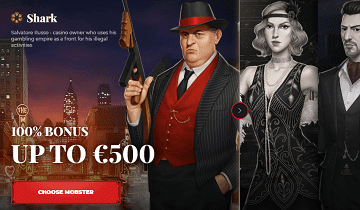 Online casinos have the unfortunate tendency of awarding bonuses in a very plain manner, while generally conducting their businesses in a boring routine.
This is not the case with Windetta Casino, which tries to create an environment that is not only secure and intuitive but also fun to explore.
To accomplish this, it has its story revolving around five mobsters, each of them guiding the steps of prospective players.
This is the premise from which the adventure starts and its most exciting bonuses and promotions are revolving around these characters.
Choose Your Mobster and Get Rewards
Windetta Casino is one of the gambling operators that attempted to incorporate some of the RPG gaming elements into its story. For this purpose, it has five iconic characters with unique traits that stand out from the crowd, so punters feel like they have a real choice. Lotus is an enforcer responsible for keeping things simple and fair at the casino, but her real name is Isabella Alvarez. If players choose this character, they will receive a distinctive package and future bonuses will be influenced by her.
Masaru Takahashi, also known as Stinger, is the bodyguard for Salvatore Russo who is another character called Shark. These two mobsters have their own stories and bonuses, so punters can walk down this path if they choose. A distinctive character in the story is Vicenzo Moretti, also known as the professor, who invites players to take a more analytical method. Finally, the Black Widow is the nickname for Maria Bianchi, famous for using her charm to bamboozle players at high-stakes tables.
Keep Things Entertaining with Daily Bonuses
Welcome bonuses look and feel different, depending on what character you choose, so right from the start you are given a strong incentive to make a choice. Generous as these packages might be, they represent just the tip of the iceberg, and the best rewards are reserved for those who persevere. Windetta Casino is one of the casinos that offer long-term rewards, in the form of recurrent and ongoing promotions and the daily bonuses are a shining example.
Every month, spanning over 30 or 31 days, players are eligible for daily bonuses every 24 hours. It is imperative to apply for these bonuses every day, as you can't go back and claim promotions that have expired. Each offer is different and you can unlock matched deposit bonuses, free spins, cashback deals, and other unique rewards. The minimum deposit is the same €25 and the terms are straightforward, but the customer support team is always available to assist those in need.
Windetta Casino

Windetta Casino Welcome Bonus: 215% Up to €2000 + 200 Free Spins
1st deposit: 90% up to €500 + 75 Free Spins on Gates of Olympus;
2nd deposit: 50% up to €500 + 50 Free Spins on The Hand of Midas;
3rd deposit: 75% up to €500 + 75 Free Spins on Sugar Rush.