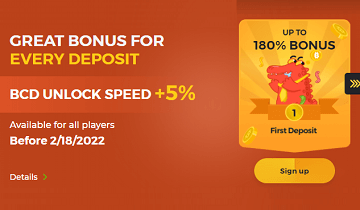 BC.Game Casino is a cryptocurrency-friendly gambling operator that provides players with the opportunity to buy digital money.
To make the most of the time spent online, they can make a deposit and bet real money and there are several ways to load the account.
Cryptocurrencies are used exclusively on the platform and they even have their special currency which goes by the name of BCD. This is an acronym for BC.Game dollar and has the same value as the USD.
BC.Game Casino Welcome Bonus - Up to 240% Bonus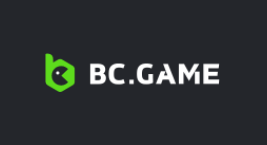 BC.Game Casino Welcome Bonus – No max. deposit limit
1st deposit: up to 180% bonus (min. deposit: $30)
2nd deposit: up to 180% bonus (min. deposit: $60)
3rd deposit: up to 180% bonus (min. deposit: $120)
4th deposit: up to 240% bonus (min. deposit: $150)
How does the BCD work?
The cryptocurrency invented by the casino can be used exclusively on its platform and it works the same as other types of digital money. This means that if you're familiar with crypto gambling, you have no problem loading your account and using it to spin the reels of slots or play table games. BCD can be acquired by playing the game, taking part in coin drop and rain promotions, and from tips.
It is also possible to acquire it to deposit bonuses and one of the many other activities. The beauty of the BC Dollar is that it has the same value as the legal tender used in the United States and all over the world. This means that it is easy to keep track of its value and you always know how much the money is worth.
Furthermore, you can use the direct exchange to convert it to other currencies, and also acquired more through the BCSwap function. This can be done quickly and securely in the wallet.
Unlocking BCD is surprisingly easy and it represents a portion of the amount wagered. There is also a correlation between it and the house edge, so different games have a different wager rate. This is not only a very simple and effective way of gambling with digital money, but it can also be used as a store of value.
That's because of BC.Game Casino has a feature that goes by the name of Vault Pro, where punters can store the proprietary cryptocurrency and enjoy an annualized rate of up to 10%.
Unique bonus codes and conversion opportunities
BC.Game Casino encourages players to make a deposit and use the BCD to gamble on the platform. It also provides them with the means to acquire more cryptocurrency and unlock unique bonuses by performing various activities.
One of the most exciting features is the one that enables players to grab shitcodes as a bonus. Loyal punters have the opportunity to boost their bankroll by grabbing a lot of Bc.game shitcode whenever they perform one of the eligible actions.