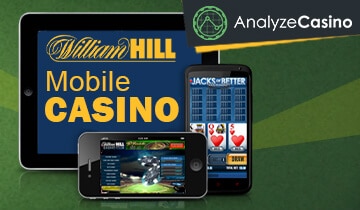 If you have a phone and not afraid to use it, we have good news: You can also use it to play casino games on the William Hill website. And this will be a much better experience than you expect – William Hill casino offers two native apps for all the major operating systems and a fully mobile compatible website. No matter which one you pick, you can be sure at William Hill casino mobile will offer you the ultimate mobile gambling experience on your phone. In this article, we will show you how to do this: Below, you can find everything you need to know about Wil Hill mobile casino, including how to sign up from mobile and detailed information about William Hill casino apps.
Check Out William Hill Casino

Interested in the offer William Hill Mobile casino has to offer? Go grab the amazing welcome bonus!
100% Bonus on Your First Buy-In, Up To a Maximum of £300.
The minimum deposit needed £10.
Play with a 100% bonus up to £300. Example: deposit £300 and you have £600 to play with.
Which Devices Are Compatible With William Hill Casino Mobile?
There are two ways of playing at William Hill casino mobile: You can download a native app or simply use your browser. The device compatibility will be different for each method. Here is everything you need to know:
If You Use The Mobile Website
All devices and operating systems will be compatible. In this option, you simply visit the William Hill mobile casino website from your phone. The mobile version of the website will be automatically loaded. The website (and all the games & services in it) will run on the browser itself, so there will be no compatibility problems. This option is the most practical one, especially if you don't have access to mobile casino apps due to the local gambling laws in your country.
If You Use The App
There are two apps to download, one for Android and one for iOS. William Hill Android app can be downloaded directly from the casino website (we will explain how you can do this below). The iOS app can be downloaded only from the official App Store. However, there is still no compatibility problem: Any iPhone or Android model can be used to download & use these apps. As long as your device has an internet connection, you can use the app and play all kinds of William Hill mobile games, the brand and the model of the device are not important. But you must be using at least iOS 8.0 and Android 4.4.
Basically, compatibility won't be an issue and any modern mobile phone is fine to play at Wil Hill mobile casino. Note that, however, the apps are only for iOS and Android. So if you are still using Windows Mobile or Blackberry, your only option is to use the mobile website.
How To Sign Up And Play At William Hill Mobile?
Signing up to William Hill mobile casino will be different according to which operating system you have. However, it will be easy, fast, and practical – you can start playing William Hill games mobile in 10-minutes maximum, no matter which option you pick. Here is what you need to do, step-by-step:
Signing Up To William Hill Casino Mobile With Android:
Visit this page from your mobile browser
Scan the QR code on this page.
Doing so will automatically start the download of the APK file. Wait for it to finish.
Change your phone settings and allow app installations from unknown sources.
Double-tap the APK file you downloaded. Doing so will install it and place a shortcut on your home screen.
After this stage, you can use it like any other app. Launch the application – it will ask you to register.
Fill out the form, complete the registration, and become a member.
Now, you can log in with your credentials and start playing at the Android casino!
Signing Up To William Hill Casino Mobile With iOS:
Download William Hill casino app from the App Store and install it, like any other iOS app.
Launch the app: It will ask you to register and fill out a form.
Become a member and complete the William Hill casino club mobile login with your credentials. You can now start playing at the iPhone casino!
And, if you choose to use the mobile website to sign up, here is what you need to do:
Visit the William Hill casino website from your phone (operating system is not important).
The mobile version of the website will be loaded automatically. Click the "sign up" button at the top right corner.
Fill out the registration form and become a member. Log in with your credentials (William Hill mobile casino login button is at the top right corner).
That's it: You can start playing at the mobile casino website, without using any app!
William Hill Mobile Games You Can Play
The majority of the game collection is available on the William Hill casino app & mobile website. This means other than a couple of very old games, you can play more than 90% of the game collection on mobile. In this context, here are the main game categories you can play:
Bonuses For Will Hill Mobile Casino Players
First of all, remember that bonus offers for desktop users are available to you too: You are not missing out on anything. On the contrary, you will gain additional bonuses by being a William Hill casino mobile member. We explained desktop bonuses for this website in our William Hill review, so take a look at it first – you can use all those bonuses too. In this context, here is a short list of what you can get:
First Deposit Bonus
Your first deposit will be matched by 150% and up to 150 EUR. In addition, you will get 50 free spins to use on selected slots. The minimum deposit amount is 10 EUR and 40x wagering is needed.
Free Spins
10 Free Spins For 10 EUR Deposits. Deposit 10 EUR and win 10 free spins to use on Sky Queen slot machine every day. 35x wagering is needed.
Live Casino Bonus
You can use this bonus at William Hill live casino mobile, but you need to opt-in – it does not activate automatically. Depositing 10 EUR will give you a 5 EUR bonus to use on selected live dealer games. 30x wagering required.
Features Of William Hill Casino App
First of all, we need to explain the difference between the William Hill games app and other apps of this casino. William Hill offers multiple apps because multiple services are available on the website. In order to play at William Hill mobile casino, you need to download the "William Hill Casino Club" application. Other apps are for sports betting and do not include any William Hill mobile games. With that in mind, here are the features of William Hill casino app:
Exclusive mobile casino bonus offers
Complete William Hill mobile casino login within the app, no need to visit the website
Player favorite games such as blackjack, roulette, and video poker
The chance to play all popular jackpot slots, such as Age of Gods, Ace Ventura, and Top Gun
Hundreds of innovative games are added on a regular basis
Push notifications to remind you of the latest bonuses & games
Mobile Casino Apps

Looking to expand your mobile casino app collection? We have the perfect article for you!

Mobile Casino Apps
Making A Payment At William Hill Mobile Casino
All of the desktop payment methods are available on William Hill mobile casino too. So, you can pay with credit cards (VISA/MasterCard), e-wallets (PayPal, Paysafe Card), and bank transfers. Here is what you need to do:
Pick one of the payment options listed above, whether you are making a deposit or withdrawal.
Install the mobile app of that payment method. For example, if you will use PayPal, install its application.
Initiate the payment and choose PayPal, for example (or any other method, as long as it has a mobile app)
After determining the transaction amount and hitting the "submit" button, the app for that payment method will automatically launch on your phone.
You will complete the rest of the transaction within that app, and like you always do.
The only exception will be the credit cards: You can enter your card data directly on the William Hill mobile casino payment page. However, we recommend using e-wallets for extra security.
Online Casino Payments

Go check out our article dedicated to online casino payments to find which one is best suited for you!

Online Casino Payment Guide
FAQ about the William Hill mobile casino
The famous gambling operator has an exceptional casino app that works on iOS and Android devices.
You can pick up your mobile devices and access the account created on a desktop computer to play.
The same games are available for both platforms, so you can enjoy them on computers and mobile.
There's nothing preventing you from enjoying live dealer table games on smartphones and tablets.
Use The App Or The Website: William Hill Casino Mobile Is Waiting For You!
You can use the William Hill casino app or the website itself: No matter which one you choose, you will be able to play on your phone. William Hill casino mobile is filled with high-quality games and exclusive bonuses for mobile players, so go ahead and start spinning the reels without wasting any more time. William Hill mobile casino is one of the best options for mobile gamblers and you have learned everything in order to start playing at William Hill mobile casino: Good luck!