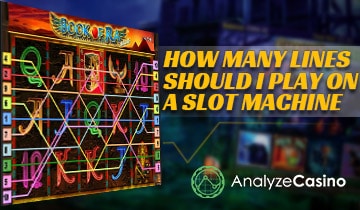 All slot games have paylines and most players see them as something "mysterious".
In general, everyone agrees that it is good to play with a "big" number, but almost no one has a clear idea of why.
Therefore, the question of how many lines should I play on a slot machine is quite common.
So, what's the truth about pay lines? How many is best to have? Should you prefer slots with few lines or lots of lines?
Below, you can find answers to all these questions and more.
Best Online Casinos To Play The Best Slots (2020)
No matter how many lines you prefer, you need to take advantage of the bonus offers while playing slots. But not any bonus offer will do: You need to use the best ones. We searched the internet, analyzed all the online casinos, and found the best options for you. Below, you can see the best casino sites with the best bonuses to play all kinds of slot machines.
Big5 Casino

Big5 casino is the king of slot themes. Pirates, gems, space, Rome and Egypt slots: All kinds of themes are available. And you can use more than 15 payment methods to play them. Get your first deposit doubled today at Big5Casino up to €500, when you deposit at least €20. Go after the Big Game and get an extra 500 Free Spins when you deposit €55+!
Spin Samurai Casino

Get the amazing welcome package at Spin Samurai Casino: Up to €800 + 75 Free Spins!
1st deposit: 60% up to €100
2nd deposit: 50% up to €200 + 25 Free Spins
3rd deposit: 40% up to €500 + 50 Free Spins
wagering requirements: 45x
MrLuck Casino

Make three deposits and start playing with up to 1200% bonus + 100 Wager Free Spins!
First deposit is 500% up to €100
Second deposit is 400% up to €120 + 50 Free Spins (no wagering)
Third deposit is 300% up to €120 + 50 Free Spins (no wagering)
Wagering requirements: x30
Premier Casino

Join Premier Casino today and grab the amazing welcome package: Up to €600 + 100 Free Spins!
1st Deposit Bonus: 100% up to €500 + 20 FS. Bonus Code: FDB 100
2nd Deposit Bonus: 50% up to €100 + 30 FS. Bonus Code: SECOND20
3rd Deposit Bonus: 50 Free Spins. Bonus Code: THIRD50
Wagering requirements: 40x
What Is A Payline And How Does It Work?
Before answering how many lines should you play on a slot machine question, let's explain what they are. Pay lines are actual lines that connect both sides of the reels. You don't see them during the normal gameplay but they become visible after scoring a win. They can be straight, cross, and even in a zig-zag shape. They exist because that's how slot machines pay. In order to qualify for a payout, you need to land the same symbols next to each other on one of these pay lines. For example, Cleopatra slots have 20 lines and you need to land at least three same symbols on any of them to score a win. In this context, the number of lines varies depending on the type of slot. In general, it is possible to say that it is between
1-10 in classic slots and 10-20 in video slots. However, as we will explain in more detail below, there are games with lines of 1,000 or even more.
Top online casinos selection
Types Of Slot Paylines: What You Need To Know
Pay lines are not just a condition to qualify for a payout. They also determine what the actual stake will be. Contrary to popular belief, slot machine wagers are based on per line, not per spin. For example, let's assume that we are playing Zeus slots. The minimum bet amount is 0.10 coins and there are 20 lines in the game. This bet amount shows the cost per line. So it is necessary to multiply it by 20 to find the real minimum bet amount per spin. In this example, the minimum coin you need to spend per spin is 2 (0.10 x 20).
There are different types of pay lines. We list the most important of them below.
Straight Lines
The most common type of pay lines. They are "normal" lines that connect both sides of the reels, as explained above. Rise Of Ra slot is a good example.
Both Ways Wins
These are also normal pay lines but the winning combination is calculated not only from left to right, but both ways. We will explain this in detail below.
Cluster Pays
These are not actual lines. Such games use a "cluster" system and calculate the winning combinations like a match-3 game.
So, How Many Lines Should I Play On A Slot Machine?
The answer to how many lines to play on slot machines question depends on your taste and budget. As can be guessed, it is better to play with more lines because there will be more possibilities for generating winning combinations. However, since the number of lines affects the bet amount, the more lines you have, the more money will be needed per spin. In short, in games with more lines, you are more likely to win, but you need to spend more. In games with fewer lines, you can make more spins with the same amount of budget. In the long run, you will be able to get almost the same chance of winning. As we mentioned above, you need to decide according to your budget and personal tastes.
Creating A Winning Combination On Paylines
You will qualify for a payout after landing the same symbols next to each other but which direction will be taken into account in the payout calculation? If there is no rule on this issue, players can say that "I have created two separate combinations both from left to right and from right to left, and I want the payment to be calculated accordingly". To avoid this, a large portion of slot games explicitly states that they will only calculate from left to right. Some games, however, include both ways in the calculation. These types of games are called "both ways" and they pay more in the long run.
Learn How Many Lines To Play On Slot Machines, Spin The Reels!
Now you know the answer to how many lines should I play on a slot machine question: In short, bigger is better but only if you can afford it. Otherwise, slot games with fewer lines are still a good option, especially because you can spin the reels much more with the same bankroll. No matter which one you prefer, stick with one of our recommended online casino sites to play with the best bonuses. May the reels always spin in your favor!